Overview and Timeline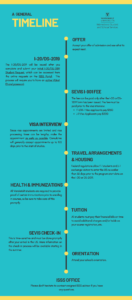 Congratulations on your admission to Vanderbilt University!
We are excited to welcome you to our community. As the staff of International Student and Scholar Services (ISSS) we are here to help you navigate your transition to campus and provide support to help you achieve your academic and professional goals.
As you begin to plan for your journey to Nashville and Vanderbilt, review this visual timeline to prepare for your next steps. If you have any questions, please reach out to your assigned ISSS advisor.
If you are interested in knowing what the CIP code would be for your major for STEM OPT purposes, you can find the CIP code that pertains to your degree program at Vanderbilt by visiting the list maintained by the University Registrar's Office here. (click on CIP codes)