Health Insurance Basics
---
Vanderbilt University requires all eligible students to be covered by a health insurance plan that is comparable to or exceeds the Student Health Insurance Plan, also known as SHIP. International students are required to enroll in SHIP. For more information on SHIP, please visit the website of Academic Health Plans (AHP). AHP is the plan administrator for SHIP at Vanderbilt.
In June 2022, representatives from AHP Healthcare held a session explaining how SHIP (and health insurance in general) works). To access the recording of this session, please click here.
Below are some key terms and general information of what an insurance plan in the U.S. should cover. One thing to keep in mind is that health insurance in the U.S. is (for the most part) privatized, so you will likely still have a bill to pay even after health insurance is applied. However, health insurance makes the cost substantially cheaper than what you would have to pay if you didn't have health insurance.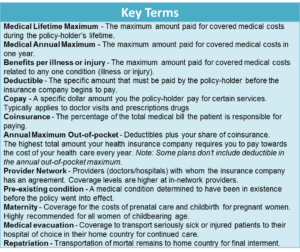 (From NAFSA: Association of International Educators)