Service at Vanderbilt
Student Organizations, Leadership, and Service is home to all service opportunities, organizations, and programs at Vanderbilt. We work alongside a variety of community partners, non-profits, organizations, and agencies in the Metro-Nashville area to provide meaningful and engaging service opportunities for our students.
Submit a Service Opportunity
Are you a local non-profit, business, organization, or agency? Are you in need of volunteers? Please email caroline.e.wilson@vanderbilt.edu and madison.woods@vanderbilt.edu for more information!
Annual Service Fair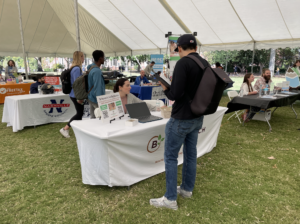 Each year, Student Organizations, Leadership, and Service hosts the Service Fair. This event allows community partners, non-profits, organizations, and agencies to connect and engage with Vanderbilt Students. Student service organizations are also invited to the event to promote their volunteer opportunities and service projects. Thank you to all of our community partners and organizations for attending this year's Service Fair!
MLK Jr. Joint Day of Service
The annual Martin Luther King Jr. Joint Day of Service  brings together hundreds of student volunteers from Nashville-area colleges and universities to continue the dream of Dr. Martin Luther King Jr. through community service. This year's day of service will take place on Saturday, January 13th, 2024 at Meharry Medical College and a keynote address from Vanderbilt Professor, Dr. Michael Eric Dyson, and then followed by community service projects across the city. Register here!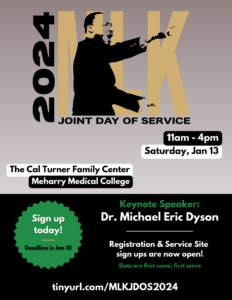 Community Partners
Student Organizations, Leadership, and Service is thankful to all of our current community partners and the opportunities they provide Vanderbilt students. We are connected to many community partners in the Metro Nashville area! We have an ever-growing list of partners – click here for our current list. Please email madison.woods@vanderbilt.edu to connect with a partner for service!
SOLStice: Shining a Light on Service Leadership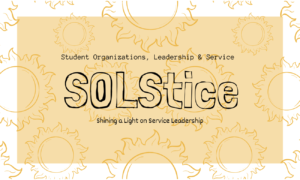 Join Student Organizations, Leadership, and Service for service-based workshops that focus on qualities of impactful community engagement. These workshops will delve into the essential aspects of making a meaningful impact through service. Discover ways to transform your volunteer experience at Vanderbilt, all while contributing to a service project for a Nashville-based non-profit or organization. If you have any questions and/or would like to collaborate in future workshops, please email madison.woods@vanderbilt.edu.
October 11th, 2023, 3pm-4pm at the Leadership and Service Space
Tracking Service Hours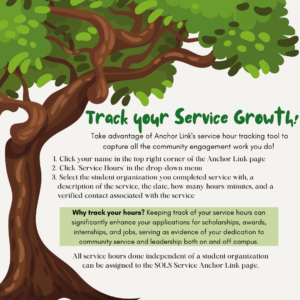 Take advantage of Anchor Link's community service hour tracking tool to. capture all the community engagement work you do! 
HOW TO LOG YOUR SERVICE HOURS 
Click your name in the top right corner of the Anchor Link page.

Click "Service Hours" in the drop-down menu.

 

Select the student organization you completed service with, a description of your service (including the community partner you served with), the date of service, how many hours/minutes, and a verified contact associated with the project.

 
NOTE: You must be a member of an organization on Anchor Link to track service hours.  
All service hours done independently of a student organization can be assigned to the designated SOLS Service Anchor Link group. Click here to join the SOLS Service group.  
All service hours must be approved by the organization they were completed with through that group's Anchor Link page. The hours you log will appear pending until they are approved by the organization that you assigned them to. 
Service hours logged in Anchor Link will also appear on your co-curricular resume which can be found under the My Involvement toolbar section. The service hours you track can be a significant piece of information that you can use when applying for scholarships, awards, internships, or jobs to demonstrate your commitment to volunteerism. 
Lyft Ridehail Program for Service Organizations
As of the Fall 2021 semester, the former OACS Lyft Program was transferred to Student Organizations, Leadership, and Service. This program now facilitates the creation of codes for organizations for mission-related travel around Nashville. If you are requesting codes for your organization, the funds will come out of your organization's account. You may request codes for an entire semester or academic year if you have repeating service trips or serve regularly with a community partner.
To request codes, please email caroline.e.wilson@vanderbilt.edu with the following information:
Confirmation each member using the rides have completed this waiver
Proof of Coach approval for the purchase
Organization task number
The total amount of money you've allotted for rides
Information to create your codes:

Code name:
Value per redemption:
Max redemptions:
Geofences (pick up and drop off locations):
Time restrictions: 
Ride type restrictions: 
Dates valid: 
Please allow two weeks for processing from the time you submit your interest form to when your travel is scheduled. At the moment, this opportunity is only available for service organizations that are advised by SOLS.
If you have any questions about the process, please email caroline.e.wilson@vanderbilt.edu.
Donation Collections
Housing Facilities and Student Centers are excited to open the Donation Drives program for another academic year. Organizations may register in AnchorLink for Fall 2023 and Spring 2024.
Before registering a drive, student organizations, academic groups, and House councils should carefully read the guidelines available on the Housing Facilities webpage and in AnchorLink. We remind you that approval is required before collection boxes may be placed. Unapproved collection containers will be promptly removed.
Please view the registration and policy links below. We look forward to another year of Vanderbilt service to the Nashville community!