We are so excited you are joining the Vanderbilt community! Learn more about key due dates and deadlines for parents and families, what you should be doing this summer to help prepare your student for move-in, and advice on the college transition.
This isn't just a substantial change for your student—it's also a major transition for your family. Vanderbilt Parents & Family Programs is here to offer support, guidance, and information on resources every step of the way. Reach out to us anytime: parents@vanderbilt.edu or at (877) 887-2736.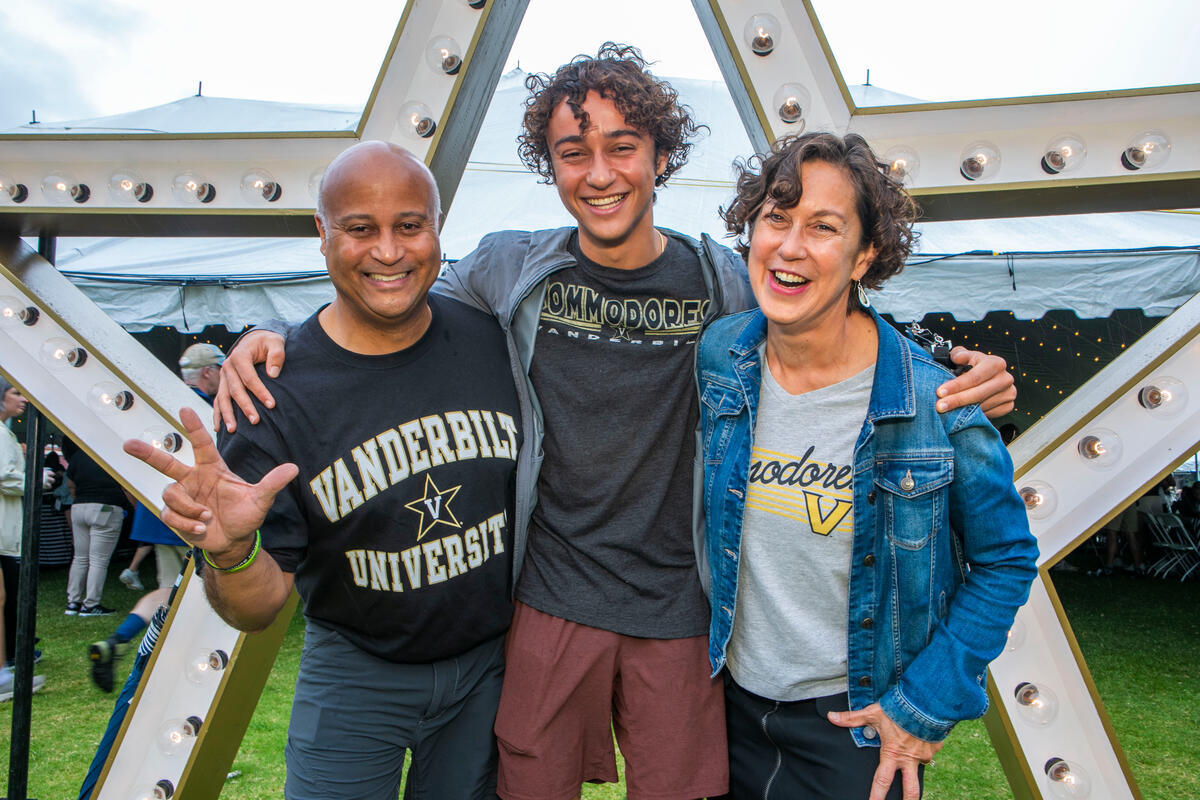 Parents and Family Commodore Connection Newsletters
Over the summer, the Parents and Family office will send dedicated emails to incoming families, each with valuable information about your student's upcoming arrival on campus. Starting in September of your student's incoming year, you will receive a monthly newsletter that goes to all undergraduate parents until your student's graduation.
Starting in May, if you are not receiving our monthly Commodore Connection newsletters, please email us at parents@vanderbilt.edu and we will add you to our distribution list.
Informational Webinars
First-Year Families and Students
Welcome to the Vanderbilt Family

May 24, 6:00 p.m. -7:00 p.m. CT
Dean of The Ingram Commons Melissa Gresalfi will provide an overview of the checklist of items each student should complete prior to arriving in the fall. 

Life on The Ingram Commons

July 19, 6:00 p.m. - 7:00 p.m. CT
Join Dean Gresalfi and campus partners from Campus Dining, Housing and Residential Experience, Residential Colleges, Student Affairs, and the Student Care Network for a discussion about life on campus. 
Learn more about the First-Year Webinar Series
Transfer Families and Students
Campus Reading and Summer Timeline

June 14, 12:00 p.m. -12:45 p.m. CT
Presented by Melissa Gresalfi, Dean of Residential Colleges and Residential Education; Roshaunda Ross-Orta, Director of Upper-Division Engagement, Residential Colleges

Transfer Credit Course Review

June 28, 12:00 p.m. -12:45 p.m. CT
Presented by Molly Thompson, Senior Associate University Registrar

Being YOU at VU: Exploring Your Identity on Campus

July 12, 12:00 p.m. -12:45 p.m. CT
Presented by Roshaunda Ross-Orta, Director of Upper-Division Engagement, Residential Colleges; Identity Center Directors

What I Wish I Knew as a VU Transfer Student: Tips from TSLs

July 26, 12:00 p.m. -12:45 p.m. CT
Presented by Grace Hollis, Program Coordinator, Residential Colleges; Transfer Student Leader Panelists

Transfer Student Orientation and Transition Programs

August 9, 12:00 p.m. -12:45 p.m. CT
Presented by Roshaunda Ross-Orta, Director of Upper-Division Engagement, Residential Colleges; Grace Hollis, Program Coordinator, Residential Colleges
Learn more about the Transfer Webinar Series
International Families and Students
Welcome International Students | May 31, 8:00 a.m. - 9:00 a.m., CT
Featuring the Center for Languages, the English Language Center, and International Student and Scholar Services.
Zoom Link
Preparing for International Student Orientation | July 12, 8:00 a.m. - 9:00 a.m., CT
Come learn all about what to expect during International Student Orientation (ISO).
Zoom Link
International Meet & Greet | July 26, 8 - 9 am, CT
Join the iLEAD board for a virtual meet and greet.
Zoom link coming soon. 
Health Care Considerations
We encourage your student to arrive to campus with an understanding of:
Their health insurance plan, including insurance card
Their allergies and associated reactions
Their medications, including doses
How to use a thermometer (pack one for them)
Staying in Nashville
Coming to campus for Move-In or for another visit? We're here to help. Several local hotels offer discounts to our parents and families when they come to visit their students. While there are hundreds of lodging choices in Nashville to fit multiple needs, those closest to the campus will be in the West End neighborhood of Midtown.
Connect with the Vanderbilt Community
For more than 50 years, Commodore Launch events have taken place across the country and internationally to welcome incoming undergraduate students and their families into the Vanderbilt community.
As this hallmark series offers many events across the country this summer, there's sure to be one near you!
As the family of a Vanderbilt student, you are invited to Vanderbilt Chapter events! These events provide a wonderful way to connect alumni, parents, students, and friends worldwide in the name of Vanderbilt. Hard-working volunteers—with assistance from the Alumni Association—plan and implement a full calendar of events and programming for each chartered Chapter.
Our parent community is a vibrant and critical part of Vanderbilt's story and success. From supporting your student throughout their time here to financial contributions that help provide essential programming, our parents bolster our community each day.
By being a Vanderbilt Parent Ambassador, parents can be involved where and when they want. We have opportunities in your local area, virtually, and on campus. We hope you will join our team!
Frequently Asked Questions
What should I be doing right now?

What emails have been sent to new families and students?

I am not getting the family newsletters. How do I sign up? 

How can I get involved with Vanderbilt? 

There are many ways to get involved with the Vanderbilt community. Visit our Volunteer page to learn more about the different opportunities.

When is Family Weekend? 

We are excited to invite all of our Vanderbilt parents and family to Family Weekend 2023 on October 13 – 15! Join us for a full weekend of events including Conversation with the Chancellor, tours, panel discussion, tailgate, and much much more!

What is a Commodore Launch?

Commodore Launches are important joining opportunities for our incoming families! Join local alumni and current families for the opportunity to meet other incoming students and families, and make connections prior to Move-In!

Are there any Vanderbilt Family Hotel discounts?  

Several of our local hotels have partnered with us to offer discounts to our parents and families when they come to visit their students; however, when staying at any hotel in Nashville, always ask if they offer a Vanderbilt discount! 

When is parents and family orientation? 

Parents and Family Orientation for families of all new undergraduates (including transfer students) will take place in the evening on Saturday, August 19. Check your student's orientation schedule for more information. There will also be two virtual orientation sessions for first-year parents and families this summer.

Information about Transfer Student and Parent Information Sessions can be found here.

Information about Transfer Student Orientation can be found here.

What is the orientation schedule? 

What size bedding do I need to get? 

The bed size is 36 X 78. Twin sheets will fit the bed. 

What are the room measurements? 

Room sizes, dimensions, and shapes vary within buildings and among buildings. The measurements provided represent the range of room sizes on The Martha Rivers Ingram Commons. We recommend that students wait until after move-in to purchase items where exact room dimensions are required. We cannot honor requests to measure specific rooms.

Learn more about room measurements.

Can I ship packages to campus prior to Move-in Day? 

What furniture is provided? 

Each resident will have a bed, desk, desk chair, chest, closet, towel bar/hook, window blinds, overhead lighting, trash can, and recycling bin.  Building-specific amenities are located on the building page. *Amenities are subject to change.   

 

How does Move-In for first-year students work? 

Move-in at Vanderbilt is very special and unique. Your student will be given a specific move in time. You will pull up in your vehicle to your designated area and upper-division students will help you bring all your items up to your student's room.

How does my student have health insurance? 

All students who have paid the Student Health Fee have access to the Student Health Center. While office visits are free and other services at the Student Health Center have minimal charges, all students are required to have health insurance coverage in the event that hospitalization or care outside the Student Health Center is required. The cost of the policy is automatically billed to your student account unless you submit an approved online waiver. 

How do I waive student insurance? 

Insurance waivers must be completed by August 1 if you do NOT wish to enroll in (and be billed for) the Student Health Insurance Plan. It is your responsibility to follow up on your waiver status and to ensure that all information is received by Academic HealthPlans by the deadline. The waiver may be completed online at vanderbilt.myahpcare.com/waiver. Forms will not be sent to you.

How do I see my student's account? 

A Guarantor Authorization and Debt Repayment Agreement allows Vanderbilt University to release pertinent financial information to a parent or guardian. Without proper signatures from your student, no financial information can be disclosed to anyone other than the student. Your student can add you to their Your Enrollment Services (YES) account so you will receive information about tuition payment. 

How do I set up a tuition payment plan? 

Please visit Student Accounts to see your options and details about payment plans.