Overview
During the K-12 school years, families were encouraged to take an active part in their student's education. In college, one of the goals is for students to develop independence, so families' roles must be different now.
Family members are still incredibly important – you are the key source of love and support for your student! To grow, college students need to begin making their own decisions. We encourage families to avoid acting in a manager or director role with their students (where you provide directions and answers) and use a consultant role (where you serve as a sounding board to prompt their thinking, but allow your students to find their own answers).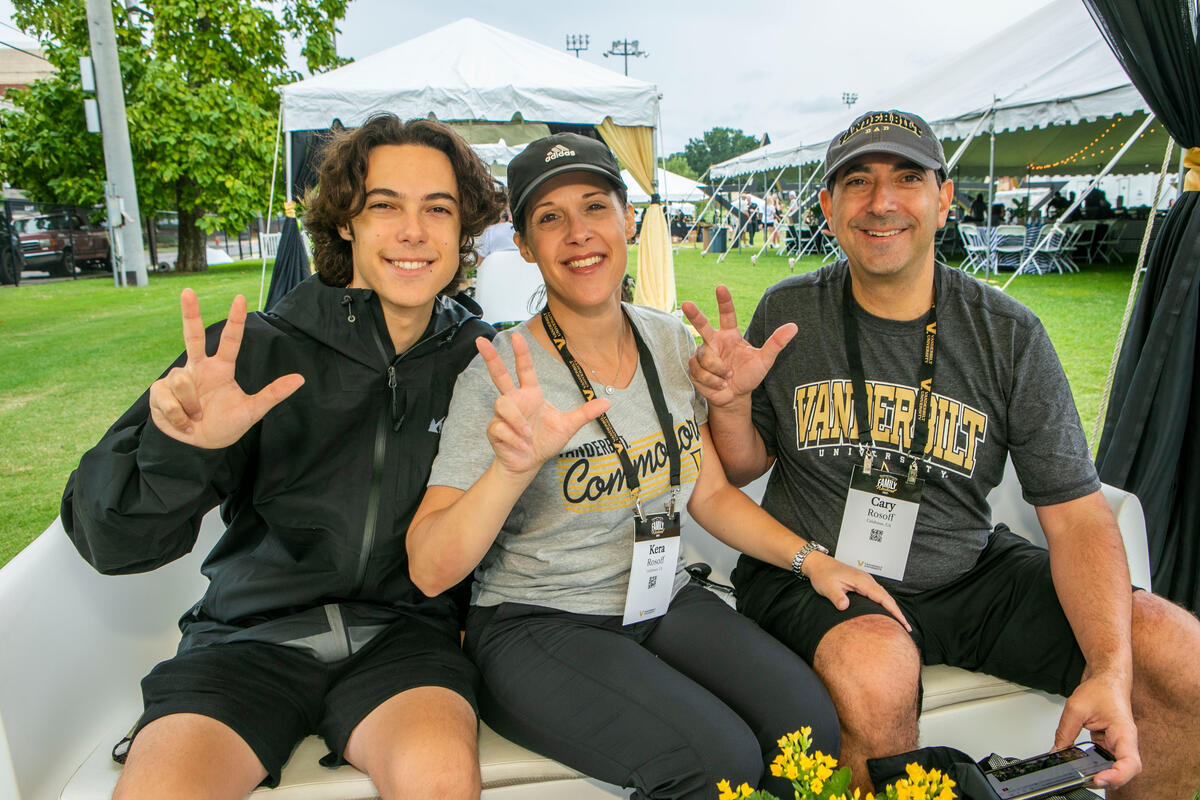 Advice from Families of Sophomores, Juniors, and Seniors
Learn from the experts who have been there and done that.
Contact your student's roommate's families. The kids are all going to have some struggles and being able to talk to the families of the people your student is living with is extremely helpful. (Parent, Class of 2025)
Anything goes. The right answer is what's right for your child. Follow your child's lead and enjoy it! The four years go by fast. (Parent, Class of 2023)
Let your kid figure things out...do not jump in, do research, or reach out for help on campus. Give them advice and tips on how to advocate for themselves. This is the best time in life for them to LEARN! (Parent, Class of 2026)
Get several IKEA FRAKTA blue bags. They are so versatile. They are a great investment from bringing onto the plane to using for storage at the end of the school year! (Parent, Class of 2025)
Make sure you create a medicine bag and have your students know how to contact internal and outside medical/pharmacy services out of hours. Know they will get sick and will still have to keep up with their classes. (Parent, Class of 2026)
Have your student make a photocopy of their driver's license, credit cards, and other important cards or documents they carry with them. It's common for those things to get lost and it makes it much easier to contact banks to cancel them ASAP if/when needed. (Parent, Class of 2025)
Be open to new experiences and take advantage of the beautiful campus. (Parent, Class of 2024)
Focus on the positives. Celebrate and honor the joy and wins. Always park legally in Nashville. (Parent, Class of 2026)
Conversations to Have with Your Student this Summer
It would be helpful this summer to have family discussions about your student's hopes and expectations for college. Those expectations may differ from your own. Only you and your student will know what feels right for your family.
Your family may have other topics that are important to you. Be sure to discuss those openly with your student before college starts.
Alcohol and/or Drug Use

Talk about your expectations for your student's behavior and consider coaching them on what to do if they see a friend in trouble.

Budgeting and Spending Money

Does your student understand their financial situation and how to budget accordingly? Have you communicated with your student regarding expectations of support?

Communication

How often will you communicate? And who initiates that contact?

Grades

Because of Family Educational Rights and Privacy Act, there is no parent portal for parents and families to view grades. Discuss how you would like to support your student's progress along with realistic grade expectations.

Illness

Students over 18 have medical privacy rights and must give consent for doctors and nurses to speak to their families. HIPAA is a federal law that carefully protects private health information. Students may go to the Student Health Center in person to complete a form to give a loved one access to their medical records. If it is important for you to be able to speak to your student's doctor or nurse, be sure to discuss that before school begins.

Mental Health

Sometimes knowing their family supports them in seeking care is the nudge that students need to get help. The Student Care Network has excellent resources related to mental health.

Personal Safety

Difficulties in the College Transition

Before you drop your student off, make sure you have talked about some of the things they are likely to experience at some point: loneliness, difficulty finding their niche, how much effort it takes to make new friends, feeling homesick. All those things are normal and part of the transition process. Talk about this now, so that if loneliness or other emotions hit, your student will remember that this is something that happens to most students!