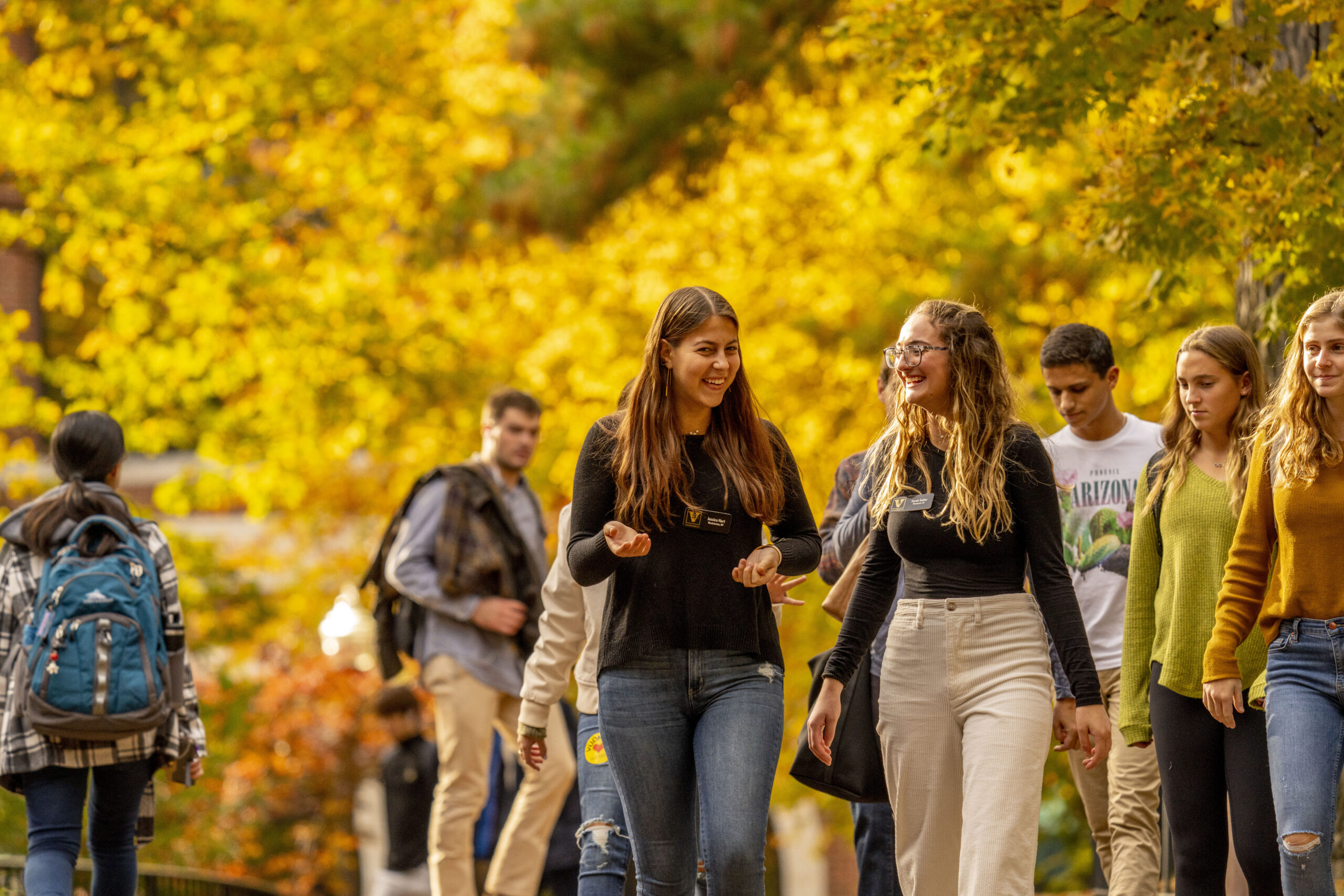 Student Care Network
We understand that the transition to college can sometimes be challenging, and our goal is to help you manage this transition well.  
We encourage you to explore and proactively discover the resources available for a diversity of needs through the Student Care Network (SCN) and to identify sources of support. Student Care Coordination is also available to help students navigate the Student Care Network. 
Please arrive on campus with an understanding of your specific health care needs, including any allergies and associated reactions, and medications, including doses. If you are taking medicine, it is important to ensure that you have an adequate supply and/or refills that you can access while on campus. If you are currently seeing a health care professional for medical and/or mental health concerns, consider discussing a plan for ongoing care, which may include short-term services on campus and/or long-term care off campus.
Contact Student Care Coordination before arriving to campus to discuss your existing health care needs and for assistance in developing a plan for ongoing care. 
Student Health Insurance and Insurance Waiver
All students who paid the Student Health Fee can access the Student Health Center. While office visits are free and other services at the Student Health Center have minimal charges, all students are required to have health insurance coverage if hospitalization or care outside the Student Health Center is required.  
To ensure that all students have adequate coverage, there is a Vanderbilt-sponsored health insurance plan (SHIP) available to eligible students. The plan is underwritten by Aetna and administered by Academic HealthPlans (AHP). The cost of the policy is automatically billed to your student account unless you submit an approved online waiver by August 1, 2024. The online waiver process requires that you submit documentation of other comparable insurance coverage. Insurance waivers must be completed by August 1, if you do NOT wish to enroll in (and be billed for) the Student Health Insurance Plan. It is your responsibility to follow up on your waiver status, and to ensure that all information is received by AHP by the deadline. The waiver may be completed online here. Forms will not be sent to you. 
More info about the insurance plan and waiver criteria can be found on the Student Care Network website. 
For additional assistance, visit vanderbilt.myahpcare.com, where you may chat live with a representative or by calling 855-855-2486 or by emailing SHIP@vanderbilt.edu. 
Mandatory Immunizations
The Student Health Center maintains a website that outlines the immunizations that you are required to receive before arriving on campus. State law and university regulations dictateƒ that all students comply with the immunization requirements. In addition, students are required to submit a tuberculosis screening survey and testing (if applicable).  
Students will not be able to register for classes until their immunization and tuberculosis documents have been received, reviewed, and approved for compliance by Student Health.  
Community Standards Mandatory Education
Be Smart-Be Safe Module Program
Vanderbilt devotes considerable resources to assisting students in making intelligent choices regarding their own health and safety, as well as the health and safety of other students and the larger Vanderbilt community. Among these resources are online education programs designed to provide crucial information about our community's expectations around topics such as campus safety, preventing sexual assault, making safer and healthier choices about alcohol use, diversity, equity, and inclusion, academic integrity, and protecting vulnerable populations. Student Affairs will contact you via your Vanderbilt email address with information about the program requirements, access information, and deadlines when the modules are available. For more information about these requirements, visit vanderbilt.edu/studentaccountability/online-modules or contact sacompliance@vanderbilt.edu.
Health & Wellbeing Resources
As a key component of Vanderbilt's Student Care Network, the UCC provides mental health assessment, support, and treatment for all students enrolled at Vanderbilt, including undergraduate, graduate, and professional students. 
The Center for Student Wellbeing is a space dedicated to helping you cultivate lifelong well-being practices.
The Student Health Center is your on-campus primary care clinic, here to serve your health care needs during your time at Vanderbilt. We provide a wide range of services including acute care for unexpected injuries or illnesses, chronic disease management, gynecology, STD screening, injection clinic, nutrition, and sports medicine. The Student Health Center is also here to serve your travel needs and can do all vaccinations necessary for your adventure overseas.
The Project Safe Center provides information, support, referrals, and education about sexual and intimate partner violence (including sexual harassment, sexual assault, dating violence, domestic violence, and stalking), as well as consent, healthy relationships, and healthy sexuality to the Vanderbilt University community. Project Safe serves as a central resource for those impacted by sexual and intimate partner violence and can assist with navigating the university's resource and support network (including the University Counseling Center, Student Health Center, the Title IX Office, Equal Opportunity and Access, the Employee Assistance Program, and the Vanderbilt University Police Department), as well as external support and law enforcement resources. Project Safe 24/7 Support Hotline: 615-322-7233
The Recreation and Wellness Center enriches the student experience by cultivating diverse, meaningful connections and encouraging lifelong learning through programs and services that promote healthy lifestyles. The Rec Center offers club sports, intramurals, fitness programming and facilities, nutrition resources, aquatics, and outdoor activities for all students.  
Safety Resources
AlertVU rapidly sends messages in the event of an emergency that poses an imminent threat or danger to the Vanderbilt community. Examples of such a threat include a tornado forecast to strike Vanderbilt or an active shooter on campus. Students should review their contact information in Your Enrollment Services (YES) regularly to ensure they receive messages at their desired personal points of contact. Instructions are available online.
The Vanderbilt University Police Department (VUPD) is a professional law enforcement agency dedicated to the protection and security of Vanderbilt University and its diverse community.
The VandyRide shuttle bus, administered by VUPD, provides shuttle service to designated locations on campus during the fall and spring semesters. The services consist of vans that operate from 6:00 p.m. to 1:00 a.m.
The VandySafe app is the official safety app of Vanderbilt University. The app features emergency contacts, crisis alerts, in-app tip reporting, location services features, and more.
The emergency preparedness website provides guidance when emergencies occur on campus as well as disaster preparedness materials and resources.