Overview
Housing assignments and move-in instructions are emailed on or around  August 1. Your assignment information includes your residence hall name and room number; private mailbox address; the name, email address and phone number of your roommate; and complete move-in instructions, including your assigned move-in time. First-year domestic students will also receive move-in documentation in the mail.
Before You Arrive
Before you leave home, make sure you have the following with you: 
Tracking numbers for packages and total number of packages
Move-in information and car hangtag (first-year domestic students only)
VUceptor letter containing contact information and group number
Directions to campus
Move-In Dates
Information on fall 2024 incoming student move-in will be shared here by March 28, 2024.
*Students will be provided with a specific move-in time with their room assignment information.
(First-year students between 7 a.m. and noon & Transfer students between 1 p.m. and 4:30 p.m.)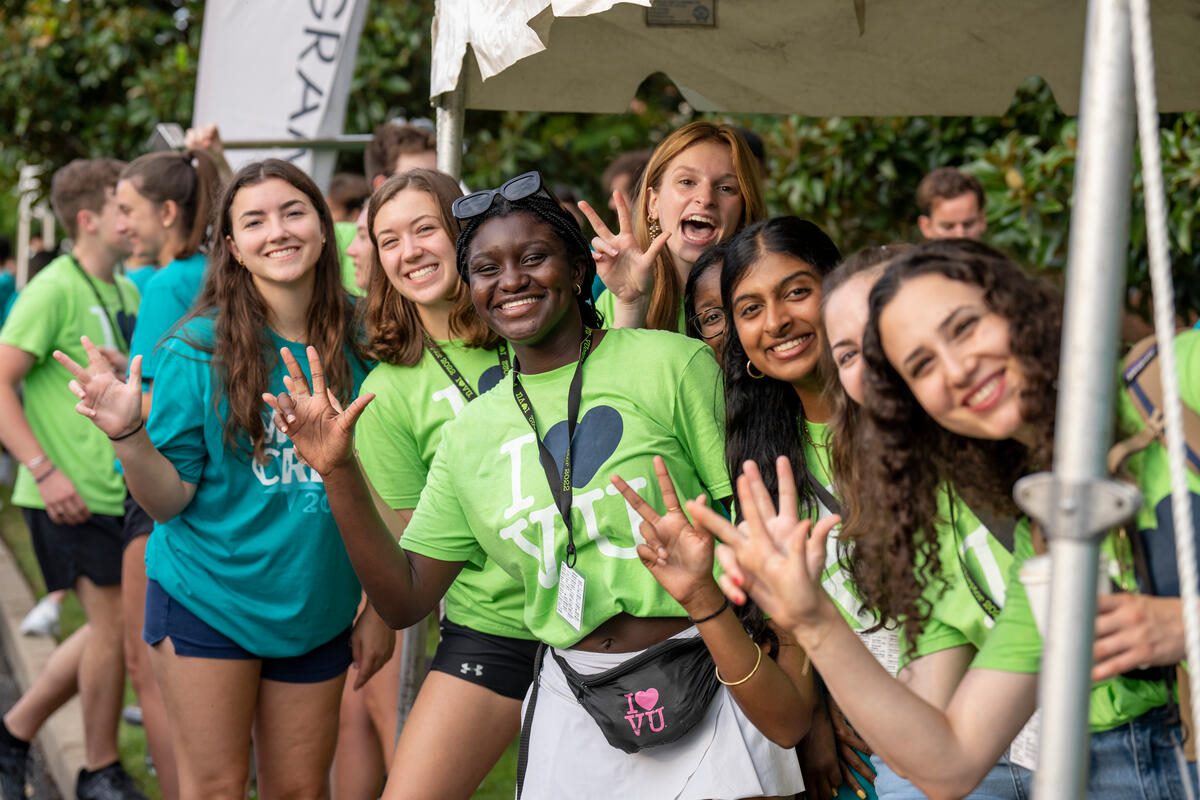 What to Bring
Computer (For guidance on what type of computer to bring, visit the VUIT website.)

 

Cellphone

Headphones for stereos and amplified musical instruments

 

Sheets (regular twin), towels, pillows, pillowcases, blankets and mattress cover

 

Toiletries, bathrobe, personal items, books, alarm clock, task lighting and study lamps (Halogen lamps are prohibited.)

 

A three-way adapter for electrical outlets

 

A multi-outlet strip with surge protection (minimum ratings of 15 amps and 1800 watts)

 

A microwave oven (800 watts or less), if you wish, with an interior capacity of no more than one cubic foot

 

TV (Vanderbilt provides all residents with Xfinity On Campus streaming service. It can be accessed with internet-connected devices and smart TVs. A Roku device may be required for TVs that do not have streaming capabilities-built in.)

 

Medications

 

Health Insurance Card

A bicycle and U-lock, if you wish (Bike racks are outside residence halls and many classroom buildings. U-locks are strongly recommended, as cable locks are easily cut.)

 

Non-disposable straws and cutlery

 

Hand sanitizer, disinfectant wipes, cleaning supplies

 

Reusable water bottle

 

Broom

 

Face masks/coverings, if desired

 
What Not to Bring
Wireless routers or wireless access points (These are prohibited because they degrade the university's wireless network.)

 

Wireless printers (These are prohibited because they degrade Vanderbilt's wireless network. Vanderbilt provides a networked printing program that allows students to print wirelessly through Vanderbilt's network of printers in their residence halls.)

 

A hot plate, toaster oven, portable grill, popcorn popper or any utensil with an exposed heating element

 

Halogen lamps

 

A powerful stereo system (A personal-size system with headphones is fine.)

 

A mattress (University-issued mattresses and box springs may not be removed.)

 

Furniture (University-issued furniture may not be removed.)

 

A loft or waterbed

 

Fireworks

 

Firearms and other weapons

 

Pets (except fish)

 

Dartboards

 

Concrete blocks

 

Please note that electric personal transportation vehicles (EPTVs), including scooters, bicycles, hoverboards, and similar devices, are prohibited inside all Vanderbilt buildings, including residence halls.
More Information
Renter's Insurance
The university's property and liability insurance does not protect you or your guests against loss or damage to personal property or belongings or cover your liability for loss or damage caused by your actions or those of any of your guests. As a resident you are liable to the university and others for loss or damage caused by your actions or those of your guests. You are required to maintain adequate property and liability insurance. More information, including information about fully compliant renters' insurance that you can obtain, can be found on the Housing and Residential Experience website.