Vanderbilt Students Compete in Inaugural Map the System Competition at the Wond'ry
On April 15, 2020, more than 50 Vanderbilt University students, faculty and staff, and Nashville community members participated in a unique virtual experience: the inaugural Map the System Competition, hosted by the Social Innovation Practice Area at the Wond'ry and the Turner Family Center for Social Ventures. After months of hard work, seven teams comprised of undergraduate and graduate students competed for a chance to represent Vanderbilt University at the global Map the System finals in June 2020.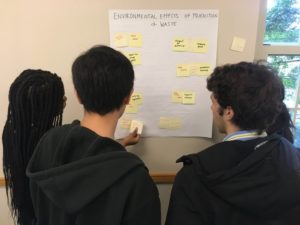 Map the System is a global social entrepreneurship and social impact competition coordinated each year by the Skoll Centre for Social Entrepreneurship at the University of Oxford in England. This year, Vanderbilt University and its participating students entered the global competition as official Oxford University partners, joining more than 50 institutions of higher education around the world and 3500 students passionate about social and environmental change.
During the Spring 2020 semester, students participating in Map the System at Vanderbilt learned to think critically about social and environmental issues of their choosing. Through workshops, faculty and staff mentorship, and curated exercises, teams of students developed systems thinking approaches to understand the overlapping root causes of social and environmental challenges. They examined impact gaps, places where existing solutions for their challenge fell short. Through this analysis, teams identified leverage points related to the issue—intentional actions or resources that might be utilized by non-profits, businesses, governments, or individuals to address a challenge's underlying causes and effects.
This year's Map the System projects at Vanderbilt had a distinctly local flavor, yielding valuable insights to organizations working on some of Nashville's greatest social, economic, and environmental change opportunities. Student teams focused on topics including gentrification in East Nashville, refugee's economic opportunities in Nashville during resettlement, Nashville's public transportation and transit challenges, and the environmental effects of polyester production in the fast fashion industry.
During the competition, student teams eloquently presented their findings and insights to a panel of Nashville-based social change and social innovation experts who served as judges. To select the winner of the Vanderbilt competition, each team was evaluated on the caliber of their research and presentation, using criteria developed for the global competition by Oxford University. Judges also assessed each team's ability to clearly explain how social, economic, environmental, and political forces interact to perpetuate or address each challenge.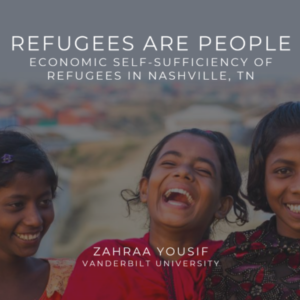 At the end of the evening, Zahraa Yousif Dagher—a graduate student in the Leadership and Organizational Performance program at Vanderbilt's Peabody College—was crowned the winner of the inaugural Vanderbilt University competition. Her project, "Refugees are People: Economic self-sufficiency of refugees in Nashville, TN" demonstrated a deep understanding of the social, economic, political, and environmental factors that determine refugee's access—or not—to economic prosperity during their early years in the Nashville community. Yousif also dove deep into the solution landscape of her chosen challenge, highlighting a variety of steps that could be taken at the local, state, and national level to transform the refugee resettlement process into one that provides long-term support and opportunity to Nashville's refugee community. In June 2020, Zahraa will represent Vanderbilt University at the global finals, presenting her research to an audience of changemakers from around the world. This event, which is typically held at Oxford University in England, will now be virtual due to evolving circumstances associated with the global COVID-19 pandemic.
Join us in congratulating to Zahraa Dagher and all Vanderbilt University Map the System teams for undertaking such compelling, meaningful research about timely social and environmental challenges affecting our community.
We would like to thank the Turner Family Center for Social Ventures and the Skoll Centre for Social Entrepreneurship at Oxford University for joining us as integral partners in this pursuit. We also could not have done this without the support of our judges: Marshall Crawford, Jonathan Newberry, Hannah Davis, Brittany Campagna, Jordan Jurinsky, and Mario Avila. Lastly, a significant thank you to Dr. Lori Troxel and Alex Sargent for integrating Map the System into their undergraduate course syllabi. We look forward to continuing these faculty partnerships and building new ones on campus in the coming years.
If you are interested in learning more about Map the System, please contact Hanes Motsinger, Leader of the Social Innovation Practice Area at the Wond'ry at hanes.motsinger@Vanderbilt.edu. We are looking ahead to future Map the System competitions at Vanderbilt and are eager to connect with non-profit organizations, Vanderbilt faculty and staff, and Nashville-based social or environmental changemakers who are interested in getting involved!