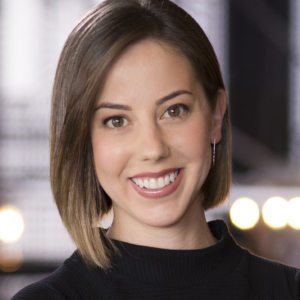 Lauren Egge
Freelance Design Strategist and Facilitator | Founder

---
Lauren is the founder of nokabox, a startup that redesigns health accessories as fashionable, functional items people will love, not simply tolerate. Since Lauren is bootstrapping her startup, she also works as a freelance design coach for companies ranging from other startups to Fortune 500 corporations.
Trained as a product designer, Lauren is an expert at facilitating the end-to-end design process for both digital and physical products. In previous jobs, Lauren spent time as a business consultant, a UX designer, and a machine shop instructor.
Lauren graduated from Stanford University with a B.S. in Product Design
To learn more about Lauren, or any of our excellent mentors, please fill out this interest form.
Q. What excites you most about the Wond'ry?
A.I wish I had a place like the Wond'ry when I was a student! I love that it demystifies the entrepreneurial world and provides opportunities for people with completely different majors and backgrounds to collaborate.
Q. What do you feel are the most important skills you have to offer in your role as a mentor?
A.With a background in Design Thinking, my biggest strengths are in the early stages of product development–even before you know what you want to build. Creating great products begins with developing a deep understanding of your users, and then creating and testing very quick, cheap prototypes to validate your idea. In addition to building and launching my own product, I am also a professional design coach for companies that want to adopt a human-centered design culture.
Q. What has been your proudest moment in your career?
A.My proudest moment is my decision to quit my corporate job and start working for myself. The decision was terrifying, but I knew that if I did not make the leap I would always regret it.
Q. What has surprised you most about your job?
A.The biggest surprise has been how difficult it is to find the "right" advice. If you talk to three different experts about the same problem, you will probably get three completely different opinions. That doesn't mean that two are wrong, it's a matter of figuring out what makes the most sense for you, your situation, and your goals. It was a big transition to go from a top-down corporate culture to one where there is no right answer and I need to carve my own path.
Q. If you could do everything over again, would you make the same career choices?
A.Actually, yes! None of the jobs I've had until now were a perfect fit, but I learned invaluable skills at each one.
Q. In your opinion, what is the most important quality for success?
A.Never stop learning, even if the topic seems completely outside your industry/job/goals. The biggest breakthroughs often come from unexpected connections between seemingly unrelated worlds.
Q. When you were a child, what did you want to be when you grew up?
A.A professional basketball player, until I discovered that I'd reached my peak height at only 5'5".
---