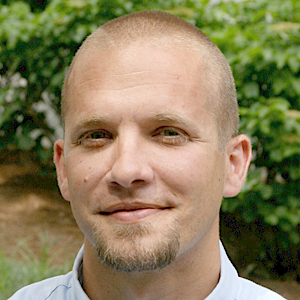 Anderson Williams
VP of Operations, BOS Framework

---
---
Areas of Expertise: Healthcare, Marketing, Technology
Anderson Williams is the author of two books: Creating Matters: Reflections on Art, Business, and Life (so far) and We Power: Building Powerful Relationships That Can Change Your Work and the World.
He is the Vice President of Product at software startup the BOS Framework. Previously, he co-founded and served as the Chief Product Officer for Zeumo Communications, which was acquired in 2015 by The Advisory Board Company.
Prior to Zeumo, Anderson's career was in the nonprofit sector. He served as the co-founder and Senior Director of Strategic Initiatives for the Tennessee College Access and Success Network where he led the creation of the organizational strategy, outcomes, and metrics for a statewide intermediary organization. As part of this work, he also helped build a 150 member network and develop a policy platform to increase college access and success in Tennessee.
He also helped design and develop the Nashville College Connection, Nashville's first and only college access resource center.
His early work in youth organizing around college access was recognized as a finalist for the Peter F. Drucker Award for Nonprofit Innovation and is the subject of a documentary entitled "College on the Brain." In addition to his books and blog (www.andersonwwilliams.com), Anderson co-authored "The Core Principles for Engaging Young People in Community Change" and "Youth Organizing for Educational Change" with the Forum for Youth Investment, and his writing was published in a special issue of the international Journal of Community Psychology on "Youth and Democracy."
He has worked with schools, local and national nonprofits, and other community partnerships facilitating staff development and strategic planning with an emphasis on more creative, democratic organizations for both youth and adults.
Anderson received his Master of Business Administration at Vanderbilt's Owen Graduate School of Management, a Master of Fine Arts from Cranbrook Academy of Art and his B.A. from Wake Forest University.
To meet with Anderson, or any of our excellent mentors, please fill out this interest form.
Q. What excites you most about the Wond'ry?
A. I love and live the interdisciplinary approach to innovation. This is the story of my life and my professional path through a Masters in Fine Arts, community organizing, consulting, education, an Own MBA, nonprofits, and most recently a startup software company. I believe we all can be creators and I know that more young people need to hear this message earlier in the educational and professional careers.
The fact that the Wond'ry is student-centered then is also important and exciting. I worked with students directly for the first half of my career in nonprofits, advocacy, and education work. I miss it. I love the exchange of teaching and learning that you only get when working with a younger generation with their different perspectives, energies, and creativity.
The work of the Wond'ry is at the heart of the message of my first book: Creating Matters: Reflections on Art, Business, and Life (so far) and I have been looking for the right opportunity to reconnect with students and colleagues who believe in this work like I do.
Q. What do you feel are the most important skills you have to offer in your role as a mentor?
A. I worked with high school students for the better part of a decade and taught visual art as an adjunct for four years. I have consulted and facilitated intergenerational groups locally and nationally for almost a decade helping bring young people and adults together to solve critical educational and social justice issues. This work has included marginalized groups like students working with Special Olympics advocating for inclusive schools and highly privileged groups who were part of national efforts through the likes of the America's Promise Alliance.
As a result, I can work with anyone and I can bring the most disparate of groups together to solve problems. I am a learner and a listener who uses those tools to be a better teacher, coach, and facilitator depending on the context. At this point in my career, I also bring 15 years of diverse experiences in the arts, business, social justice, nonprofits, and community activism arenas. I have documented much of this work and my learnings in two books that I have published in the last two years.
Q. What has been your proudest moment in your career?
A. Because my "career" has been iterative and non-linear, I don't have a singular point of pride. I have proud moments in different versions of my work life at different times. Here are a few examples:
As an organizer, my proudest moment was when a group of students I was working with organized a rally to increase funding for their schools and to ask for college counselors as part of that investment. We had worked for many months exploring the topic, and when it came time for the rally they were immensely prepared. I had to do nothing. They spoke for themselves as experts on the topic even in the face of aggressive and somewhat oppositional city council members. They did it all peacefully and nonviolently.
As a consultant, my proudest moment may have been facilitating a youth conference for students with disabilities. I had never faced the reality of facilitating and building leadership among students with such diverse skills and abilities, some non-verbal, some wheel chair bound, some severely autistic, and the list goes on across 100 unique young people. They taught me so much and challenged me to be better and more flexible in my work.
In business, I was proud when my startup Zeumo was successfully acquired. We just barely survived, but we survived. It was a complex and winding path that is more than I have space to describe here.
Q. What has surprised you most about your job?
A. I have had surprises in every job. I don't even know where to begin except to say that when I stop having surprises in my work is when I know it is time to find or create new work. Surprises are part of learning and growing and therefore fundamental to creating and innovating. I guess maybe my biggest surprise as of today is that somehow, given my background and education and worldview, I am working 1. in healthcare, and 2. in software development. It still feels odd and yet has just been a result of iterating and innovating and seizing opportunity at every turn along the way.
Q. If you could do everything over again, would you make the same career choices?
A. This is, for me, perhaps a more philosophical question than intended. I don't know that I would make the same choices unless the circumstances, timing, people, and so forth were all exactly the same. I have iterated through my career trying to remain present and make decisions that will continue my work and evolve my purpose and impact on the world. I would keep making decisions that helped me further develop myself and seek to find the answer to: why am I here?
Q. In your opinion, what is the most important quality for success?
A. Creating. People talk about grit and resilience and those are all part of it. But, I believe having an orientation toward creating the life and work and world you want is what makes us more gritty and more resilient. We have to believe we can and should created and we have to cultivate the skills, relationships, and opportunities to make it happen. We can't be passive. If we believe we are creators then we will always seek quality feedback, self critique, and iterate on our ideas and ourselves.
Q. When you were a child, what did you want to be when you grew up?
A. I thought I wanted to be a lawyer, partly because my Dad was a lawyer, my sister was a lawyer, and I grew up in a home in which community activism and justice were part of our daily lives. When I was in college, however, I began taking studio art classes, and then spent a semester abroad doing studio art. It was at this point that I looked myself in the mirror and accepted that I was an artist. I was no longer going to be a lawyer. While I have a very limited studio practice at this point in my life, I still consider myself at the core to be an artist and this has been what has driven my work and the evolution of my identity for the last two decades of life and work.
---