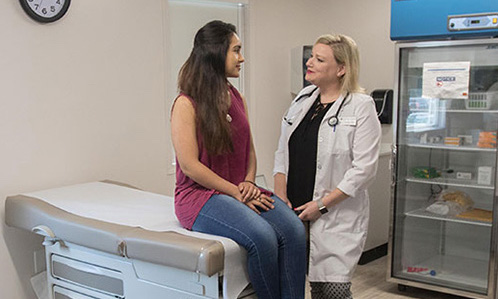 They're in Good Hands
Your student may not be living under your roof anymore, but we know their well-being is as important to you as ever.
From exceptional medical care and mental health counseling to recreation classes, safety resources, peer advocates and more, Vanderbilt offers a breadth of resources to keep our students healthy and well cared for.
You can help your student stay well by listening to their concerns and encouraging them to seek support when they need it.
Student Health Center

The Zerfoss Student Health Center is here to serve the primary care needs of the Vanderbilt student community. There are no office co-pays for routine visits, and all registered students are eligible for care, regardless of insurance coverage.
Student Care Network
The Student Care Network is a holistic network of services and resources pertaining to health and wellness available to all Vanderbilt University students who have paid the Student Health Fee.
Vanderbilt University Police Department
As one of Tennessee's larger law enforcement agencies, the Police Department provides comprehensive law enforcement and security services to all components of Vanderbilt University. The Police Department includes a staff of over 100 people. All of Vanderbilt's commissioned officers have completed officer training at a state-certified police academy. Those officers hold Special Police commissions and are required to attend annual in-service, as well as on-the-job, training. The Department also employs non-academy trained officers for security-related functions.
Campus Contacts
Still need help finding what you're looking for? We'll be happy to point you in the right direction! Feel free to send us an email at parents@vanderbilt.edu.