VUGlobalCitizens

Congratulations to our 2022 VUGlobalCitizens Graduates
Video Recording of VUGC Graduate Recognition Ceremony Keynote Speaker, Chidiogo Nwakoby (via Zoom)
What is VUGlobalCitizens
Who are VUGlobalCitizens
The U.S. serves as an ideal study abroad and oversea research option for many international students and scholars because of it's flexible education system, renowned reputation, diverse culture and abundant opportunities. The presence of international students and scholars fosters a diverse campus environment, and enriched learning experience with cultural perspectives,  and creates significant positive economic impact on the United States.
As our society is adversely facing COVID-19, heightened visibility of racism and xenophobia, it is vital to reinforce our people-to-people relationships around the globe and to strengthen the infrastructure and pathways to reengage with the world. This identity initiative is named "VUGlobalCitizens" to value and respect the existence of all Vanderbilt community members: students, faculty, staff, and post-docs, that identify as "International" or "Global":
Non-US citizens
Foreign nationals
Immigrants
Nonimmigrants
Goals for VUGlobalCitizens
To connect international people at Vanderbilt in efforts to build community amongst this population.
To educate members of the Vanderbilt community on the history and culture of various international communities spanning the globe.
To advocate for issues relating to the international experience on campus.
Profile of VUGlobalCitizens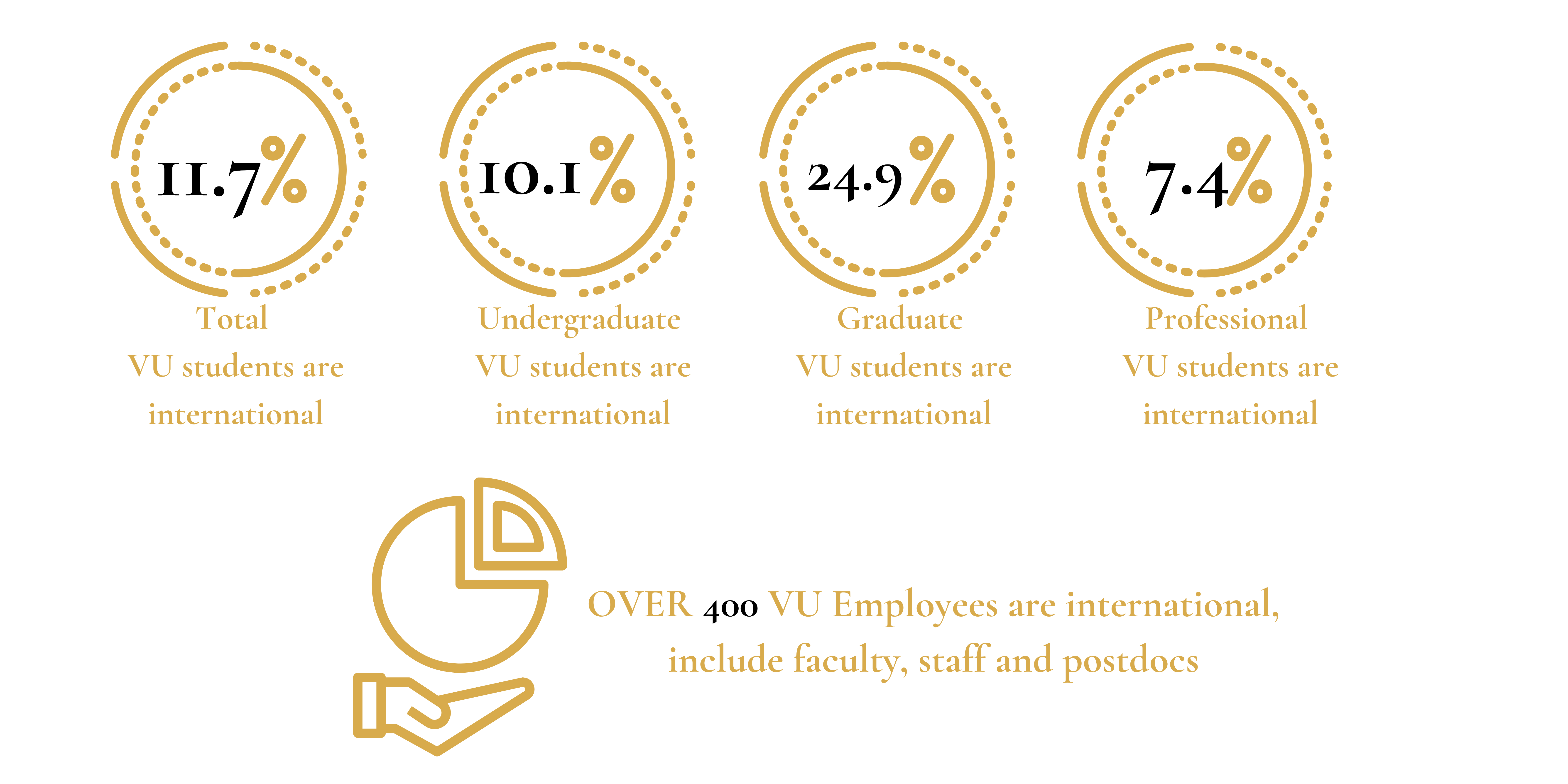 On Campus Resources
News and Events
Global Vanderbilt: Celebrating international faculty
Vanderbilt bolsters support services for international students
Vanderbilt, peer institutions oppose new ICE guidance for international students, will file amicus brief
Off Campus Resources
American Conversation Partners (ACP)
ACP is an enjoyable and free opportunity for international students, researchers, visiting scholars, and family members to improve English conversation skills in a relaxed, informal atmosphere. Participants meet with native English-speaking American volunteers who provide an opportunity to improve conversational skills and understanding of American culture. Please register by texting or emailing Richard and Mary Barnes at moosebarns@gmail.com or 615-864-6891.