Network First-Gen

What is a First-Generation Student?
While the term "first-generation" may seem self-explanatory, its nuance means defining it can be difficult. As an institution, Vanderbilt adheres to the definition of first-generation students set by Federal guidelines, defined by the Higher Education Act of 1965. That definition is as follows:
a. An individual both of whose parents did not complete a baccalaureate degree; or
b. In the case of any individual who regularly resided with and received support from only one parent, an individual whose only such parent did not complete a baccalaureate degree.
FirstVU and Network First-Gen realize that holding the identity of a first-generation student is complex. First-generation students are academically skilled and contribute greatly to the campus community; it is the lack of critical cultural capital necessary to navigate the "hidden curriculum" of universities and colleges successfully that impact first-generation students adversely. Students with one (or more) parent(s) or guardian(s) that have completed a 4-year institution often have greater sources of support in understanding how to traverse the policies, procedures, jargon, and expectations of collegiate life. In order to open up opportunities for additional support for students that are first-generation but do not fully meet the federal guidelines to qualify as a first-generation student, FirstVU and Network First-Gen have compiled a list of resources to aid in the success of first-generation students. Moreover, we provide our own definition of first-generation Students below, one that hopefully encompasses the entire campus community.
First-Generation students are students whose in-home parent(s) or guardian(s) did not graduate from a 4-year U.S. university; this can manifest as:
i.Students whose in-home parent(s) or guardian(s) have a high school education or less.
ii. Students whose in-home parent(s) or guardian(s) only attended a 2-year higher education institution whether in the US or abroad.
First-Generation Student Attributes
First-Generation students are more likely to exhibit the following traits:
Resilience
Ingenuity
Drive
Dedication
Passion
Strong Work Ethics
Critical Thinking
Problem Solving
Independence
Present-oriented instead of future-oriented
Read more:
Redford, J., & Hoyer, K. M. (2017). First-generation and continuing-generation college students: A comparison of high school and post-secondary experiences. Washington, DC: National Center for Education Statistics. Retrieved from https://nces.ed.gov/pubs2018/2018009.pdf
Upcoming Events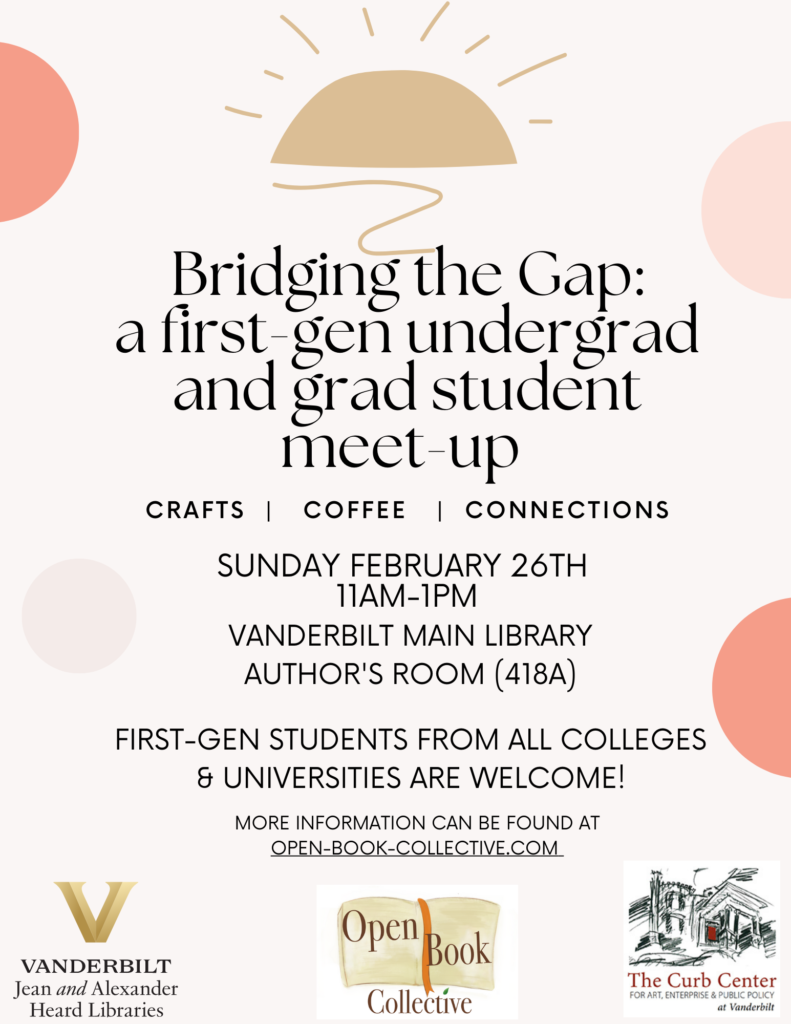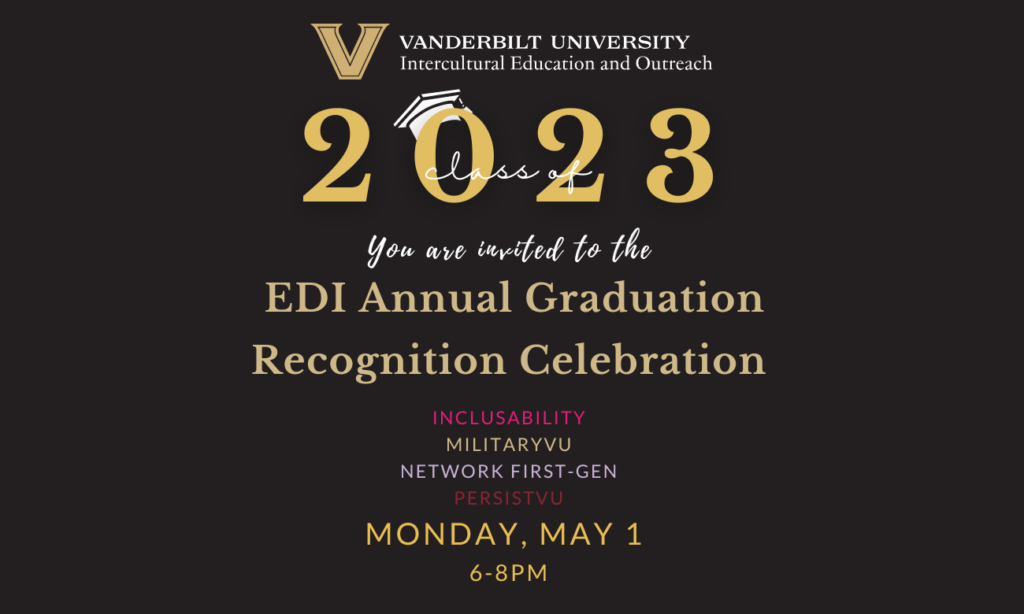 2023 EDI Graduate Recognition Celebration – registration information
previous event highlights
Resources
You may encounter some experiences that are common to First-Generation Students. We have prepared a list of resources to guide you through these potential challenges.
Choosing a Major
You may need to click through departments in some links to find the Department Chair.
Financial Confidence
Academic Readiness
Getting Involved in Student Organizations
Experience Vanderbilt provides up to $500 for student activities
FirstVU is Vanderbilt's premier student-run organization that supports, celebrates, and empowers first-generation students.
Website: https://studentorg.vanderbilt.edu/fgli/
Anchorlink: https://anchorlink.vanderbilt.edu/organization/firstvu
GroupMe: https://groupme.com/join_group/52877269/ohQvo6Mg
Finding Work
Work-Life School Resources
Remote work opportunities:
Learning Campus Culture
Additional Resources:
Mind/Body/Soul