International Student Month

What is International Student Month?

International Student Month (ISM) is the official celebration honoring and appreciating the history, cultural diversity, and unique contributions of international students at Vanderbilt. Throughout the month of March, the Student Center for Social Justice & Identity (SCSJI), the International Students & Scholar Services (ISSS), University Counseling Center (UCC), Office of Equity, Diversity, and Inclusion (EDI), the Asian American and Asian Diaspora Studies, the Multicultural Leadership Council (MLC), and the International Student Council (ISC), the Association of Latin American Students (ALAS), the Vanderbilt Nepali Student Association (VNSA), and the National Association for the Advancement of Colored People (NAACP) curate intentional programs designed to foster and build community within the international student community, educate the non-international community about the lived experiences of international students, and celebrate the various cultures that make up the international student community at Vanderbilt.
As we celebrate the first International Student Month at Vanderbilt from March 1 – 31st, the theme is A Trip Around the World, which signifies the various adventures that exist within the international student experience.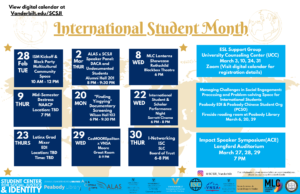 ISM Zoom Backgrounds: Copy and save the following images for a fun ISM 2023 Zoom Background!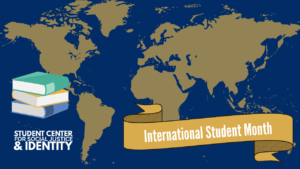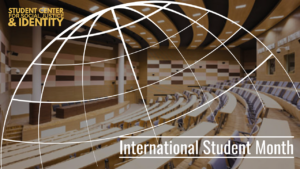 Please see below for the full list of events in March and to directly access the Zoom Links for any and all programs!
Program Title: ISM Kickoff & Block Parry
When: Feb 28, 2023 at 10 AM to 12 PM
Location: Multicultural Community Space (MCS)
Program Description: This event will include free food, internationally known board games, and a pen-pal activity. Come out and have a mid-day break in the West End Neighborhood by the Multicultural Community Space to enjoy good company and celebrate all the beautiful cultures Vanderbilt has to share.
Sponsored By: SCSJI
Program Title: ESL Support Group
When: March 3, 10, 24, 31, 2023 at 1 PM
Location: Zoom, https://vanderbilt.zoom.us/meeting/register/tJwpcOyhqT0uEtY8Ri7d0ag9ZCK8olrekTXZ
Program Description: Coming to the United States and picking up a non-native language for day-to-day communication can be a lot. Navigating different culture norms, social dynamics, and interpersonal relationships – the list goes on. English as Second Language – International Student group is a space for ESL-international students who want to provide and receive support and connections.
Facilitator info: Students are encouraged to request an information meeting with group facilitator, Wenzhi Pan. Request for information meeting can be filled through: https://forms.office.com/r/Ent6Px69xw
Sponsored By: UCC
Program Title: ALAS x SCSJI Speaker Panel: DACA & Undocumented Students
When: March 2, 2023 at 8:00 PM to 9:30 PM
Location: Alumni 201
Program Description: Join ALAS, SCSJI, and TIRRC in discussing the barriers to education within the immigrant community. Learn more about the struggles faced by undocumented immigrants and the DACA program from fellow students, educators, and immigration experts. Light food provided.
Sponsored By: ALAS, SCSJI, and TIRRC
Program Title: Managing challenges in social engagement: A processing and problem-solving space for international students
When: March 6,20, 29 2023 at 12 PM to 1 PM
Location: Fireside reading room at Peabody Lantern
Program Description: Encourage students to gain awareness of the cultural or language barrier and take action to speak up for themselves inside and outside the classroom, learn socio-emotional skills to relieve distress from cultural differences and adjustment to living in a new environment, gain feedback on what instructors can do to create a safe environment for participation. This will be a processing/support group with some direction and skill-based learning (mainly psychoeducation)
Sponsored By: Peabody EDI and PCSO
Program Title: Lanterns Showcase
When: March 8, 2023 at 6 PM
Location: Rothschild Blackbox Theatre
Program Description: Lanterns is one of MLC's capstone events that aims to elevate international students' voices on campus by inviting international students, staff, and faculty on campus to share their unique stories.
Sponsored By: MLC
Program Title: NAACP's Mid-Semester Destress Event
When: March 9, 2023 at 7 PM
Location: TBD
Program Description: Join Vanderbilt NAACP for an evening of relaxation as we take a moment to decompress and reflect on the semester thus far! We have lots of delicious treats and fun activities in store for you!
Sponsored By: NAACP
Program Title: "Finding Yingying"
When: March 20, 2023 at 6:30 PM to 9 PM
Location: Wilson 103
Program Description: Come join the Asian Studies department and watch "Finding Yingying" documentary screening! Pizza will be provided and the director will be at the event for a Q & A session afterwards!
Director Q&A afterwards (department providing funding)
Sponsored By: SCSJI
Program Title: International Student & Scholar Performance Night
When: March 22, 2023 at 6 PM to 8 PM
Location: Sarratt Cinema
Program Description: ISSS and the Graduate Admissions & Enrollment Office are hosting an International Student & Scholar Performance Night. Come and celebrate the talent that we have on campus! You can sign up to perform, or simply come and watch. Light refreshments will be available as well.
Sponsored By: ISSS and GAEO
Program Title: Latinx Grad & Professional Student Mixer
When: March 23, 2023 at 5:30 PM to 7:30 PM
Location: Multicultural Community Space
Program Description: Join us on Thursday, March 23rd, from 5:30-7:30 pm in the Multicultural Community Space for a networking mixer inviting our Latinx-identifying graduate and professional students! As graduate students, it can be hard to connect with students outside of your field of study; it can be even more challenging when trying to commiserate with other students with similar cultural backgrounds. This event aims to offer food and fellowship for our Latinx graduate student community at Vanderbilt. This event is casual and has no formal program, so anyone can come and go as their schedule allows. More information here: https://www.vanderbilt.edu/diversity/identity-initiatives/somosvu/
Sponsored By: EDI
Program Title: Impact Speaker Symposium
When: March 27, 28, 29, 2023 at 7 PM
Location: Langford Auditorium
Program Description: Vanderbilt Programming Board's annual speaker symposium. Speakers will be announced at a later date.
Sponsored By: ACE
Program Title: CosMOOREpolitan x VNSA  
When: March 29, 2023 at 8:00 PM to 9:00 PM
Location: Moore Great Room
Program Description: Join us in celebrating Nepali culture at CosMOOREpolitan!
Sponsored By: VNSA and Moore
Program Title: I-Networking
When: March 30, 2023 at 6:00 PM to 8:00 PM
Location: Board of Trust Room Student Life Center
Program Description: A networking night for international undergraduate and graduate students. A crash course in networking. A chance to ask ISSS and the Career Center all your career-related questions. Food and drinks will be provided!
Sponsored By: International Student Council