IndigenousVU

What is IndigenousVU?
What is IndigenousVU?
In modern society, the education and acknowledgment of Indigenous and Native peoples across the globe limit those groups' contributions past the colonial eras of relocation and genocide. The history books struggle to showcase that these communities flourish and exist in every area of the globe. In nearly every geographic region in the world, exists communities that are native to those lands. Some of those communities are represented at Vanderbilt through our student populations, faculty body, staff members, and alums. For community members of Vanderbilt – students, faculty, staff, and post-docs that identify as:
First Nations
Native Alaskan
Native American
Native Hawaiian
Part of an Indigenous community in the:

Caribbean
Central America
South America
South Pacific,
this is IndigenousVU. We aim to provide resources, support, and fellowship to those within this community. This initiative is open to all Vanderbilt community members, regardless of racial, ethnic, and/or Tribal status. Still, many of the resources and opportunities are directed towards those that identify in some way as Indigenous. As this initiative builds, our goal is to extend our reach to community members from Indigenous groups within the European, African, and Asian continents.
For any individuals that would like to learn more about IndigenousVU, contact Hope Young. If you are interested in taking part in activities for Indigenous students and employees at Vanderbilt, feel free to fill out this form to stay connected!
Goals for IndigenousVU
To connect Indigenous peoples at Vanderbilt in efforts to build community amongst this population.
To educate members of the Vanderbilt community on the histories and culture of various Indigenous communities spanning the globe.
To advocate for issues relating to the Indigenous experience on campus.
Land Acknowledgment
Although Vanderbilt University does not have an official land acknowledgment, below is the land acknowledgment created by Tamee Livermont (MPH'20), and McKalee Steen (BA'20) and passed by the Vanderbilt Student Government in Fall 2019:
"We collectively acknowledge that Vanderbilt University occupies the ancestral hunting and traditional Lands of the Cherokee, Shawnee, Choctaw, Chickasaw, and Creek peoples. Today, these people have nation boundaries in Oklahoma, North Carolina, and Mississippi, after the Indian Removal Act of 1830 led to the forced removal of southern tribes west of the Mississippi River. In particular, the University resides on Land ceded on November 8, 1795 in the Treaty of Hopewell. We recognize, support, and advocate for the Indigenous individuals and communities who live here now, and for those forcibly removed from their Homelands. By offering this Land Acknowledgement, we affirm Indigenous sovereignty and will work to hold Vanderbilt University more accountable to the needs of American Indian and Indigenous peoples."
More information about the formation of land acknowledgments can be found at https://nativegov.org/news/a-guide-to-indigenous-land-acknowledgment/. If you are interested in learning more about the various Indigenous lands across the globe, visit https://native-land.ca/.
Resources for Our Indigenous Community Members @ Vanderbilt

Amerian Indian Science and Engineering Society (AISES)
Indigenous Employee Affinity Group (for faculty, post-docs, and staff)
Indigenous Scholars Organization (undergraduate student organization)
Indigenous Studies Seminar (via the Robert Warren Penn Center for the Humanities)
Educational resources (via the Student Center for Social Justice and Identity)
Educational resources (via Vanderbilt University Libraries)
Indigenous Career and scholarship Opportunities
resources within the Greater Nashville Community and broader
Native American Indian Association of Tennessee
United South & Eastern Tribes, Inc.
Supporting Indigenous Businesses
Events around campus
Vandy Nights @ the Frist – touring Jeffrey Gibson's
The Body Electric 
exhibition at the Frist Art Museum (Apr 20)
Each event will start at 6pm at the Frist Art Museum. Join us for a Vanderbilt-exclusive tour of Jeffrey Gibson's The Body Electric, showing from February 3 – April 24, 2023. This is a free event for all Vanderbilt-affiliated students, faculty, staff, and post-docs. Any VU community member can join us for any of the three tours, but each night offers an extended invitation to the following populations on campus. Registration is required to attend. Registration forms close two (2) days before each tour date. For more information, contact Hope Young.
Link to RSVP for April 20th tour – art students and faculty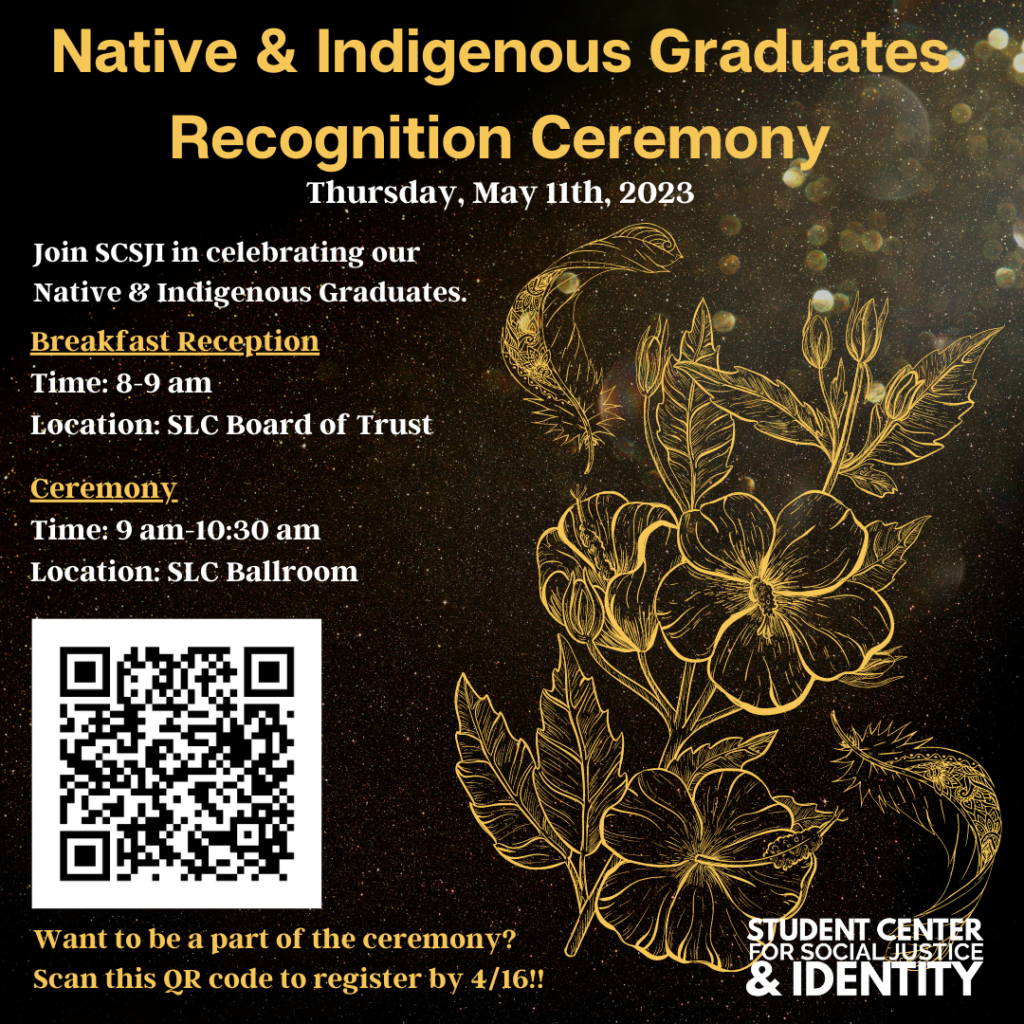 Graduating students must register by April 16th to be featured in the event. RSVP here – https://tinyurl.com/ngrc2023
Past Events
Vandy Nights at the Frist
Documentary Screening – Promised Land (11/17/22)
Indigenous Scholars Organization Events (via AnchorLink)
Native American Heritage Month
Reading & Discussion with Natalie Diaz (recording from the event on 11/9/21)
NAHM Community Gathering (11/17/21)
The Art of Resistance (11/17/21)
Native Americans in Sports (recording from the event on 11/19)
Indigenous Alumni – Where are they now?