AAPI

(Graphic designed by Megana Atluri BS'24 and Riya Chinni BA'24)
This slideshow requires JavaScript.
What is AAPI
AAPI is an identity initiative that was established to acknowledge, support and provide resources for the Asian, Asian American and Pacific Islander communities at Vanderbilt University. Asian American and Pacific Islander communities have long been among the fastest growing racial or ethnic group in the United States. This group varies greatly depending on ancestry, history, cultural background, language, and other characteristics. It is an immensely diverse group of people in terms of income, ethnicity, migration status, and education.
Who are AAPI
As a broad term, this identity initiative is named "AAPI" to value and respect the existence of all Vanderbilt community members: students, faculty, staff, and post-docs, that identify as Asian, Asian American and Pacific Islanders. It encompasses all community members who are the descendants of the Asian continent, and the Pacific Islands of Melanesia (New Guinea, New Caledonia, Vanuatu, Fiji and the Solomon Islands), Micronesia (Marianas, Guam, Wake Island, Palau, Marshall Islands, Kiribati, Nauru and the Federated States of Micronesia) and Polynesia (New Zealand, Hawaiian Islands, Rotuma, Midway Islands, Samoa, American Samoa, Tonga, Tuvalu, Cook Islands, French Polynesia and Easter Island).
Goals for AAPI
To connect Asian, Asian Americans, and Pacific Islanders at Vanderbilt in efforts to build community amongst this population.
To educate members of the Vanderbilt community on the history and culture of various Asian, Asian American, and Pacific Islander communities.
To advocate for issues relating to the Asian, Asian American, and Pacific Islander experience on campus.
Profile of AAPI

News & Events
Join our network by subscribing our AAPI Listserv. Please sign up Here.
To share events, news, or announcements through the AAPI Listserv, please reach out to Hope Young directly.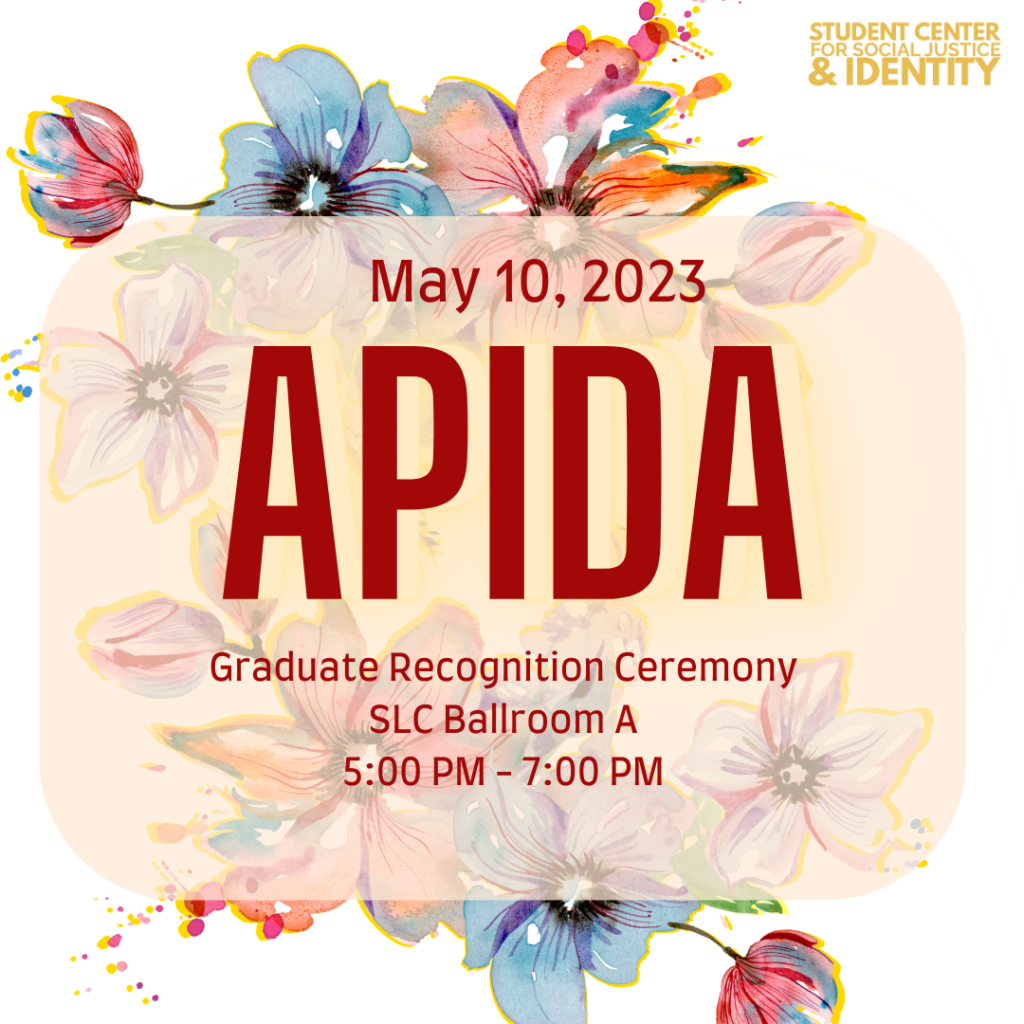 Asian American/Pacific Islander/Desi American Graduate Recognition Ceremony
Wednesday, May 10th from 5-7pm in the Student Life Center Ballroom
Graduating students can register here. To nominate someone for one of the senior awards, you can do so here.
On Campus Resources
The Asian Studies Department is Vanderbilt's home for the study of Asian languages and cultures. Asian Studies anticipates launching an Asian Diaspora/Asian American Studies major and minor track by fall 2023. The College of Arts and Sciences is in the process of hiring a cohort of scholars to create this Asian Diaspora/Asian American Studies major.  In fall 2021, Vivian Shaw, a Mellon postdoctoral fellow, began teaching courses on Asian American sociology. Mark Sanchez, a scholar of Asian American history, will begin teaching fall 2022. In addition, the English department, in conjunction with Asian Studies, is currently conducting a search for a faculty member who will teach Asian American literature and culture, starting in fall 2022.
The mission of the SCSJI is to foster an environment of inclusion and multiculturalism by increasing students and student organizations' development around intercultural competence and social justice as well as promote co-curricular programming that celebrates and recognizes the various cultures of the Vanderbilt student body.  SCSJI advocates for diverse populations of students by intentionally advising and holistically supporting the needs and issues surrounding and affecting them. 
Student Care Network is a holistic network of services and resources pertaining to health and wellness available to all Vanderbilt University students who have paid the Student Health Fee, including all undergraduate, graduate and professional students.
Identity-based Drop-in consultation is available for AAPI students every Wednesday 1:00pm-2:00pm. A Drop-in Consultation provides easy access to informal, confidential, and free consultations with clinicians (counselors) from the University Counseling Center (UCC).
Group Therapy & Workshops offer a supportive and affirming space for students to discuss challenges and build connections. APIDA Virtual group meets weekly on Tuesday 4PM – 5PM, starting on 9/20.
Student Organizations
The AAPI Association of Vanderbilt Alumni (AAVA) was created by alumni to connect the Vanderbilt AAPI community. Members receive quarterly newsletters and invitations to AAVA social events and networking opportunities.
The AAPI EAG was established in Spring 2021 as one of the employee affinity groups under the Office for Equity, Diversity, and Inclusion. This EAG is a dedicated space for faculty, staff and postdocs at Vanderbilt University who identify as Asian and Pacific Islander descent to gather to address and share issues and concerns that impact the group, such as racism, immigration, mental health, and the like.  It is a space to have their voices heard and to make the invisible visible while engaging in both social programming and community activism.
EOA provides a range of services that support Vanderbilt's commitment to fairness, equity, access and respect.
Public and Campus Safety
The Vanderbilt University Police Department (VUPD) takes campus security very seriously and is committed to the efforts to maintain a safe, secure environment for Vanderbilt students, faculty staff, and visitors. Personal safety is a priority at Vanderbilt. Maintaining a safe campus requires a dedicated partnership between the members of the Vanderbilt community and the VUPD.
Emergency Phones: More than 100 emergency telephones are located throughout the university campus and medical center.  Each phone has an emergency button that, when pressed, automatically dials the VUPD Communications Center.  An officer will be sent to check on the user of the phone, even if nothing is communicated to the dispatcher.  An emergency response can also be activated by dialing 1-1911 from any campus phone.  Cell phone users can dial 615-421-1911 to summon an emergency response on campus.  For off-campus emergencies, dial 911. Only call 911, however, for life-threatening emergencies such as fires, serious injuries, etc.  For non-life-threatening emergencies such as reporting theft, break-ins, property damage, etc, please call 862-8600 to optimize the 911 emergency resources.  For more information on what constitutes an emergency, go to: https://www.nashville.gov/Emergency-Communications-Center/9-1-1-Caller-Tips.aspx
Walking Escort Service: VUPD also provides walking escorts for students, faculty, and staff walking to and from any locations on campus during the nighttime hours.  The telephone number to call for a walking escort is x18888 (or 421-8888 off-campus).
*If you identify as a member of AAPI and other identities, please refer to more resources Here.
Off Campus Resources
AAPI Serving Organizations in the Greater Nashville Area
Educational Resources
Training and Guidance
Articles
Podcasts
Books
Movies/Documentaries/Webinars
Social Media
Organizations and Resources for AAPI Professionals

Against Anti-Asian Resources 
Prevent and Respond to Anti-Asian Behavior
You may encounter a number of experiences that are common to AAPI. Here are TIPS on stigma and language:
Use the official term for the novel coronavirus and the disease that it causes (COVID-19). To avoid stigmatization refrain from attaching locations, countries, or ethnicities to the virus.
Use "people – first" language when talking about the virus.
Use neutral, technical terms like "acquiring" or "contracting" when talking about COVID-19 instead of those that may carry a negative implication, such as "infecting others" or "spreading the virus," which can imply guilt or blame.
News and Events Archives
Vanderbilt to celebrate APIDA graduates during AAPI Heritage Month in May
Atlanta shootings a year ago sparked AAPI communities to call for change
Panel discussion: 'From Vincent Chin to #StopAAPIHate: Helen Zia and 40+ Years of Asian American Activism'
Vanderbilt launches new group for Asian American and Pacific Islander alumni 
University statement on violence against Asians and Asian Americans
Panel to focus on violence against Asians and Asian Americans through lens of history and racial injustice
Asian Pacific American Heritage Month theme explores power of the 'extraordinary'
Interest session for new Asian, Asian American and Pacific Islander Employee Affinity Group is April 1
Staff listening session on Asian, Asian American violence scheduled for this week