Asian Pacific Islander Desi American Heritage Month
What is Asian Pacific Islander Desi American Heritage Month?
While Asian Pacific Islander Desi American Heritage Month (APIDAHM) is officially celebrated in the month of May, Vanderbilt celebrates APIDAHM in the fall semester from October to early November. It is the official celebration that honors the history, cultural diversity, and unique contributions of Asian Americans and Pacific Islanders, and Desi Americans (APIDA).
A rather broad term, Asian/Pacific/Desi encompasses all of the Asian continent, India,  and the Pacific Islands of Melanesia (New Guinea, New Caledonia, Vanuatu, Fiji and the Solomon Islands), Micronesia (Marianas, Guam, Wake Island, Palau, Marshall Islands, Kiribati, Nauru and the Federated States of Micronesia) and Polynesia (New Zealand, Hawaiian Islands, Rotuma, Midway Islands, Samoa, American Samoa, Tonga, Tuvalu, Cook Islands, French Polynesia and Easter Island).
At Vanderbilt University, the Student Center for Social Justice & Identity curates a calendar of events related to Asian/Pacific heritage, featuring programs from across campus and the Nashville community.
You can scroll down to see a list of events with their links! Take a look at the calendar below as well!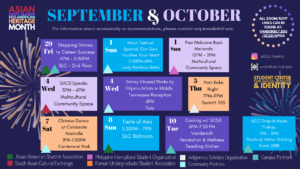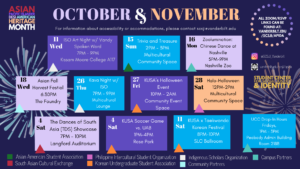 Please see below for the full list of events during the Heritage Month and to directly access the Links for the programs!