Asian American/Pacific Islander/Desi American Graduate Recognition Ceremony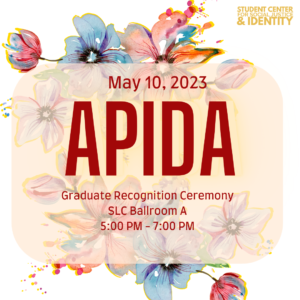 SCSJI is excited to continue the Asian Pacific Islander Desi American (APIDA) Graduation Recognition Ceremony for the graduating class of 2023! The ceremony highlights and celebrates the achievements and successes of all the graduating APIDA students. The ceremony provides an opportunity to pay homage to family, friends, faculty, staff, and administrators who have supported their journeys. We invite you to come and celebrate our students during this fun filled event!
When and Where Is It?
Asian Pacific Islander Desi America (APIDA) Graduates Recognition Ceremony
Wednesday, May 10th
5:00pm-7:00pm
Student Life Center- Ballroom
The APIDA GRC will be May 9th, 2023 in the SLC, tim TBD!
Who Can Participate?
Participation is open to all undergraduate, graduate, and professional students who will earn their degree from Vanderbilt University in the designated academic year. Any student graduating in Spring 2023 or Summer 2023, or having already graduated in Fall of 2022, is eligible to participate. Students must register online before the deadline in order to guarantee participation and recognition in the printed program.
Please note that this celebration is held in addition to formal graduation events and is not a substitute for the official commencement ceremony.
How Do I Register? When Is Registration Due?
Registration is a requirement for participation. The registration form for the ceremony can be found HERE. The form must be completed by April 26th at 5:00 PM, but if you need to edit your form after the deadline, you will have multiple opportunities to make changes. Please email Kauthar Gaber, SCSJI Coordinator (kauthar.f.gaber@vanderbilt.edu) with any questions.
Please email Kauthar Gaber at kauthar.f.gaber@vanderbilt.edu for more information about partnerships, collaborations, or general requests related to the APIDA Graduate Recognition Ceremony.
Are You Doing Award Nominations? If So, How Do I Nominate Myself Or My Peers?

The APIDA Planning Committee is so excited to include the presentation of awards for the 2023 ceremony. Any graduating Vanderbilt student is eligible to be nominated for the categories of Leadership, Service, and Impact. Anyone may nominate themselves or another community member. To nominate multiple people, or to nominate one person for multiple awards, please submit a separate form for each nomination. Nominations are accepted from March 6th to April 5th. For more information and to nominate individuals, please fill out the nomination form.
Note of Appreciation:
Special thanks to the South Asian Cultural Exchange Marketing Chairs, Megana Atluri and Riya Chinni, for making the graphic for APIDA! When asked to share their thoughts about creating the flyer:
"The APIDA community is a large part of my identity, and being able to give back to the community by making this logo was extremely rewarding and a huge honor."-Megana
"I will always be grateful to be part of our APIDA community, and taking part in designing this APIDA logo is an experience that I'll remember and cherish!"-Riya