E. Bronson Ingram College
Opened in August 2018, E. Bronson Ingram College is located on West End Avenue between 23rd Avenue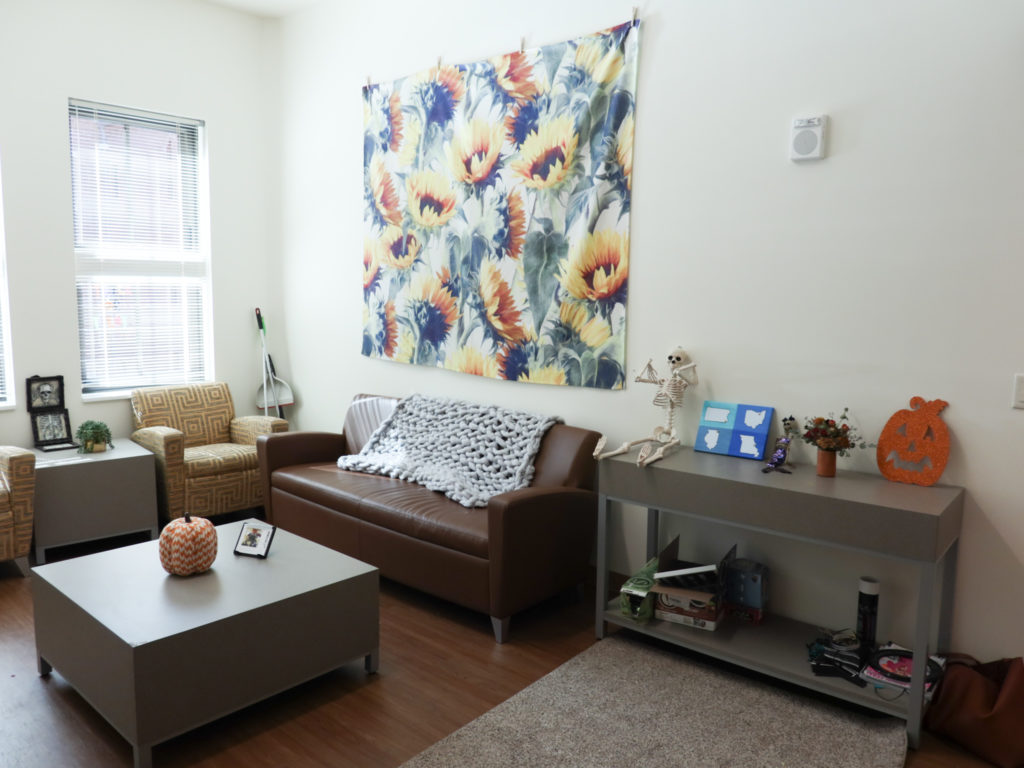 South and the Kirkland Esplanade.  E. Bronson Ingram College provides state-of-the art accommodations inside gothic-style architecture that takes stylistic cues from Kirkland Hall and Alumni Hall.
E. Bronson Ingram College has been awarded LEED Gold certification by the U.S. Green Building Council in 2019. The council's Leadership in Energy and Environmental Design Green Building Rating System is the nationally accepted benchmark for the design, construction and operation of high-performance sustainable buildings. Read more about this certification here.
E. Bronson Ingram College houses 340 upper class students in four-person suites, traditional double rooms, and traditional single rooms. The building is fully air conditioned. Corridors and common areas are carpeted. Student rooms have hard surface floors.
Notable spaces include the servery, dining hall, great room, living room, multipurpose room, meeting rooms, lounges and study rooms for residents, music rooms, performance rehearsal studios, as well as a community kitchen and a laundry for building residents. The Faculty Director and Area Coordinator live in apartments on the first floor.
E. Bronson Ingram College is led by a Faculty Head of College. The Faculty Head works closely with Residential Colleges staff, a graduate student worker, and the College Programming and Advisory Councils to encourage the living and learning outside of the classroom. The residents are also supported by an Area Coordinator, a Head Resident, and Resident Advisers who all live in the college.
The college is named for E. Bronson Ingram who served on the Vanderbilt Board of Trust for nearly three decades and led the board from 1991 to 1995. E. Bronson Ingram College is comprised of two halls:
Barnard Hall is named in honor of Edward Emerson "E.E." Barnard, a native of Nashville. Born into poverty in 1857, young Barnard began working as a photographer's assistant at age 9. His keen interest in astronomy led to his discovery of several comets in the 1880s. He attended Vanderbilt from 1883 to 1887 on a fellowship funded by fellow astronomers. Barnard made lasting contributions in astrophotography.
Sadler Coe Hall, is named in honor of Christine Sadler Coe, a Tennessee native who graduated from Peabody College in 1927. She began her career in journalism at the Nashville Banner in 1930. In 1937, she graduated from Columbia University with a master's degree in journalism and then was hired by the Washington Post. Sadler Coe was the first woman to cover a national political convention and she continued to cover politics and conventions for 30 more years. At McCall's magazine, she covered the White House from 1944 to 1971.
Residency also incurs the required Residential College Experience Fee.
Photos & Room Tours:
Amenities include:
Commodore Card access to building
Camera Surveillance of all exterior doors
Central air-conditioning
Xfinity On-Campus IPTV Service
Study Lounges
Community kitchen facility with oven, stove, microwave, dishwasher, and refrigerator/freezer
Carpeted corridors
Wireless campus network throughout the building
Vending machines (cash or Commodore Card)
Laundry (machines free for residents)
Elevators
Fully ADA accessible
Fully sprinkled for fire safety
Furnishings include:
Loftable bed for each resident
Desk for each resident
Desk chair for each resident
Two Chests (one with a lockable drawer) for each resident
Closet for each resident
Waste can for each room
Recycle bin for each room
Overhead lighting
Mirror
Window blinds
Data port for each room
Towel bar for each resident
Custodial service in common area baths, lounges, and corridors