Professional Photo Booth
The Photo Both will be inaccessible May 15 – July 15 due to construction in the

Student Life Center.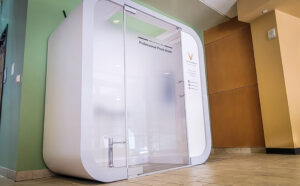 Professional headshots are a must-have for any LinkedIn account, but they can also be used in email signatures, presentations, and personal websites. The problem is finding the time, resources, and even the courage to get a professional headshot taken. That's why the Career Center is proud to present our free, self-service photo booth. Just step inside, pose, and share!
Located in the Student Life Center, this resource is free and available to the entire Vanderbilt community. The photo booth is available for use anytime the Student Life Center is open. Check out this flyer for more details!
Here are some tips to keep in mind when using the photo booth:
Dress appropriate to the position or industry you are pursuing, and style your hair, attire, and makeup as you would if you were meeting an employer for an interview.
Make sure the camera is eye-level.
Smile!
Review the photos taken and select the best of the bunch to upload to LinkedIn or other social media profiles.