Parents & Family
Greetings! Did you know that you are one of the most important factors in your student's career decision-making process? While career decisions and the job search process are ultimately the responsibility of your student, your support can go a long way to help ease the anxiety and uncertainty often associated with the process. We appreciate the integral role you play in the career process. Please browse through the pages of our website to learn more about what we have to offer and how students can best use our services. And then please encourage your student to develop their Doreways page and visit our office for support in their career planning process.
Some basic information about the career process:
Your student's career development is an ongoing process requiring planning and action, not a one-time event.
We are very pleased to provide our students with connections to many desirable employers through our career center events and programming. But on-campus recruiting is only one part of the career search process and students should network and search independently as well.
Our coaching team can assist students with all aspects of their search so they are never alone in the process.
We are often asked when a student should start the career process. There's no one answer for this. The timing of a search is greatly dependent on the field of interest. Certain fields like banking or consulting do require students to start their search early (sophomore year, usually) but many industries hire on a "just-in-time" schedule. We are here to help whenever your student wants to start their search.
While a Career Center can provide career guidance, connections to employers, and help with decision-making, we cannot make the career decision for your student. By law, we also cannot select candidates or make any decisions on behalf of an employer.
How you can help:
We greatly appreciate the support our Vanderbilt parents provide.  You have the advantage of knowing your student well, and knowing how much (or little!) guidance your student will take from you. Here are some tips that we hope will provide some guidance for the process:
Encourage your student to visit our office and take advantage of our services. We know that students are busy and visiting an office like a Career Center can just be one more "to-do" on an already filled list. But research shows that the earlier the students start planning their futures, and the more active a role they take in the process, the more likely they are to experience success.  Your encouragement will mean a lot.
Encourage your student to completely fill out their profile on DoreWays. DoreWays is the Center's web-based portal that houses jobs, internships, professional development opportunities, events and interview schedules for recruiters. The more fully a student fills out their profile, the more targeted our communications can be
Listen to their career plans with an open mind. College is a time of significant growth and increasing independence and students can use this time to consider many different careers or opportunities. Listening with an open mind and encouraging them to explore possibilities is one of the best ways to help.
Encourage your student to acquire experience. Try not to get too hung up on the word "internship." Some companies offer internships, but what students should be seeking is "experience" which can take the form of a summer job, a volunteer opportunity, a research project, a self-designed study, etc.  There are all kinds of creative ways to acquire the skills, knowledge, and talent needed to succeed in a career field, and it's not always through an internship.  Our coaches can help your student craft a valuable summer experience based on their career interests and any geographic or financial limitations which might exist.
Provide resources and networking opportunities if you have them. If your student expresses an interest in a career field, and you know someone who can help them, by all means, share that knowledge. But don't set up the connection for them: give them the person's contact information and encourage your student to set up the meeting or call. This is a valuable part of the learning process around networking: being able to connect with a stranger and turn them into a valuable ally.
Don't do the search for them. Learning to independently search for a job is one of the most valuable skills a student can acquire—and one which will serve them throughout life.
Don't accept "I don't know what I want to do" as an excuse for not moving forward with the career search process. Many students mistakenly think they can only plan their career when they know what they will do. The truth is, career planning is a process and even students who "know" what they want to do after graduation often change their minds.  So any student can start the process anytime.
Help our students find employment at your place of work, if possible. Please let your Human Resources office know about the quality of Vanderbilt students and encourage them to work with our Employer Relations team, sharing job and internship opportunities. If you are in a position to provide more direct assistance in the employment of Vanderbilt students, please contact our Employer Relations Specialists directly to share your knowledge and expertise.
A special note on selecting a major: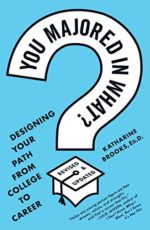 My book, You Majored in What: Designing Your Path from College to Career,  starts with that pesky question students are always asked after they tell someone their major: What are you going to do with that?
This is the wrong question.  What should be asked is:
"What do you want to do? And how can you demonstrate through your major, your experiences, and your skills that you can do it?"
That's where we start with our students.  We focus on what careers they are considering, what ideas they want to explore, what knowledge they want to gain, what perspective they want to have—those concepts more than anything will help them select a major.
In many cases, the choice of a major is not a choice of a career.  Studies have shown that only about 27% of college graduates are working in fields directly related to their major. Vanderbilt graduates work in virtually every sector of the economy and they all started with a Vanderbilt degree.  Certain career fields demand a more linear approach (for example, engineering or accounting) but many career fields are open to a variety of majors. Barring an unusual circumstance, our major advice to students is:
Major in a subject which interests you and where you enjoy reading and learning.
Major in an area you are curious about and have questions you'd like to answer.
Major in the area where you like the professors and find their classes intellectually stimulating.
Major in the area where you will do well academically. (More likely if you've followed the three questions above.)
If you know the general career path or graduate school path you plan to follow and that field requires a specific curriculum, use that as a guide to the best major. (Just do your research: a pre-med student, for example, can major in anything as long as s/he takes 6 prerequisite courses. And law schools are open to any major.)
CONNECT WITH ME!