Location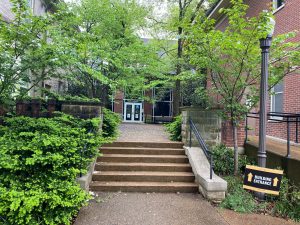 Tutoring Services' offices and primary tutoring facilities are located in the Curb Center Building (1801 Edgehill Ave.), Suite 112.
Building Access: Outside of regular business hours (Sundays, after 5:00 p.m. Mon-Thurs), access to the Curb Center Building requires a Vanderbilt ID card swipe.
Contact Us: tutoring@vanderbilt.edu or (615) 343-2225
Satellite Location in the Commons Center's Fireside Lounge
We are also excited to be continuing our offering of the Weekly Learning Roundtables and Drop-In Hours in the Commons Center's Fireside Lounge (Room 107).
---
Walking Directions to Tutoring Services' Curb Center Building ("Edgehill") Location
From Main Campus, cross the pedestrian bridge over 21st Avenue and then continue walking down Edgehill Avenue. You will pass the playground of the Vanderbilt Child Care facility, and 1801 Edgehill is the next building. Turn right off Edgehill and make your way up to a small courtyard (to the right of the Curb Center) with a set of glass doors at the far end. Once you enter the building, follow the signs for Tutoring Services. Suite 112 will be immediately on your right, and someone should be there to greet you during our hours of operation.
Safe Transportation Options
For students taking advantage of in-person tutoring sessions in the Curb Center Building (1801 Edgehill Ave., Suite112), students should be aware of the various MoveVU Transportation options available, particular for safe travel to and from our location in the evening.
VandyRide (URL: https://www.vanderbilt.edu/movevu/transportation-options/#vandyride)
For transportation requests after hours, a walking escort may be requested, at any time, by calling the VUPS Communications Center at 615-322-2745.
Individuals can also utilize safety features in the VandySafe app including contacting VUPD via phone call or real-time chat, triggering a mobile Bluelight that shares your location instantly with VUPD, or initiating a "Virtual Walkhome" where VUPD can monitor your walk to your vehicle or home, view information on VandyRide, and more.
For more information, visit MoveVU Transportation Options.
---
Nearby Parking
Vanderbilt Parking Map | Campus Visitor Parking Map
Campus Parking Permit Holders
Zone 1 lots/permits: Parking lots 80 and 82 are just across Edgehill Avenue from the Tutoring Services' Curb Center Building location. Lots 78a and 79 are available behind the Curb Center building, between it and the Commons Center, and lot 77 is located just across 18th Avenue South.
Zone 2 lots/permits: Levels 4 and 5 of the Wesley Place Garage, which is three blocks away on Scarritt Place.
Student Permit Holders: University resident-student (F, G, VK, & J) and student reserved garage (TG, Kissam, KG, & WP) permits may cross park in University Zone lots after 4:00 p.m. until 7:00 a.m. and on the weekends.
University Zone permit holders may cross park in any University Zone lot after 2:30 p.m. until 7:00 a.m. and on the weekends.
Campus visitors and those without a parking permit will find Metro-Nashville metered parking spaces available on 18th Avenue South across the street from the Seigenthaler Center and Commons Center. Three blocks away, the Wesley Place Garage on Scarritt Place also has paid parking available for campus visitors.