Where do Students See Their Grades?
Students most commonly view their grades in the Class Progress tab within a course. You can also add a Grades link to your navigation bar. If you have used Brightspace for an assignment or quiz, they could also see their grade by visiting that tool. You can find instructions for all of these possibilities below:
Created Fall 2021
---
View student grades in Class Progress
Students mainly go to the Class Progress tab to view their grades in a course. Instructors can also go to the Class Progress tab, select a student, and see their grade view. Example below.
Note: If you remove Class Progress from your navigation bar, students will not be able to see their grades. It is recommended that you do not remove this tab.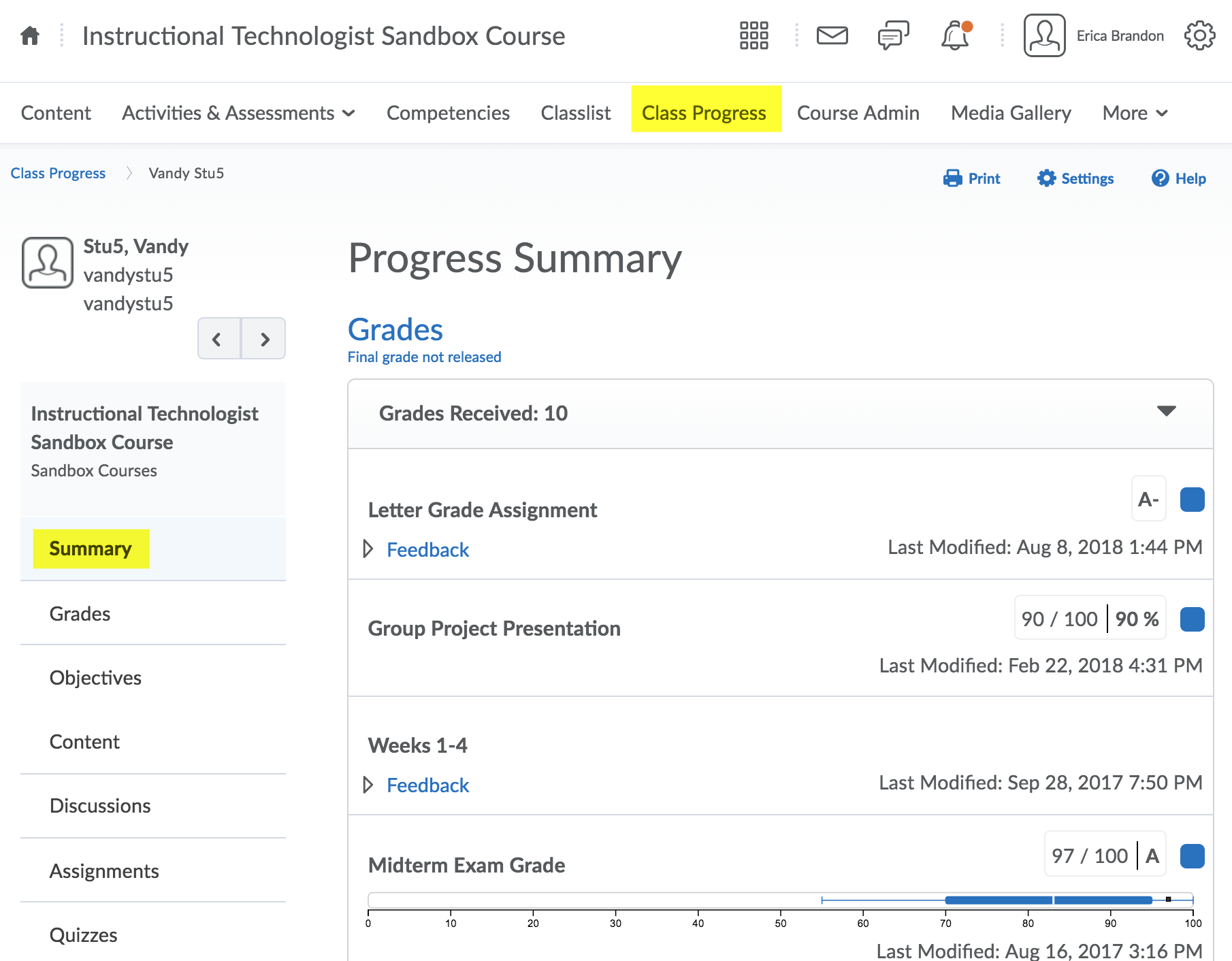 Add the Grades tool to the navigation bar
If you add the Grades too to your navbar, students will be able to view the entire gradebook. This allows them to see everything within the course that you anticipate affecting their final grade. Below is an example of a student's view under the Grades tab.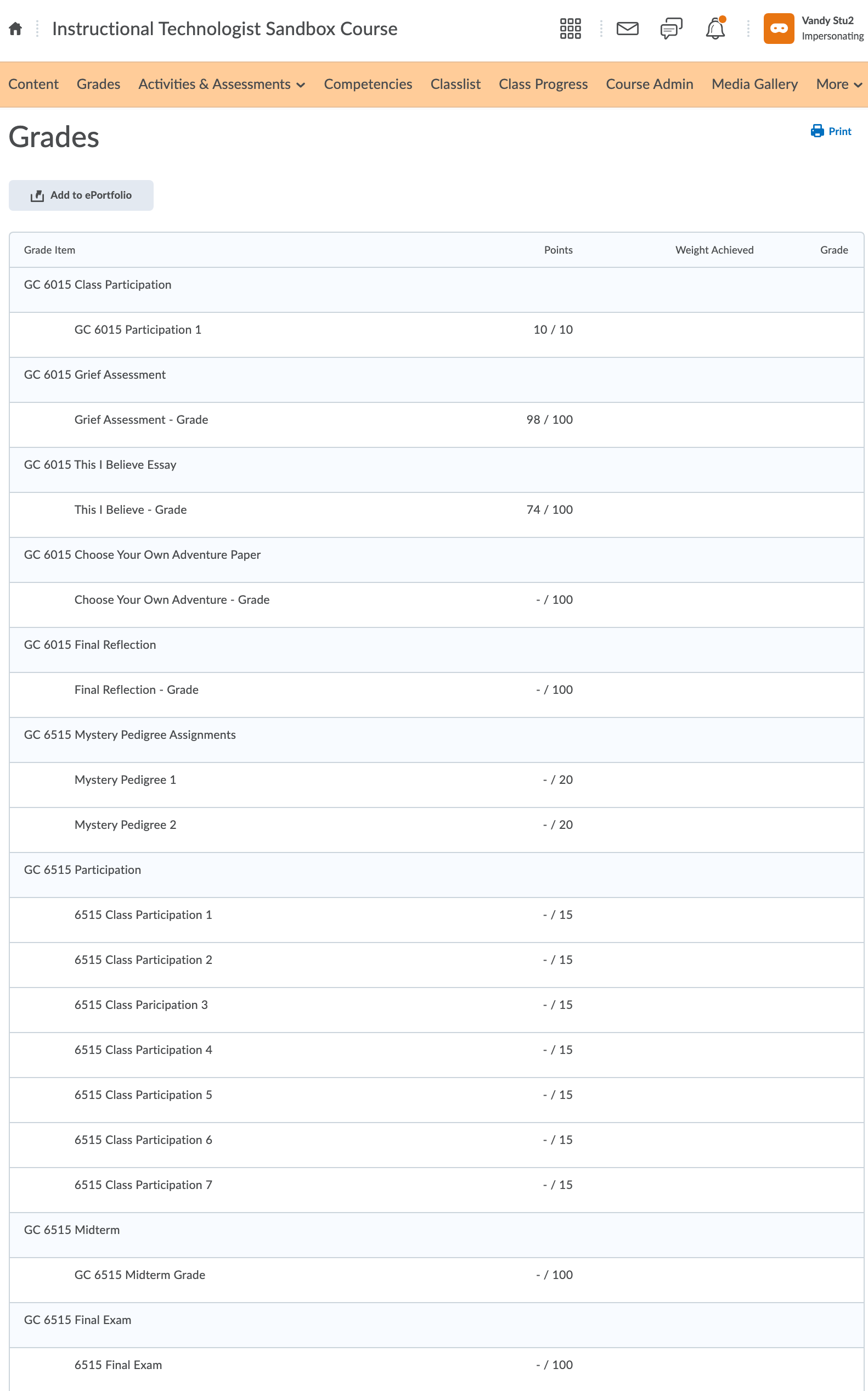 Click this link to learn how to add tools to the navigation bar.
View a quiz grade in the Quiz tool
Students are able to view quiz results in the Quiz tool. As an instructor, you can determine what the student can see. Here is an example of a student view of their quiz results. The instructor has allowed them to see the questions, their answer, and the correct answer:
Learn more about how to set the student's view of a quiz submission here:
How do I Determine What the Student Sees Upon Completion of the Quiz?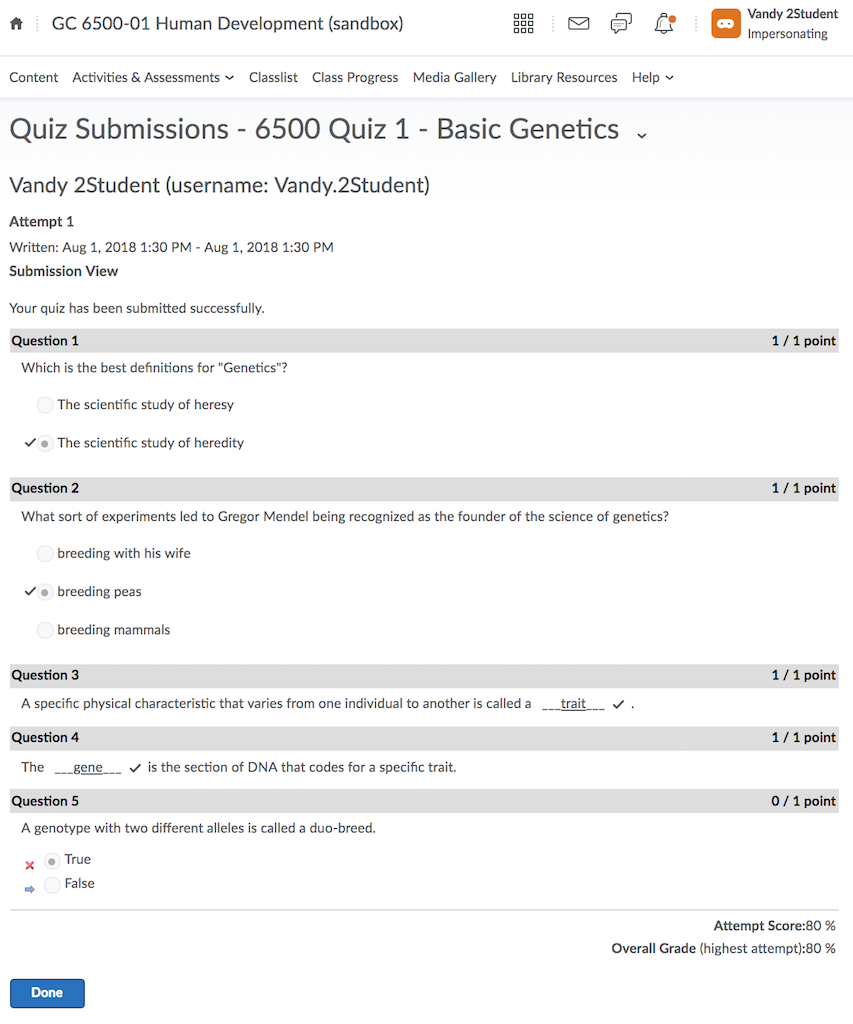 View an assignment grade in the Assignment tool
Students can view information about their assignment submission by going directly to the Assignment tool. Once the assignment has been graded, and the grade has been published, they will see this display for the assignment. From here they can:
Click on the original assignment
See their grade: 94/100
View their file submissions: 3 in this case
View their feedback that was written during evaluation
See the due date

If the student clicks on the View Feedback link, they will see this display which includes their written feedback: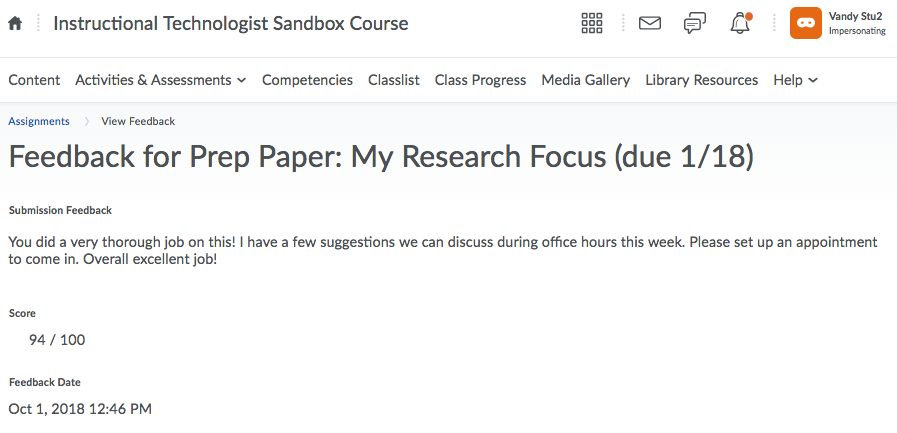 View an assignment graded with TurnitIn
When assignments are graded with TurnitIn, the student will need to access TurnitIn to see their Similarity Report and any Markups you made in the TurnitIn Feedback Studio. They would access this in the same place they did in the previous step: Viewing an Assignment Grade in the Assignment Tool. However, in this case they will see a Similarity Report percentage given. To get more details, they should click directly on that icon to open TurnitIn. This will open a new page with the TurnitIn interface.