Training Overview
Training Opportunities
Located in the heart of Nashville and recently ranked as one of the best student support and counseling services, the Vanderbilt University Counseling Center (UCC) is home to a renowned training program that has historically been part of the longest running clinical training program in the state of Tennessee. Trainees at the UCC have an opportunity to join a dynamic, multidisciplinary, and dedicated staff, who collectively work to provide Vanderbilt's diverse student community with a wide range of accessible and comprehensive services. Throughout the training year, trainees also benefit from opportunities to connect with and learn from a variety of campus partners, student organizations, and community resources, such as Vanderbilt University Medical Center. The overall mission of training at the UCC is to provide a breadth and depth of clinical experiences within a well-supervised, affirming, and inclusive environment. The training program accepts counselors-in-training within the three programs below, and trainees from each program have gone on to work in a variety of professional settings.  
Message from the Associate Director for Training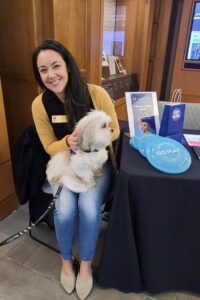 Welcome! Thank you for your interest in training at the UCC. I am thrilled that you would consider our site for your training experience.
Training is an integral part of our mission at the UCC, and I am proud to share that nearly every member of our large, multidisciplinary, diverse, and incredibly talented team contributes to the training program. Members of the UCC staff include folks trained as professional counselors, social workers, psychiatrists, psychologists, psychiatric nurse practitioners, and a registered nurse. Our center-wide approach to training contributes to a rich learning environment that offers a variety of opportunities in modalities that may include individual therapy, group therapy, workshop facilitation, testing and assessment, outreach and community engagement (which sometimes includes puppies!), and crisis intervention.
As Training Director, my goal is to cultivate a training environment that nurtures your strengths and supports you as you take courageous steps, make rewarding leaps, and (if you're like me) learn from a few stumbles along the way to your professional goals. To help provide additional context for the training environment at the UCC, I would like to emphasize the values of the training program below:
Community: We believe in building a community of care and see community as a mutual source of meaningful support, learning, and healing
Ethical Mindedness: As mental health providers at the UCC, we believe in embodying ethical, responsible, and reliable decision-making while also honoring professional boundaries, which help facilitate safety and trust with the entire Vanderbilt community
Equity and Social Justice: With humility and openness, we seek to understand the systemic inequities that are present in our work and system, and we strive to hold ourselves accountable to collectively work on change, repair, and advocacy
Self-Reflection: Given our unique individual identities, we commit to continuously learning about the lens with which we see the world and the implicit biases that may be associated with our life experiences
Self-Awareness: We strive to consider the impact that we have on others and view feedback as opportunities for growth and connection
Self-Compassion: We believe in practicing self-compassion by honoring our own humanity, acknowledging the impact of the work we do on ourselves, particularly given the identities we hold, and prioritizing our own well-being
I encourage you to review our website to learn more about the UCC and our training programs, and I invite you to contact us with any questions you have. Thank you again for your interest. The UCC is a wonderful place to learn and grow, and I hope to welcome you to our center soon!
Warmly,
Ruth Howard, Ph.D., HSP
Associate Director for Training
---
This page was last updated July 2023