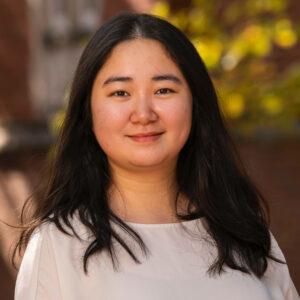 Wenzhi Pan, M.S.Ed
Social Justice and Inclusion Counselor
Pronouns: she/her/她

---
Acknowledging how socioeconomic, political, physiological, and other factors impact our college experience, I aim to offer culturally responsive and trauma-informed care to my clients. As a Chinese-born therapy provider who came to U.S. at 18, I recognize the complexities of intersectionality and use an integrated approach drawing from different theories to provide individualized interventions for my clients so they can reconnect with their innate resilience and restart their journey.
Also provides services in Mandarin. 
My treatment modalities include but not limited to:
Narrative Therapy: Retell your own stories, own it, and find a new narrative about it
Somatic Experiencing: Reconnect with our bodies, as it has experienced the high and low with us. Our bodies and our mind carry the trauma we have been through. They would react on their own no matter what our "rational brains" want. Reconnect our body and mind so we can finally understand what is going on and how to heal from our past
Specialized Area: Multicultural Issues, Immigrants, International Students, Insomnia
Wenzhi is originally from Wenzhou, China. She came to U.S. at 17 for undergraduate studies and went to William & Mary. She received her two master's degrees in Mental Health Counseling and Professional Counseling from University of Pennsylvania. Outside of work, Wenzhi enjoyed playing video games, working on writing and translating project, and chilling with her cat.
---