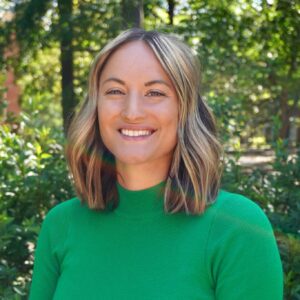 Tess M. Kilwein, Ph.D., HSP, ABPP
Athletics Psychologist
Pronouns: name/she/they/Dr.

---
My treatments are feminist-, multicultural-, and liberation-informed and I am active in creating a non-judgmental, anti-racist, and decolonized therapy experience for student athletes with a variety of lived experiences and identities.
Dr. Kilwein is a Clinical and Sport Psychologist at Vanderbilt Athletics. They provide sport psychology, mental health, and performance services for Vanderbilt varsity student athletes, teams, and staff throughout a comprehensive and integrated performance enhancement and mental health consultation service. Dr. Kilwein has previous served student athletes at both Colorado State University and University of Wyoming, as well as recreational and competitive athletes in private practice throughout the states of California, Colorado, North Dakota, and Wyoming.
Dr. Kilwein earned their PhD in Clinical Psychology from the University of Wyoming. They completed their pre-doctoral internship at Denver Health Medical Center and a post-doctoral fellowship at Colorado State University Health Network. Dr. Kilwein is a board-certified clinical psychologist with specialization in the areas of trauma/PTSD, addictions, sex therapy, men and masculinity, LGBTQIAP2S+, and sport/mental performance. They are also credentialed by the National Register of Health Service Psychologists, a member of the United States Olympic & Paralympic Committee Mental Health Registry, and near completion of their Certified Mental Performance Consultant through the Association of Applied Sport Psychology.
In their free time, Tess enjoys participating in cultural events, engaging in community advocacy, experiencing new places, taking Ruthie Rey to the dog park, and life as a (very) amateur pickleball player.
---