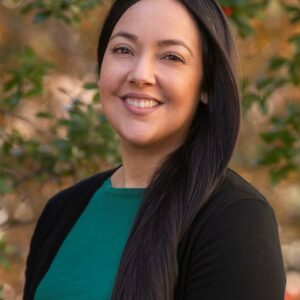 Ruth Howard, Ph.D., HSP
Associate Director for Training
Pronouns: She/Her/Ella

---
I am humbled by the strength and resilience that students exhibit every day, and it is a privilege to work alongside them at the UCC. As a Latinx therapy provider who immigrated to the US as a child from Venezuela, I find it both personally and professionally rewarding to be rooted in liberation psychology, exploring the impact of sociocultural systems of privilege and oppression and working towards deconstructing deeply rooted systems of inequity. Although this is often an imperfect process for me, I strive to work collaboratively with students to co-create a warm, affirming, and validating space for growth and healing to take place.
Speaks conversational Spanish.
Ruth received her Ph.D. in Counseling Psychology from the University of Wisconsin-Madison, completed a pre-doctoral internship at the University of Illinois at Chicago's counseling center, and concluded her training as a post-doctoral fellow at SunServe, Inc., a non-profit mental health agency committed to advocating for and supporting the LGBTQ+ community in South Florida. Prior to joining the UCC, Ruth taught undergraduate and graduate-level psychology courses and has worked in a variety of treatment settings including inpatient hospitals, outpatient dual diagnosis treatment centers, psychiatric clinics, as well as university counseling centers.
Given her intersecting identities, Ruth has a passion for empowering university students, particularly students with systemically marginalized identities, on their journey towards accomplishing their goals. Ruth uses evidenced-based approaches from a humanistic, systemic, and feminist lens. The support she offers integrates relational cultural, emotion-focused, cognitive-behavioral, mindfulness, self-compassion, as well as EMDR treatment modalities.
For self-care, Ruth enjoys laughing, dancing, laughing while dancing, eating chocolate, hiking, practicing yoga, always having a puzzle to work on, and spending time connecting with loved ones. She is also open to any and all TV, movie, book, or podcast recommendations.
---