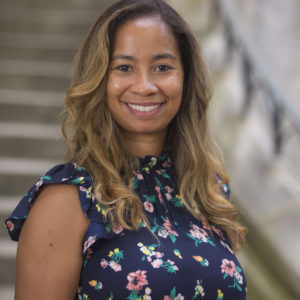 Nalini Conner, Ph.D., HSP
Assistant Director for Training
Pronouns: she/her/hers

---
"It's okay to feel what you feel- it's what you do with those feelings that is the most important." I believe that therapy is a space to learn how to better understand your emotions, what may be contributing to them, and how to respond to them. My goal is to provide a safe, collaborative space for all clients where they can learn the individualized tools they need to help them navigate through any difficulties.
Dr. Conner received her Doctorate in Counseling Psychology from the University of Tennessee at Knoxville. Dr. Conner completed an APPIC-approved postdoctoral fellowship in the Division of Child and Adolescent Psychiatry at Vanderbilt University Medical Center. After her training, she engaged in clinical work as a Psychologist in the Department of Family and Community Medicine at Meharry Medical College and as the Clinical Director of Mental Health at Riverbend Maximum Security Institution, before joining VUCC. She previously held clinical faculty positions at both Meharry Medical College and Vanderbilt University Medical Center.
Dr. Conner conceptualizes primarily through a biopsychosocial lens, but takes an integrative approach in her work with clients as she incorporates evidence-based treatment using clinical hypnosis, mindfulness, biofeedback, and cognitive-behavioral therapies. Her clinical interests include attachment and relationships, identity issues, obsessive-compulsive disorder, depression, and anxiety. In addition to providing individual therapy to students, Dr. Conner also serves as the Team Leader for the Biofeedback Team, and co-member of the Training Committee at the Vanderbilt University Counseling Center. Outside of her work as a Psychologist, Dr. Conner enjoys running, exploring the ever-evolving culinary scene in Nashville, painting abstract art, and spending time with family and friends.
---