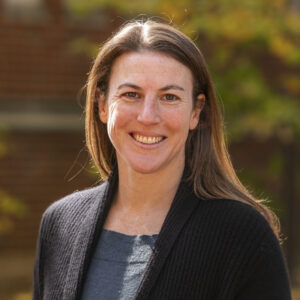 Julie Sutcliffe, PsyD, LP, CMPC
Assistant Athletic Director for Sport Psychology and Mental Performance
Pronouns: she/her/hers

---
As a therapist, I work collaboratively with clients to unlock their potential as humans and performers. I utilize an integrative, strengths-based and systemic approach to enhance student-athletes' holistic growth and performance across social, academic and athletic spheres.
Dr. Sutcliffe is the Assistant Athletic Director for Sport Psychology and Mental Performance at Vanderbilt. She directs and oversees sport psychology, mental health and performance services for Vanderbilt Athletics. She meets with individual varsity student-athletes and with varsity teams to offer comprehensive and integrated performance enhancement and mental health consultation services. Additionally, she consults with Athletic Department staff to support student-athletes to promote mental health, wellbeing, and optimal performance.
Dr. Sutcliffe earned her PsyD in Clinical Psychology with a specialization in Sport and Performance Psychology from the University of Denver. She completed a pre-doctoral internship at the University of Denver Internship Consortium, DU Health and Counseling Center and a post-doctoral fellowship at Northwestern University Counseling and Psychological Services. She holds a Master of Science in Kinesiology, specializing in Sport and Exercise Psychology from the University of North Carolina- Greensboro, and a Bachelors of Arts in Psychology and Education from Vassar College. Dr. Sutcliffe is a licensed psychologist with specialization in sport and performance psychology and athlete mental health. She is also a Certified Mental Performance Consultant through the Association of Applied Sport Psychology.
In her free time, Julie enjoys watching sports, traveling, and eating out with her husband, daughters, family and friends.
---