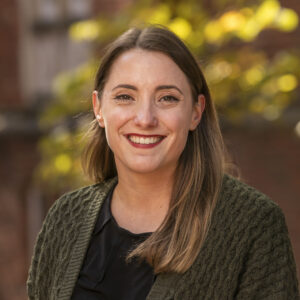 Hannah Lavoie, LCSW
Clinical Case Manager
Pronouns: she/her/hers

---
My goal is to meet students where they are & provide a space of kindness and understanding. It is my responsibility as Clinical Case Manager to ensure students feel supported and well-informed as they navigate resources available at Vanderbilt and outside of the university. Working with students brings me so much joy.
Hannah has experience working in community mental health intensive case management, crisis intervention, supervision, and leadership. She has extensive knowledge in family systems, anxiety, depression, PTSD, psychosis, suicidal ideation, grief & trauma. Hannah is a Licensed Clinical Social Worker. Hannah received her Bachelor of Social Work from Lipscomb University and Master of Social Work from the University of Connecticut's School of Social Work with a focus in Casework. She completed her internships at The Next Door in Nashville and The Sound School, a local high school in New Haven, Connecticut.
Hannah is passionate about case management and use a strengths-based approach to help promote autonomy among her clients. She enjoys creative problem solving to address barriers that students may face. Outside of case management, Hannah is also a member of the Urgent Care Team and Assessment Team. Hannah was awarded the New Student Affairs Professional Award at the conclusion of the 2022-2023 Academic Year.
Outside of work, Hannah enjoys reading, spending time with her friends and family, watching New England sports or going on neighborhood walks.
---