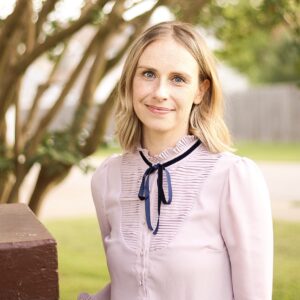 Ash Weber, M.A.
Therapist
Pronouns: she/her/hers

---
Much of life is about acknowledging what is within or beyond our control, then developing the navigation tools to forge the path ahead. I believe that therapy should be an integrative, collaborative experience uniquely tailored to your identities and goals—as well as a space where you feel empowered to bring your full self to the table. Whether you're at the beginning of your journey or revisiting familiar patterns, I strive to offer a warm partnership conducive to self-discovery, healing, and growth
Speaks conversational French. 
Ash earned her Master of Arts in Counseling for Mental Health and Wellness from New York University, where her studies were rooted in social justice and multicultural awareness. She completed her internship at the UCC while also working for NYU's Global Spiritual Life department, which offers holistic wellbeing programs for students and staff.
As a former educator and school administrator, Ash designed social-emotional programs, taught liberal arts courses, and facilitated student trips abroad. These experiences informed her career shift to psychology while honoring a commitment to mental health advocacy for learners of all ages.
Ash uses an integrative approach in her clinical work, incorporating psychodynamic, feminist, and humanistic theories; emotion-focused and strengths-based interventions; and mindfulness practices. She often employs perspectives rooted in Acceptance and Commitment Therapy (ACT). Ash serves as the co-facilitator of two UCC groups, Continuum (LGBTQ support space) and USO (Understanding Self and Others). She has a special interest in grief and loss, regularly attending thanatology conferences, volunteering with hospice patients and their families, and holding space with the bereaved.
In her free time, Ash enjoys reading, hiking, yoga, and watching Jeopardy.
---