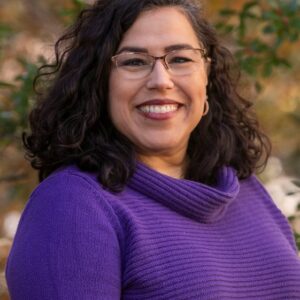 Anabella Pavón Wilson, Ph.D., HSP
Psychologist
Pronouns: she/her/ella

---
I strive to provide an environment in which students can feel welcomed and safe.  I will work with you to address challenges that may come up during your time at Vanderbilt, and/or address what may have impacted you in your past. I will also help you develop strategies to challenge unhelpful thinking patterns and to cope with difficult emotions.
Fluent in Spanish.
Dr. Wilson earned both her her Master's degree and Ph.D. in Clinical Child Psychology from the University of Kansas after completing an APA accredited internship focused on Multicultural Counseling at the University of New Mexico Children's Psychiatric Hospital.  Dr. Wilson has worked in a variety of clinical settings including inpatient hospitals, outpatient clinics, school systems, private practice, and juvenile facilities providing both individual and family therapy to children, adolescents, and  adults.  She worked at the Vanderbilt University Medical Center's Psychological and Counseling Center from 2011 to 2018. At the UCC, she provides both individual and group therapy. She is also a clinical supervisor for graduate students training to be therapists and is a member of the DBT Team.
Dr. Wilson approaches therapy from an integrative perspective, striving to be culturally responsive to all students. She primarily utilizes both cognitive behavioral therapy and dialectical behavioral therapy in combination with interpersonal techniques. Her clinical interests include issues of diversity, identity development, working with first-generation students, individuation, depression, and anxiety. Aside from her work at the UCC, Dr. Wilson enjoys spending time with family, watching musical theater, and listening to music.
---