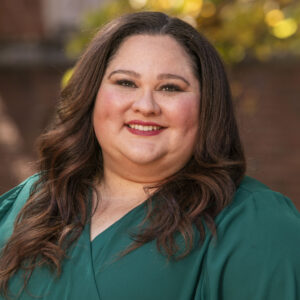 Tara Duffie, MA, DNP, PMHNP-BC
Psychiatric Mental Health Nurse Practitioner
Pronouns: she/her/hers

---
I believe that mental health is self-care. My goal is to promote a collaborative environment where we can build a genuine therapeutic partnership. I strive to promote an inclusive, safe space to welcome all students.
I am passionate about providing empathetic, holistic, and integrative mental health care. I try to promote a safe and non-judgment space. I approach patient care by supporting empathy and compassion. I strive to provide education about the biological, psychological, and social frameworks of mental illnesses. I utilize evidence-based practices for patient care and treatment planning by combining my background in clinical psychology, neuroscience, and psychiatry. I encourage students to actively participate in self-care and working on building the best versions of themselves.
Dr. Duffie began her career in mental health with a bachelor's degree from The University of Alabama, Tuscaloosa in psychology. She continued her education by obtaining a master's degree in clinical psychology from Middle Tennessee State University (MTSU) with specializations in neuropsychology and neuroscience. After graduation from MTSU, she worked as a psychometrist for a decade administering neuropsychological assessments in multiple settings including clinical, forensic, and research. Dr. Duffie wanted to be able to practice with more autonomy. She returned to school and obtained a Master of Science in nursing and Doctor of Nursing degrees from Vanderbilt University.
Dr. Duffie is a board certified psychiatric mental health nurse practitioner. She holds multiple licensures within the state of Tennessee as a certified psychological assistant, registered nurse, and advanced practice nurse.
In her free time, she enjoys quilting, gardening, cooking, and playing board games. She also enjoys spending time with her husband and their three black cats.
---