Sarratt Student Center | Rand Hall
The Sarratt Student Center is named for Charles Madison Sarratt (1888-1978), whose bust (and personal "mission statement") decorate the original main entrance. Sarratt had a storied 62-year career, during which he taught mathematics, served as Dean of Students, Vice-Chancellor Emeritus, Dean of Alumni and (for four brief months in 1945), Chancellor Pro Tempore.
Sarratt Student Center reflects the product of four distinct phases of construction. Rand Dining Hall was built in 1952, its location central to Vanderbilt Campus. In 1974, Sarratt was erected in the form of two buildings — the cinema/art gallery, and the Glove Lounge/Overcup Oak — joined by an elevated walkway, under which students could pass to reach Rand. The dining hall and bookstore were rebuilt and expanded in 1986 at a cost of $6 million. In 2000, the 56,000-square-foot Sarratt complex received an 18,000-square-foot expansion in the form of the enclosed Promenade and the 3rd floor Skylight. Student complaints of Sarratt's being confusingly arranged, poorly lit and visually unnerving were addressed by joining the 3 separate Rand/Sarratt buildings into the single large structure of today.
2302 Vanderbilt Place
Nashville, TN 37240
The Pub
The Pub has been a staple of the Sarratt Student Center experience since it opened in 1974. The Pub caters to those looking for true pub fare–burgers, fries, chicken fingers, and more. As a campus rite of passage, students celebrate their 21st birthdays with an adult beverage – The Pub being the only spot at Vanderbilt to offer this service. It's a good place de-stress at the end of a school week.
Local Java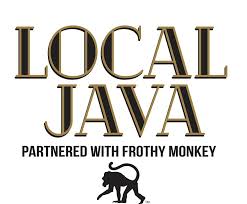 Local Java, a coffee shop opened in 2017, has partnered with Frothy Monkey Roasting Co to offer breakfast, lunch, and the beverage of your choice. Check out their breakfast biscuits, chai lattes, or seasonal coffee drinks. Seat yourself at the lounge located directly outside to enjoy your drinks and food.
Rand Dining Center
Rand Dining Center provides students, faculty, and staff an opportunity to eat and interact. Rand Dining offers a variety of foods such as the infamous Rand Cookie, build-your own grain bowls, and a Tex-Mex station. Befriend the dining workers to solidify a true Vandy family experience.
Sarratt Box Office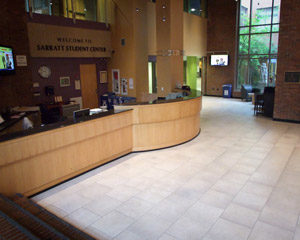 Looking to attend a student event on campus? The Sarratt Box Office is located on the first floor directly outside of the Sarratt Cinema. In addition to in-person sales, event tickets may also be purchased online through its distributor, Ticketweb. Its student workers pride themselves on stellar Sarratt | Rand event support, wonderful small talk, and providing both great directions and insight to out of town visitors.
Rand Munchie Mart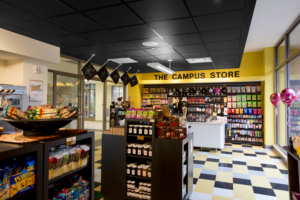 Rand Munchie Mart features grab-and-go lunch and snack options. With a balance between traditional on-the-run snacks and the fresh nutritional options like sandwiches, salads, yogurt, fresh fruit, and bottled smoothies, the Munchie Mart offers a nutritional version of fast food.
Baseball Glove Lounge
---
Since Sarratt opened its doors in 1974, the Baseball Glove Lounge has played host to its namesake–a replica of the famous Joe Chair. Italian designers de Pas, D'Urbino, and Lomazzi created the Joe Chair (named for Joe DiMaggio) in 1970. It gained fame when this modern piece of furniture was exhibited at MoMa in 1972.
The Baseball Glove Lounge is one of the most popular quiet study spaces on campus. Located between Rand Dining hall and the Sarratt Student Center, the Baseball Glove Lounge is a great place to settle down with food, gaze out at the beautiful views of Alumni Lawn, and make good use of your textbooks in this cozy nook.
3U Game Room
---
The 3U Games Room opened in the Summer of 2009 after Vanderbilt Student Government and the Sarratt Student Center collaborated to liven up the space. Surrounded by "Dores" of the past, students venture to 3U to relax over a game of pool or foosball. All equipment needed for a game of 9-ball or a quick foosball match are located just steps away from The Pub, creating an elevated pool hall feel.
Sarratt Art Studios
Since 1975, Sarratt Art Studios has been the best-kept secret on Vanderbilt University's campus. Ten-week non-credit classes are open to Vanderbilt students, faculty/staff and the Nashville community. We offer a variety of the classes in photography, pottery, jewelry, drawing, painting, book arts, printmaking, fused glass and more. All classes are taught by some of the finest Nashville artists at very affordable prices.
Contact Information:
Sarratt Art Studios http://www.vanderbilt.edu/sarrattart/
Sarratt Gallery
The Sarratt Gallery showcases artists from all over the country as well as from Vanderbilt. Shows change each month, and include the popular Holiday Arts Festival, which features contemporary crafts by Tennessee artists. See the Gallery website for an exhibition calendar. The Gallery is located in the main lobby of the Sarratt Student Center. All events are open to the public free of charge.
Contact Information
Campus Events
343 Sarratt Student Center
(615) 322-2471
Fax: (615) 343-8081
E-Mail: David Heustess
Sarratt Lounge
The Sarratt Lounge extends the coffee house feel outside the borders of Local Java. This comfy, funky place to hang out, socialize, or enjoy a beverage has become a new hit with the students and staff. The retro inspired furniture and bright colors embrace the building's age and provide a modern twist.
Student Media
Vanderbilt Student Communications, Inc. exists to provide the students and other members of the Vanderbilt community specific services and outcomes, primarily: (1) the provision of an environment that fosters the development of students' skills in leadership, management, human relations, and fiscal responsibility in a unique cocurricular setting that allows for high levels of participation in daily-run, product-oriented organizations; (2) the provision of realistic opportunities for students to learn and gain competency in specialized mass communications skills ranging from writing, editing, computer-aided design and production, advertising creation, sales and accounting, to television and radio production, program conception, and on-air participation; and (3) the provision to the campus community of print and broadcast media serving as forums for free expression, allowing the exchange of ideas, dissemination of news, outlets for creative work, and vehicles for entertainment, fulfilling a role critically essential to the health of a vibrant university in a democratic society.
Contact Information
Vanderbilt Student Communications, Inc.
2301 Vanderbilt Place
VU Station B 351669
Nashville, TN 37235
Telephone: 615-322-6610
Fax: 615-343-2756
Office of Greek life
---
The Office of Greek Life is a team of caring and committed advocates for the fraternity and sorority experience who challenge students to uphold the values espoused by their organizations in order to remain relevant to the mission of Vanderbilt University and the Office of Student Affairs. We provide education and support that adds value to students' holistic collegiate experience, thus producing well-rounded citizens of a global society. We achieve these ends through intentional partnerships with campus departments, community agencies, and international fraternity and sorority staff and alumni volunteers.
Contact Information
Office of Greek Life
Office of Student Affairs
207 Sarratt Student Center
Vanderbilt University
Nashville, TN 37235
Telephone: 615-322-2048
Fax: 615-343-8081
Email
Website
Student Organizations
---
The Office of Student Organizations strives to encourage co-curricular learning and personal development through intentional student engagement. Student Organizations connects the campus community by highlighting opportunities for meaningful involvement and providing tools to help manage and track the co-curricular student experience. We support the mission-driven work of student organizations and seek to equip student leaders with vital skills and resources in order to make their organizations more effective, inclusive, impactful, and sustainable.
Contact Information
Student Organizations
Office of Student Affairs
207 Sarratt Student Center
Vanderbilt University
Nashville, TN 37235
Telephone: 615-322-7993
Fax: 615-343-8081
Office of STUDENT AFFAIRS
---
The Office of Student Affairs serves a central role in student learning and development at Vanderbilt, advancing the University's mission of teaching, research, and service by fostering academic and social networks through which students develop as intentional learners and global citizens. The Office of Student Affairs creates opportunities to involve students, faculty and staff in diverse learning communities and provides a critical support structure for enriching the overall student experience. We achieve these ends through strategic alignment, both internally and in concert with other university departments.
Contact Information
310 Sarratt Student Center
Vanderbilt University
Nashville, TN 37235
Telephone: 615-322-6400
Fax: 615-343-3702
Office of Student Accountability,
Community Standards, & Academic Integrity
---
The Office of Student Accountability, Community Standards, & Academic Integrity promotes good citizenship within the Vanderbilt University community through education. Students are expected to respect themselves and others, to act responsibly, and to be accountable for their actions. The student accountability system addresses student violations of University policy through fair, consistent, and confidential procedures.
Contact Information
301 Rand Hall
Vanderbilt University
Nashville, TN 37235
Telephone: 615-322-7868
Fax: 615-343-7871
STUDENT CENTER FOR SOCIAL JUSTICE AND IDENTITY
---
The mission of the Student Center for Social Justice and Identity is to promote an environment of cultural competency, inclusivity, and awareness on the Vanderbilt campus. Our vision is to provide a comprehensive service of inclusion and cultural engagement that facilitates the creation of an institution dedicated to all forms of racial, cultural, gender, religious, ability, and sexual identity expression. We seek to do this by equipping the Vanderbilt community with the tools necessary to be to effective agents of social change in an increasingly diverse world.
Contact Information
Telephone: 615-322-5089
Fax: 615-343-3702
Student Leadership Development
---
The Office of Student Leadership Development (OSLD) at Vanderbilt is dedicated to fostering leadership development for all students who desire to engage in lifelong learning. We encourage you to stop by our office in Sarratt 339 and get to know us.  Whether you want to meet to have a conversation about leadership theory, personal development, your path to success, or simply have a conversation about your day, we welcome you with open arms.
Contact Information
Office of Student Leadership Development
339 Sarratt Student Center
Vanderbilt University
Nashville, TN 37235
Telephone: 615-343-6200
Fax: 615-343-3702
Email
Website
International Student and Scholar Services
---
International Student & Scholar Services fosters the education and development of non-immigrant students and scholars to enable them to achieve their academic and professional goals and objectives. ISSS provides advice, counseling, and advocacy regarding immigration, cross-cultural, and personal matters. ISSS supports an environment conducive to international education and intercultural awareness via educational, social, and cross cultural programs.
Contact Information
International Student and Scholar Services
2301 Sarratt Student Center, Suite 100
Vanderbilt University
Nashville, TN 37235
Telephone: 615-322-2753
Fax: 615-343-7799
Office of Arts & Campus Events
---
The Office of Arts & Campus Events (ACE) includes the major arts and campus programming initiatives on Vanderbilt's campus: Vanderbilt Programming Board, Transfer Orientation,  International Lens Film Series, Rhythm & Roots Performance Company, Sarratt Art Studios, Sarratt Youth Art Institute, Vanderbilt Dance Program, and the Vanderbilt Performing Arts Council. The Office of Arts & Campus Event's mission is to facilitate and promote diverse programming for the Vanderbilt and Nashville Community that cultivates social engagement, cultural enrichment, artistic exploration and intellectual growth.
Contact Information
Office of Arts & Campus Events
Third Floor, Sarratt Student Center
Vanderbilt University
Nashville, TN 37235
Telephone: 615-322-2471
Website