Student Life Center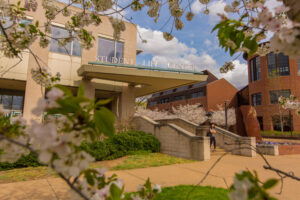 The Vanderbilt Student Life Center features over 18,000 square feet of event space, the Vanderbilt Career Center, Global Education Office, and Office of Immersion Resources.
The $11.4 million project was completed in the spring of 2005. The Grand Opening was March 30-April 2, 2005.
"The project is a direct response to the wishes of our students," said former Chancellor Gordon Gee. "They have told us that their No. 1 priority is the development of a large social space on campus." With adjoining catering space, the 9,000 square foot Commodore Ballroom is able to accommodate dances, dinners and other large social functions.
The Center is located near 25th Avenue South and Vanderbilt Place, behind the Schulman Center and to the west of Branscomb Quadrangle. The building is designed to complement the existing Sarratt Student Center, which contains no large social space.
The Commodore Ballroom comprises nearly all of the first level of the building, and can be subdivided into three equal spaces. Additionally, the first floor is home to the Board of Trust meeting room. The lower level of the Student Life Center contains an additional three meeting rooms.
The second level houses the Career Center. The Global Education Office (GEO), Office of Active Citizenship and Service (OACS), and Office of Immersion Resources (OIR) are all located on the first floor.
310 25th Ave. S.
Nashville TN 37240
---
The Commodore Ballroom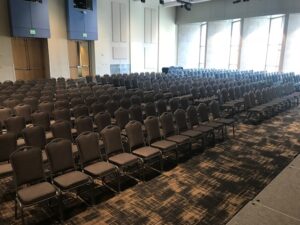 The Commodore Ballroom, located inside the Student Life Center, can accommodate 400 for a banquet, and 600 theater style. The ballroom has state-of-the-art A/V technology, an audio booth, theatrical lighting & staging, and a catering corridor. The ballroom can be divided into three spaces or used as one large space. Vanderbilt campus groups, as well as the off-campus community, can book the ballroom.
Board of Trust Room
The Board of Trust Meeting Room is equipped with the latest in A/V technology, including videoconferencing. This space can seat 48 in a conference U shape, 72 in a classroom, 96 for a banquet, or 200 theater style.
Lower Level Meeting Rooms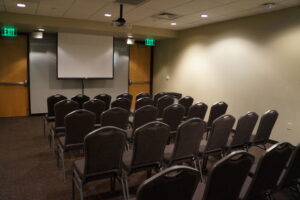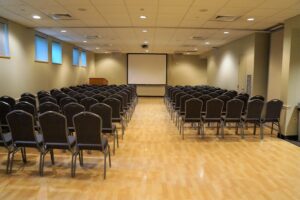 The Student Life Center houses three small meeting rooms on the lower level. Meeting Rooms 1 & 2 can each accommodate 50 people for a lecture or 24 people in a classroom configuration.  They can also be combined to make a larger meeting space that accommodates up to 100 for a lecture and 60 in a classroom configuration. Meeting Room 3 can accommodate 14 people in a conference room or 30 lecture-style. These spaces are great for small meetings or breakout spaces for larger events and conferences.
Office of Immersion Resources
---
The Office of Immersion Resources functions to provide central support and coordination for Immersion Vanderbilt efforts and to respond to the needs of all of Vanderbilt's colleges and schools involved in the initiative. Immersion Vanderbilt calls for each undergraduate student to participate in an intensive learning experience that takes place in and beyond the classroom and culminates in the completion of a final project. Students will engage in a civic and professional, creative expression, international, or research immersion experience. These experiences might involve writing and producing a musical, studying the workings of cells in a lab, traveling to Guatemala to repair medical equipment, or working on a project designed to understand human behavior. Immersion Vanderbilt will help students explore their interests, transform ideas into action, and make a difference in the world.
Contact Information
Office of Immersion Resources
Vanderbilt University
310 25th Ave. South
Nashville, TN 37240
Global Education Office
---
The goal of the Global Education Office is to help students prepare for the challenges of international citizenship in the 21st century by enabling them to gain a deep understanding of at least one other culture and its language, and to incorporate a global, comparative dimension in their chosen field of study.
These programs have been conceived as an integral part of a Vanderbilt undergraduate education. Students remain fully enrolled at Vanderbilt, earn Vanderbilt credit, fulfilling major, minor, and distribution requirements, receive Vanderbilt financial aid and scholarships, and benefit from the involvement of the faculty and staff at Vanderbilt before, during, and after their time abroad. Competition for admission to most programs is keen, and preference is given to the most qualified applicants. Students must demonstrate high academic performance, clearly reasoned academic purpose, appropriate preparation, and conduct that demonstrates genuine enthusiasm for learning about that which is different.
Contact Information
Global Education Office
Vanderbilt University
310 25th Ave. S.
Suite 115
Nashville, TN 37240
Telephone: (615) 343-3139
Fax: (615) 343-5774
Email
Career Center
---
The Career Center serves undergraduates enrolled full-time in the Blair School of Music, College of Arts and Science, School of Engineering, and Peabody College, and we also will provide full services to recent graduates (0-2 years out).
The Center provides many opportunities for students to learn about and explore professional opportunities, including career coaching appointments, workshops, career panels, Industry Career Days and field trips.
Students/Alumni wanting to discuss their personal career path and job search strategy from initial thoughts to assessing job offers (or their graduate/professional school plans) may make an appointment with one (or more) of our staff. Feel free to email questions to your Career Adviser too. Go to the Staff Directory for a list of staff members and email addresses.
Contact Information
Career Center
310 25th Avenue South, Suite 220
Nashville, Tennessee 37240
Telephone: 615-322-2750
Fax: 615-343-4448
Email
Website