How to Enable Proctorio in Your Course
Vanderbilt University's contract with Proctorio has ended and this tool is no longer accessible to Vanderbilt users. This guide will remain available for access by users outside Vanderbilt, but internal users should refer to our resources on Respondus Lockdown Browser.
Proctorio is an alternative to Respondus Lockdown Browser which helps to secure the test-taking environment and allows instructors to enable video proctoring for their online quizzes. This tool is highly configurable and allows any combination of audio recording, video recording, screen recording, and many other features.
Proctorio must be enabled on a per course and a per exam basis – in other words, each time you begin using this tool in a course you'll need to turn it on in that specific course. Once you've done so, you'll be able to turn it on for each exam within that course as you see fit. We encourage all instructors using Proctorio to set up a practice test in advance of the official exam to ensure test day is smooth and anxiety-free.
Please note: Proctorio only works in Google Chrome
Enable Proctorio in a Course
1.) Navigate to the course in which you'd like to enable Proctorio, then go to the Content page
2.) Select the module in which you'd like to add the Proctorio item, then select Existing Activities -> External Learning Tools
Note: We strongly encourage instructors to place the Secure Exam Proctor item in their first module. This content item must also remain visible to students. Both of these precautions ensure that the tool will initiate properly.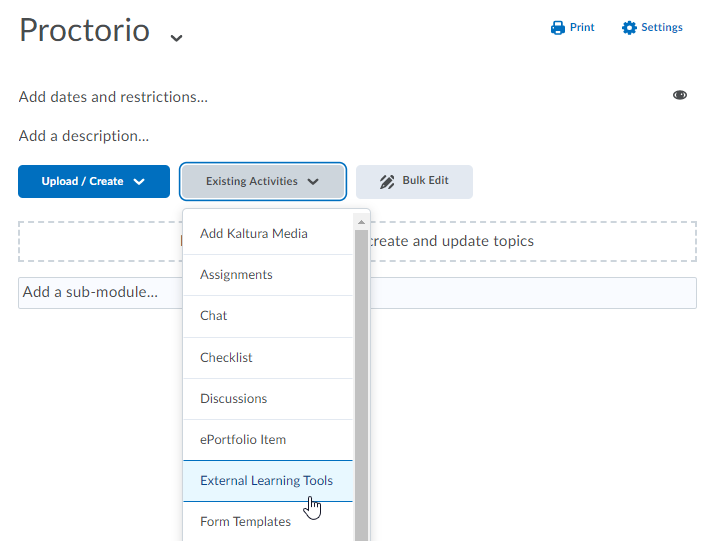 3.) Find Secure Exam Proctor in the list of tools and click on it to add it to the Content page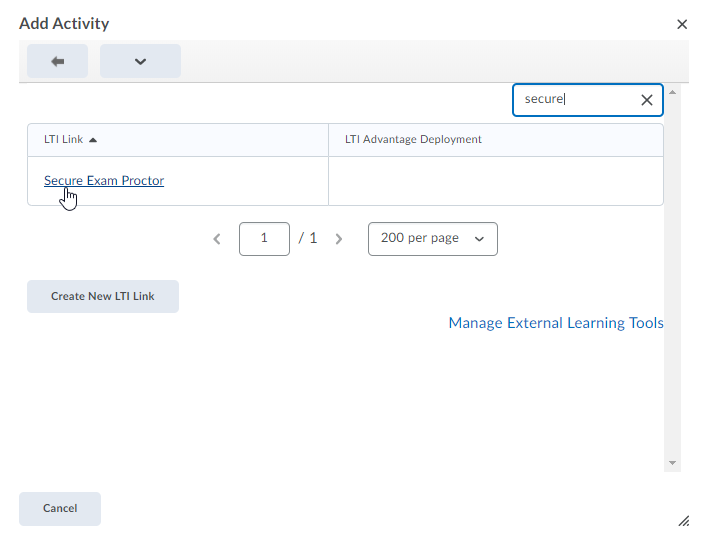 4.) Once the Secure Exam Proctor tool is in your module, click on it to open the tool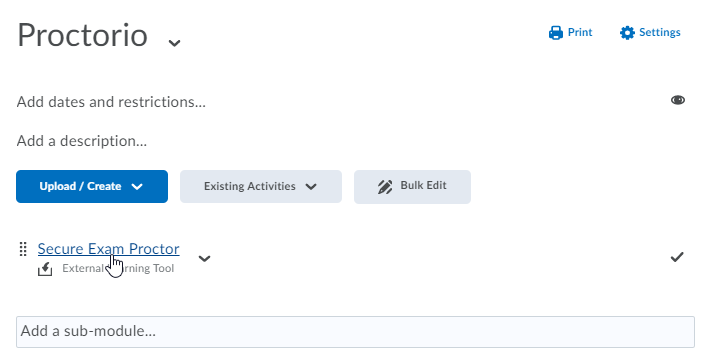 5.) Proctorio will prompt you first to ensure you're using Google Chrome. From here, click on the link under step 2 to install the Chrome extension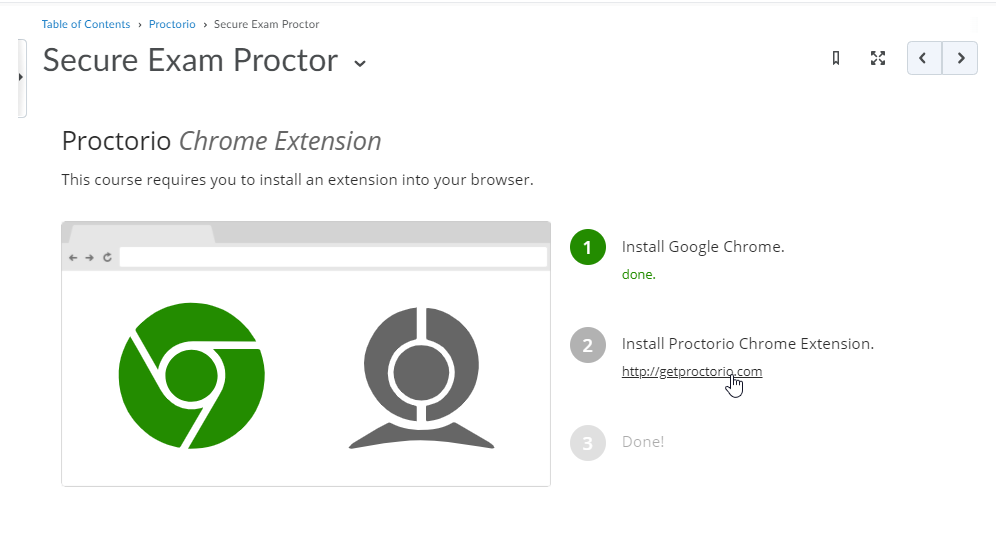 6.) You will be taken to another similar page, where you should select click here under step 2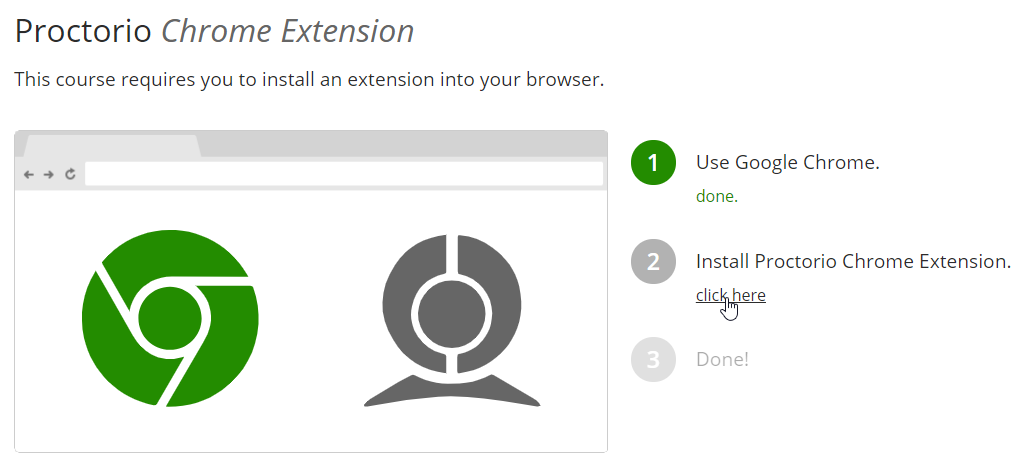 7.) Select Add to Chrome to install the extension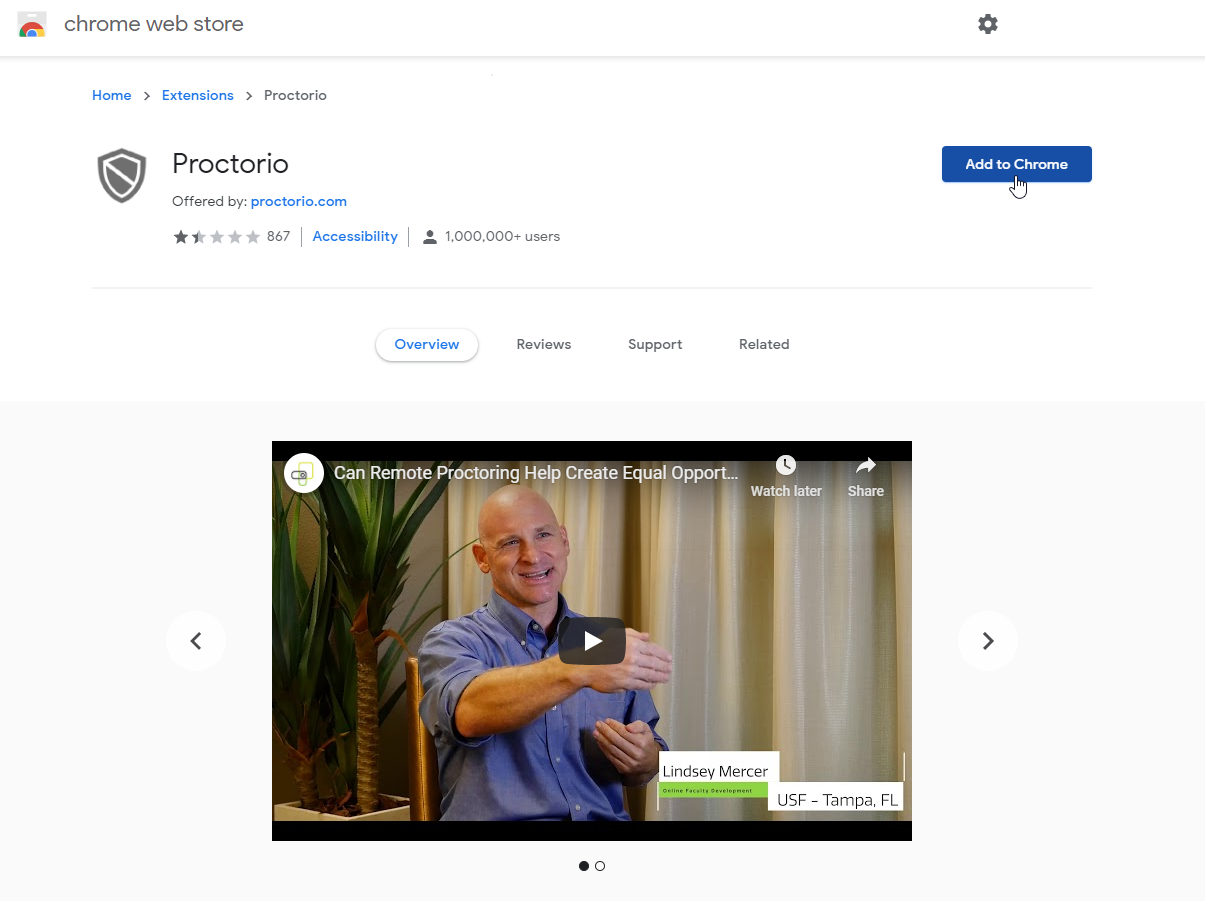 8.) Once the extension is installed, return to Brightspace and refresh the page. You will see a message stating, "Secure Exam Proctor Plugin Successfully Installed! Please return to your course."
Please note: Once you've installed this extension, the "Secure Exam Proctor" item will disappear from view on the content page. This is an expected behavior, as this link will only show up for those who do not have Proctorio's extension installed.
Enable Proctorio for a Specific Quiz
1.) Open the Quizzes page within your course
2.) Edit an existing quiz or create a new quiz by selecting the blue New Quiz button
3.) If you've created a new quiz, give your quiz a title before proceeding. Otherwise, select the Proctorio Settings tab at the top of the page, then click the checkbox for Enable Proctorio

4.) The page will load with settings you can select to determine how Proctorio functions for this quiz, and will now be labeled with (Remotely Proctored) on the Quizzes page