Winter Brightspace Updates
There have been a few new updates to Brightspace over the last couple of months that we would like to share with you. If you have any questions about any of these changes, or anything else concerning Brightspace and Instructional Technology, please feel free to reach out to the Brightspace and Instructional Technology Support team at any time.
Assignments – Consolidate availability dates
Instructors can now include availability dates in the Calendar and also have greater control over the behavior of availability dates for their students. As a result, instructors can:
Stop late submissions.

Let students view assignment information and submissions after it ends.

Schedule the visibility of an assignment.

Allow students to view an assignment while preventing them from attempting it.

Post the start and end of an assignment to the Calendar.
The Assignment list page for both instructors and students now contains all activity dates and date settings, including:
Access restricted (students can see the assignment but cannot click on it)

Submission restricted

(students can click on the assignment but cannot submit work)

Hidden (students do not see the assignment)
Instructors can also choose the default settings for availability dates for any new assignment. The settings are available on the Availability Date Defaults page, which can be found under Course Admin.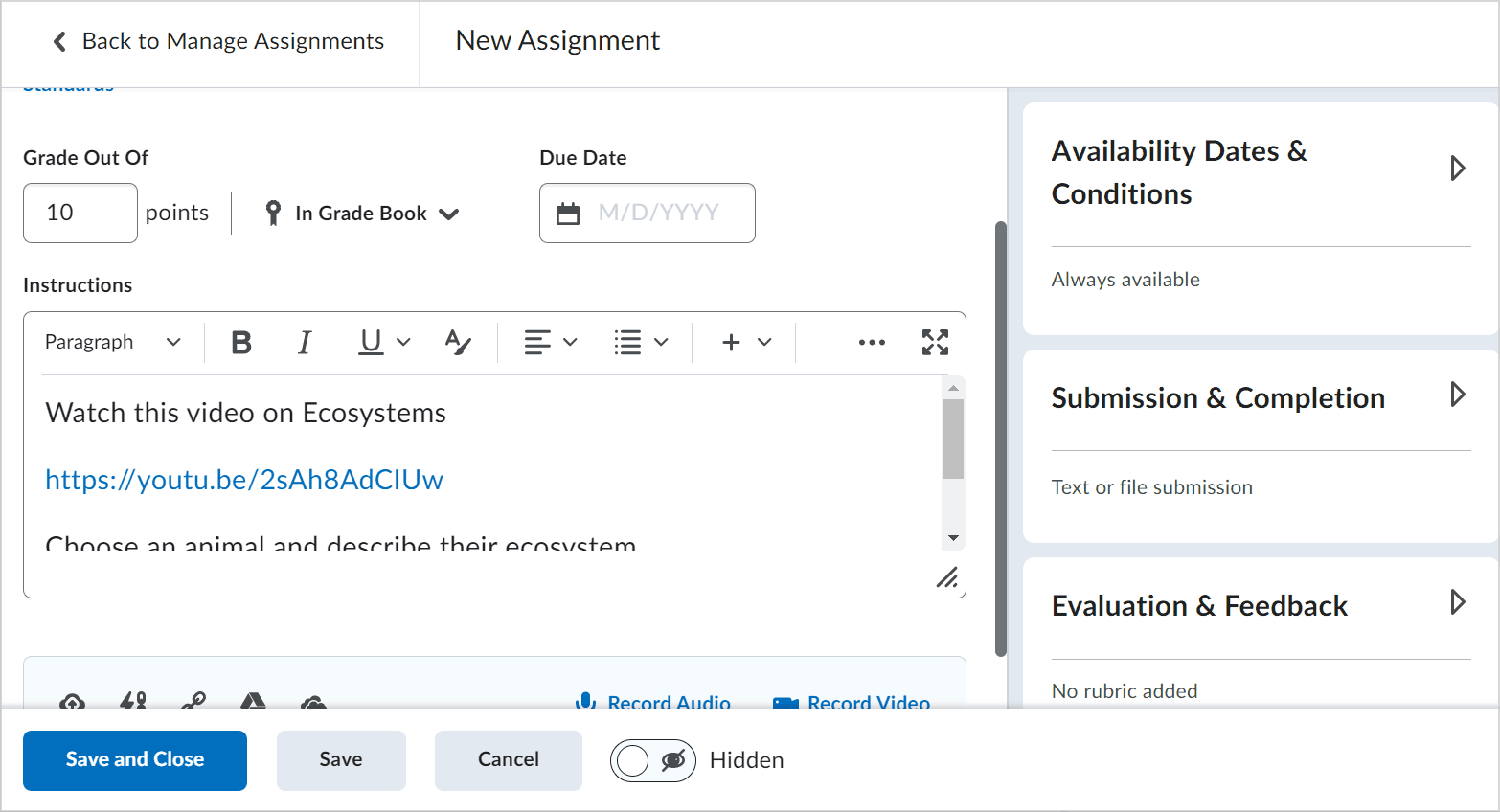 Figure: The Assignment page with activity dates and date settings being changed.
Quizzes – Add quiz availability dates to your Calendar
Instructors can now add quiz availability dates to the Calendar tool in the Availability Dates & Conditions menu in the new quiz editing experience. Once instructors have added a Start or End Date to a quiz, they can then select the Add availability dates to Calendar checkbox to add those Start or End dates to their Calendar. This feature provides instructors with more control over where Start Dates and End Dates appear to students.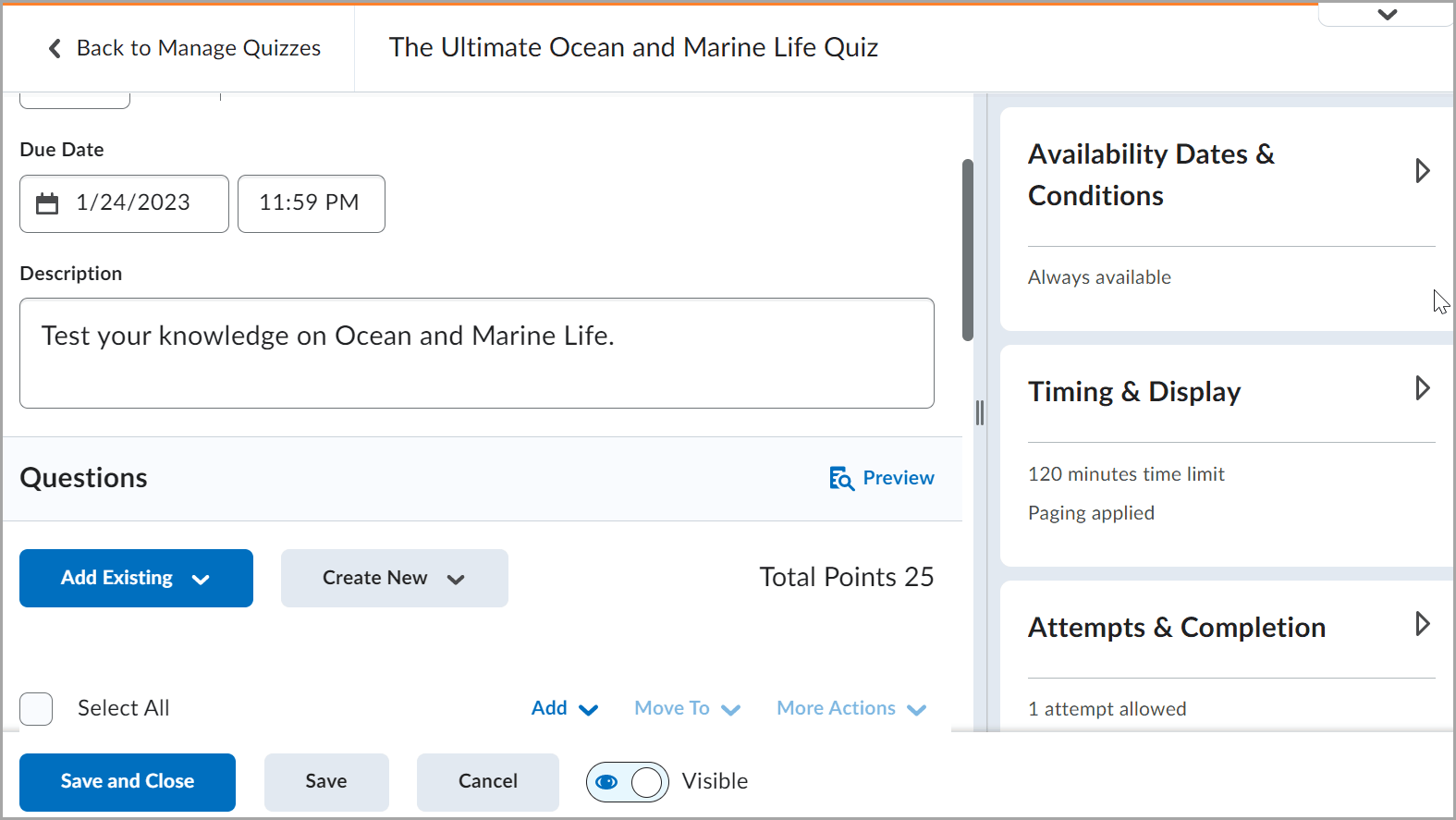 Figure: The Availability Dates & Conditions menu displaying the Add availability dates to Calendar checkbox.
Quizzes – Additional paging options
Two new paging options are available in the Timing & Display menu in the new quiz editing experience. Instructors can choose to display 5 questions per page or 10 questions per page. The change optimizes instructors' options when building quizzes with page breaks.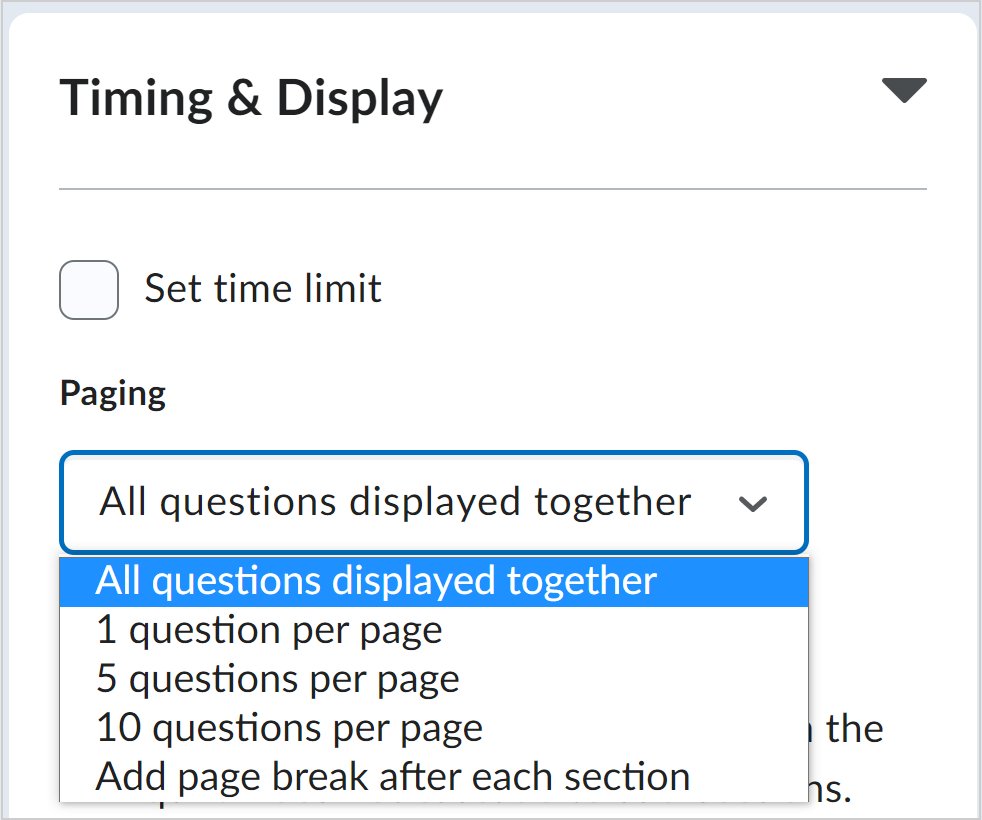 Figure: The new paging options in the Timing & Display menu in the new quiz editing experience.
Rubrics – Clarify grading criteria by editing text fields in assessed rubrics
Instructors, TAs, or other users who can edit Rubrics can now edit the text fields in rubrics that have already been used for evaluation. This feature is intended to let instructors correct spelling errors, clarify wording, and make other minor changes that do not impact the academic integrity of the rubric. Users still can't make structural changes (such as adding evaluation levels or criteria), edit points, or add outcome alignments to assessed rubrics.

Figure: Alert box on the Edit Rubric page with new Edit Text button.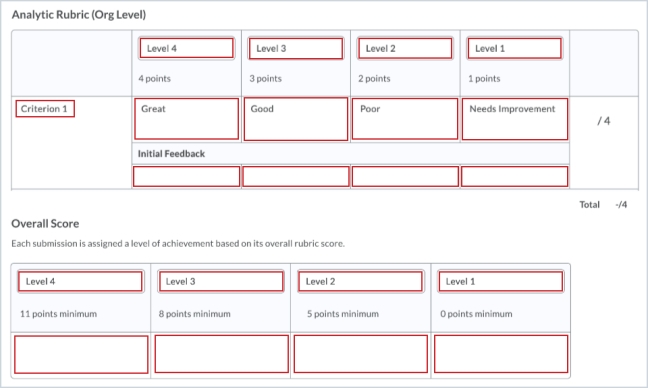 Figure: The Edit Rubric page shows which text fields can be edited within an assessed rubric.
Rubrics – Keep track of changes to assessed rubrics with enhanced visual cues
To maintain the integrity of assessments, any rubric that has been used to assess a grade item is locked. However, there may be times when it is necessary to add or update the text on a rubric without changing any points, or without adding or deleting any criteria or criteria levels. The text on the rubric, including criteria names and descriptions, level names, and default feedback, can continue to be updated after the rubric has been locked. Now there are also enhanced visual cues to keep track of the changes you have made.
When an instructor makes a change to a previously assessed rubric, it is updated with a blue highlight, and the text Edited appears in the lower right corner. When the user saves and closes the rubric, the edit indications no longer appear.
Note: It is not possible to edit the name of the rubric using this feature. Also, it is only possible to make changes to assessed rubrics that are created in the current course or are copied from another course. Shared rubrics remain locked.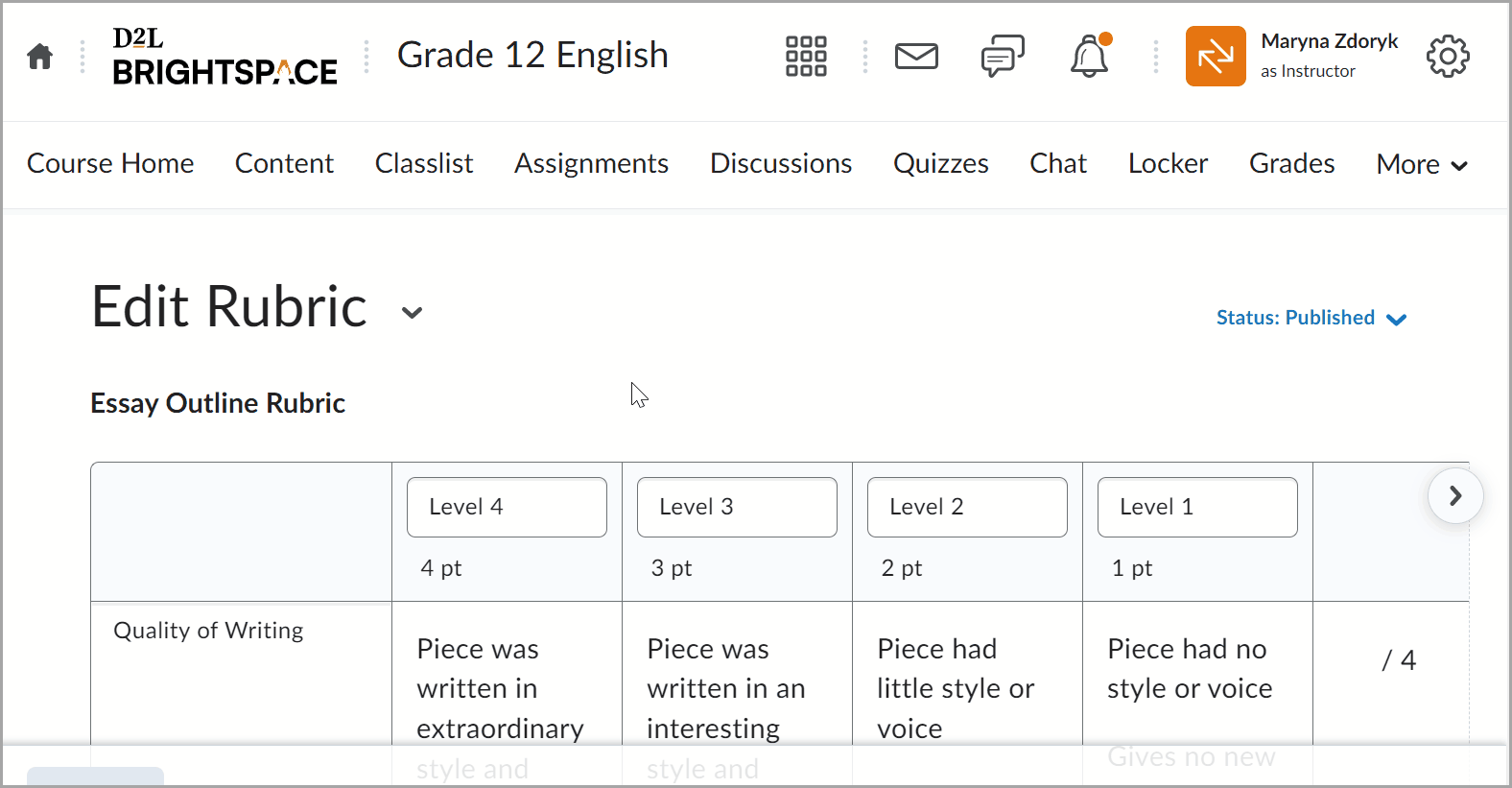 Figure: The Edit Rubric window with changes highlighted and indicated with the word Edited.
To view full release notes from D2L, check out the links below.