Progress Report
FutureVU Progress FY2022 (July 2021 – June 2022)
FutureVU embodies the university's core values and a holistic approach to campus planning. In addition to building projects, FutureVU considers core themes such as sustainability, transportation and mobility, accessibility and more.  FutureVU represents a high-level, holistic framework for the physical development of campus, while also contemplating core principles that align with our academic mission. While FutureVU implementation continues, this report offers a glimpse at Vanderbilt's achievements in FY2022.
To view the FY2019 progress report, please visit the following page.
To view the FY2020 progress report, please visit the following page.
To view the FY2021 progress report, please visit the following page.
SUSTAINABILITY
ENERGY AND GREENHOUSE GAS EMISSIONS
Energy efforts are core to FutureVU and the university's long-term sustainability strategy to significantly impact its environmental footprint by powering its campus entirely through renewable energy and achieving carbon neutrality. In 2021, Vanderbilt announced a collaboration with the nonprofit organization Climate Vault that allowed the university to address the full extent of its carbon footprint for FY2020 and FY2021, achieving carbon neutrality decades ahead of its initial goal of the year 2050.The initiative effectively removes carbon pollution permits from regulated carbon markets while simultaneously stimulating research into emerging carbon removal technologies. Several large efforts are already underway to make significant strides toward reducing Vanderbilt's emissions. While the university continues to push action and innovations on several fronts, it has identified a near-term opportunity to work with Climate Vault and use the cap-and-trade market—which is designed to limit harmful emissions—to accelerate its impact, allowing it to become the first member of the Association of American Universities to achieve carbon neutrality.
Vanderbilt is also a large-scale renewable energy leader within the Tennessee Valley region with a bold community partnership – the Green Invest Program – with TVA and  Nashville Electric Service for solar energy that serves as a model for other institutions. In January 2022, the university broke ground on a landmark project in Bedford County, Tennessee, that allows it to procure off-site, large-scale solar energy. Upon completion, the 35-megawatt Vanderbilt I Solar Farm—the result of a forward-thinking partnership of the university, the Tennessee Valley Authority, Nashville Electric Service and Silicon Ranch Corp.—mitigates approximately 70 percent of Vanderbilt's annual indirect greenhouse gas emissions. The second Green Invest project will supply enough renewable energy to mitigate the remaining 30 percent of the university's annual indirect greenhouse gas emissions from purchased electricity. Vanderbilt University's Green Invest Program partnership was recognized with a 2021 Governor's Environmental Stewardship Award in July 2021.
To learn more about the broader university sustainability goals, as well as review the annual sustainability report, please visit the FutureVU Sustainability website.
20 kWh in solar panels on campus as of FY2022
24,627 kWh energy saved in FY2022 from solar panels
WASTE AND RECYCLING
FutureVU's long-term sustainability strategy calls for reducing the consumption of waste on campus. Strategies are focused on everything from food waste, to elimination of single-use plastics, to landfill waste reduction, to improvements in the campus recycling program and changes in procurement strategies.
Vanderbilt has a 30-year history of recycling efforts to reduce waste going to landfills. In addition to traditional recycling programs for materials such as paper, plastic, cardboard and glass, Vanderbilt has recycling programs for non-traditional materials like construction and demolition debris, toner cartridges, batteries, light bulbs, scrap metal and electronics.
Additionally, the ReUse program that started in 2016 sustainably manages unneeded furniture and equipment owned by university departments and laboratories.
In FY2022, Vanderbilt continued to make significant progress in reducing its overall environmental impact by eliminating single-use plastic bottles in all athletics venues across campus. This bold step was the latest in a series of waste-reduction initiatives as part of Campus Dining's "No More Plastic" campaign. As a result, more than 430,000 plastic bottles have been saved each year since the program began in 2019.
Vanderbilt has also made significant efforts to reduce waste from its dining facilities in the form of food waste reduction and the reduction of waste from food service. Planning for the reusable container program was underway in FY2022. Shortly after the end of FY2022, Vanderbilt Campus Dining launched a reusable container program, designed to significantly reduce the institution's dependence on disposable to-go containers. Vanderbilt Campus Dining is partnering with Fill it Forward to offer reusable to-go containers at all residential dining halls, including Commons, E. Bronson Ingram, Rothschild and Zeppos. Each undergraduate student will receive one free container that can be used in all-you-care-to-eat residential dining locations and can be returned for cleaning and sanitizing.
With the Fill it Forward app, students can rent and return our reusable food containers, while also tracking the impact of their personal reusable bottles. Every scan unlocks a donation and tracks the environmental impact of diverting another single-use item from our landfills and oceans.
These efforts are creating major positive environmental impacts. Vanderbilt's emissions related to waste and recycling were 20 percent lower in FY2022 than in FY2021. In FY2022, Vanderbilt had a diversion rate for the university of 43.5 percent.
11 food waste collection sites on campus as of FY2022
145 total hydration stations on campus as of FY2022
SUSTAINABLE BUILDING 
FutureVU considers sustainable infrastructure an important element of ensuring that the built environment are handled in an environmentally responsible and efficient manner.  The university aims to impact the built environment in positive ways and minimize negative impacts as much as possible. In FY2022, greenhouse gas emissions normalized on a square foot basis have dropped more than 23 percent since FY2020, despite a growth of over 500,000 gross square feet.
24 total LEED certified buildings on campus as of FY2022
1 WELL certified buildings on campus as of FY2022 (certification pending)
1 PETAL certified buildings on campus as of FY2022 (certification pending)
TRANSFORMATIVE PROJECTS
Central to the FutureVU vision is a series of transformative projects to address specific opportunities and challenges in campus neighborhoods. FutureVU provides a consistent strategy and guiding principles necessary for the realization of all capital projects and changes to the built environment. All capital projects are aligned with the mission of the university, the goals of the Academic Strategic Plan and the objectives of FutureVU. The university has a variety of capital and built environment projects underway.
Projects Completed in FY2021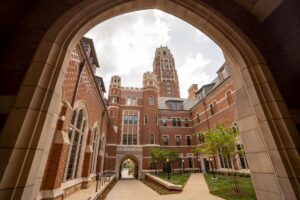 Projects and Studies Underway
ACCESSIBILITY AND INCLUSION
FutureVU aims to clearly contextualize inclusion in the built environment through careful space design. In May 2017, the university launched a comprehensive accessibility study with the long-term goal of making indoor and outdoor areas accessible and inclusive. The study was a multi-step process that included assessing and documenting accessibility features on campus, integrating data collected with VU technologies and abilities to create an authoritative database for accessibility and other issues, and launching a task force to create an Accessibility Master Plan. The master plan was finalized and endorsed in FY2019.
In spring 2022, an inventory of ADA parking spaces and overall university parking counts began . This inventory will help align resources to barrier-free paths and develop future programming for Mobility Rides, the approved ride program for those with medical or accessibility needs.
highlighted  BUILDING PROJECTS
Kirkland Hall
Kirkland Hall, which is central to Vanderbilt's history and widely recognized as the university's signature building, is undergoing a significant renovation that is reflective of the institution's purpose and commitment to excellence.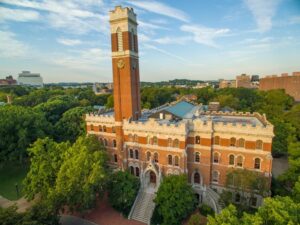 Kirkland Hall opened in 1875 and initially housed all of Vanderbilt's classrooms and laboratories. It was rebuilt in 1906 after a devastating fire, and the iconic building with a 170-foot clock tower has remained a hub of campus and administrative life. Originally called "Main Building," it was renamed in honor of Vanderbilt's second chancellor, James Hampton Kirkland, and his wife, Mary Henderson Kirkland, in 1937. Kirkland's last major renovation took place in 1988, when the current HVAC and electrical systems were installed.
The project will improve the building's overall accessibility—making the spaces more inclusive and compliant with ADA regulations—while addressing critical infrastructure improvements.
Among other planned improvements:
Modifying the trench drain line at the loading dock to avert flooding of the first floor during heavy rains
Restoring the building roof and tile coping
Upgrading stair towers to enhance safety and vertical circulation through the building
Redesigning bathrooms to be gender neutral
Jess Neely Transformation
Planning and design occurred this fiscal year for the transformation of Jess Neely Drive, which is a part of the Vandy United capital projects. Work will soon begin to install updated utilities and infrastructure along the street to support the upcoming redesign of the FirstBank Stadium south endzone and future Vandy United projects.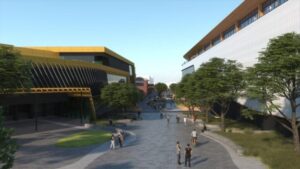 Similar to the university's transformative projects on Kensington Avenue and the alleyway in the West End Neighborhood, Jess Neely Drive, when completed, will promote a pedestrian and bicycle-centric environment where the Vanderbilt community can collaborate and enjoy the Athletics Neighborhood.
In support of the university's FutureVU and MoveVU initiatives, the re-envisioning of Jess Neely will enhance the connection between the Athletics Neighborhood and main campus, as well as make the area more walkable, bikeable and sustainable.
Infrastructure Improvements
12 light poles were replaced in FY2022 as a part of capital projects
Additional Inclusivity Improvements
233 total gender inclusive restrooms on campus as of FY2022
30 total lactation/wellness rooms on campus as of FY2022
SITE, LANDSCAPE & STORMWATER MANAGEMENT
Overarching Site and Landscape Target
FutureVU builds on the parklike setting most notably found in the Historic Core neighborhood of campus. FutureVU aims to strengthen the beauty and diversity of campus by identifying and embracing existing open spaces and creating new open spaces, connecting edges and destinations in a legible manner, and opening visual connections throughout campus. In addition, increasing campus green spaces is a core component of the university's long-term sustainability strategy.
Full Campus
Setting an overarching site and landscape target is necessary to achieving the goals outlined in FutureVU. The FutureVU framework calls for an overarching campus-wide target of 50 percent green space, 25 percent hardscape and 25 percent building footprint. As of the end of FY2022, the campus breakdown is 38 percent green space, 33 percent hardscape and 29 percent building footprint. As development continues, percentages will be updated with the intention of achieving the campus-wide target.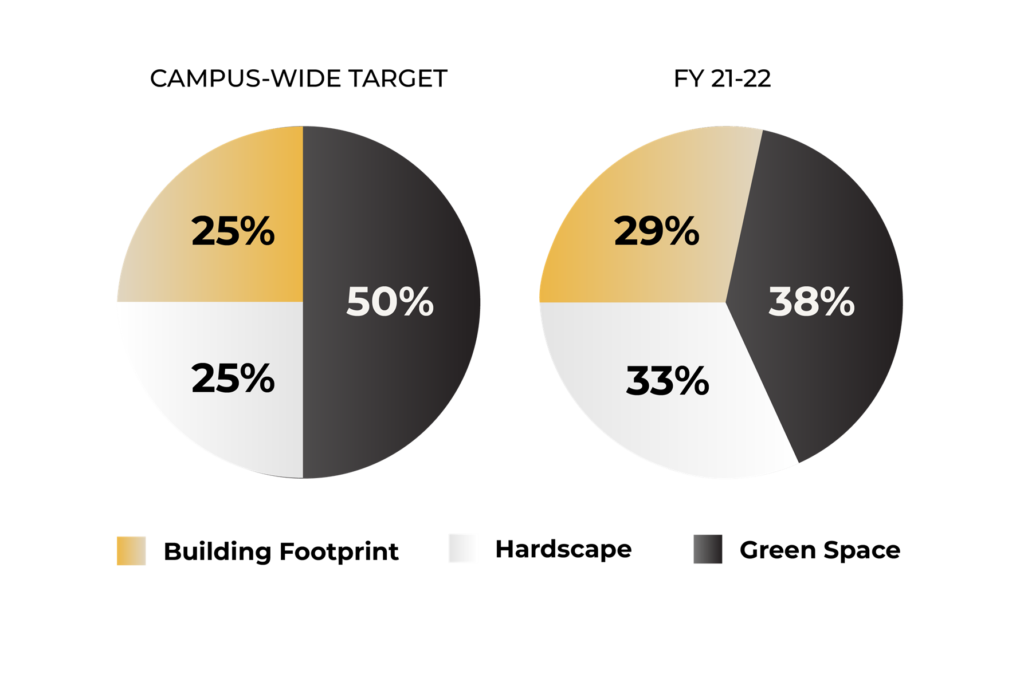 landscape and the arboretum
When Bishop Holland McTyeire oversaw the planting of more than a thousand trees on Vanderbilt's campus nearly 150 years ago, he set in motion a time-release canopy that now provides widespread shade for the university community. Vanderbilt's entire campus is designated as an arboretum. In 2013, the campus contained 6,181 identified and geolocated trees and shrubs, with approximately 190 species. Each year, new trees are planted to replace trees that die or as landscaping for new construction. As steward of today's arboretum, University Landscape Architect James Moore carries that legacy forward, working not only to beautify campus and preserve its botanical diversity, but also to study the trees' resilience to disease and better understand how they absorb heat and stormwater for midtown Nashville.
The university's arboretum collection now contains over 6,000 trees, with a focus on native and adapted species to the Middle Tennessee region. However, with more than 150 species, there are some unique specimens selected for their interest. These trees cover the over 300 acres of the Vanderbilt University grounds. The oldest, and most famous, of the collection, is the Bicentennial Oak, a Bur Oak dating to before the American Revolution. The Bicentennial Oak unfortunately succumbed to age-related decay and fell on Nov. 12, 2022. The most common species in the arboretum is Magnolia grandiflora, with over 500 representatives. There are a total of 16 species of oaks on campus—the most common genus on campus—with willow and pin oaks being the most common species. .
In FY2022, the university partnered with the Metro Tree Advisory Committee and the Tennessee Department of Forestry to collect thousands of acorns from the university's white oaks to be raised in nurseries and help to reforest Tennessee. The goal of this project is to increase the genetic diversity among the state's population of trees.
StorMwater Management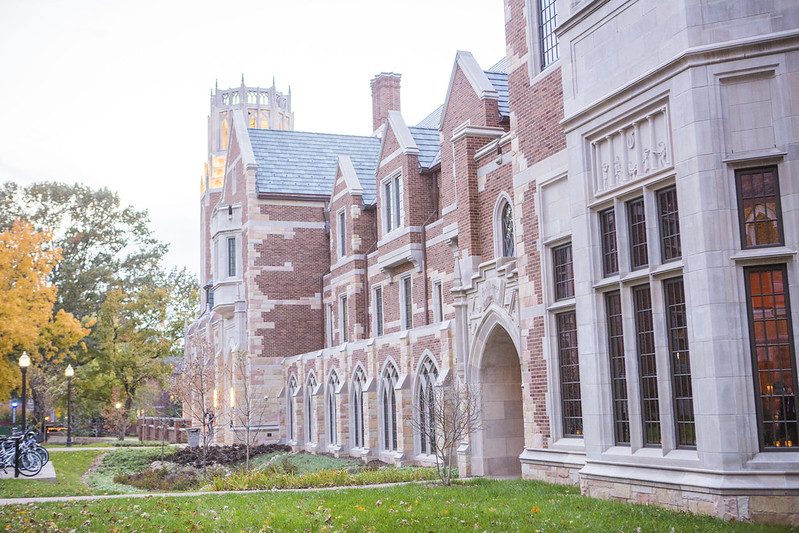 FutureVU considers stormwater management and water conservation core to landscape sustainability. Improved stormwater management can be tackled through a variety of methods, including:
Canopy: slows water
Green space: absorbs and slows runoff
Removing and limiting pavement: reduces runoff
Stormwater can also be expressed as a design feature integrated in the parklike setting of campus. FutureVU aims to utilize a campuswide approach to stormwater by implementing a variety of green infrastructure and low-impact development practices, such as bioretention areas, in order to achieve stormwater goals.
90 trees planted in FY2022
6,033 total trees on campus as of FY2022 (with a focus on native and adapted species to Middle Tennessee)
6 total green roofs on campus as of FY2022
26 total stormwater management units (bio-retention) on campus as of FY2022
TRANSPORTATION AND MOBILITY
Issues of transportation and mobility are paramount to FutureVU efforts, given the goals to beautify the campus, enhance the parklike character community members enjoy and better connect areas of campus that feel disconnected. FutureVU calls for the diversification of transportation options, prioritization of pedestrian mobility and improvement of accessibility. In addition, commute travel accounts for a significant portion of the campus' greenhouse gas emissions, and reducing those emissions is paramount to the university's long-term sustainability strategy.
During FY2022, the university expanded programs as part of MoveVU, the university's strategic transportation and mobility plan.
transportation and parking programs
  Daily Parking Program
A new daily parking location was added in fall 2021 at West Garage. This location builds on the daily parking program piloted during the 2020–21 academic year in response to feedback about the desire for more commute options, including sustainable options and flexibility when parking. Daily parkers now have access to four garages, including the Terrace Place, Wesley Place, Sony and West garages.
The daily parking program continued through the 2021–22 academic year. The program is available to faculty, staff, postdocs and graduate and professional students. Participants' commute trips, whether parking or sustainable commutes, were logged in their personal Commute Calendar used to monitor commute activity and record parking charges. The Transportation and Mobility office monitored activity in the garages and feedback from participants and was able to allow more participants into the program over the course of the year. The team continued planning for improvements to the daily parking program for FY2023.
226 daily parking spaces added to campus in FY2022
2,600+ participants in daily parking in FY2022
Guaranteed Ride Home
The Guaranteed Ride Home program was launched in summer 2021 and provides sustainable commuters with a free Lyft ride home in the event of an emergency or unforeseen circumstance. Sustainable commuter refers to someone who takes a sustainable commute mode including walking, biking, carpool, commuter rail, bus and vanpool to campus. This offering is available to faculty, staff, postdocs, graduate and professional students enrolled in daily parking. Available through the MoveVU Commute Hub, the program is intended to offer eligible users the safety net and confidence they need to feel comfortable taking sustainable commute options to campus, knowing they will be able to take a free ride home a certain number of times a year if necessary.
23 rides provided in the program in FY2022
Mobility Rides
The Mobility Rides program, a joint project among Equal Access, Public Safety and the Transportation and Mobility Office, continued to provide service using electric golf carts to students, faculty and staff with medical or accessibility needs who have registered and are approved.
2,517 mobility rides offered in FY2022
Hourly Paid Parking
Vanderbilt continues to provide an hourly paid parking program in select parking lots and garages on campus for short-term and visitor parking needs. Campus visitors and Vanderbilt community members can use these spaces powered by parking app ParkMobile, which offers a variety of contactless payment options. The addition of hourly paid parking spaces is an outcome of the FY2020 parking program study, which explored how short-term and flexible parking options can be added to the parking program to better align with the Vanderbilt community's diverse needs.
404 hourly parking spaces on campus in FY2022
35,415 hourly paid parking transactions in FY2022
Campus-Wide Parking Statistics
6,900 parking spaces available in FY2022
165 total ADA parking spaces on campus in FY2022
16 electric vehicle charging spaces on campus in FY2022
Safety
Pedestrian Safety
Vision Zero seeks to eliminate all traffic fatalities and severe injuries while increasing safe, healthy and equitable mobility. The aspirations of Vision Zero align closely with MoveVU goals of improving pedestrian safety, connectivity and transportation in and around the Vanderbilt campus. To make campus infrastructure more welcoming to pedestrians and cyclists, the MoveVU team continues to engage the campus community and city in discussions about their specific needs.
The MoveVU team supported Walk Bike Nashville's fatality mapping to raise awareness and remember the 38 pedestrians that lost their lives due to car crashes on Nashville streets in 2021. Vanderbilt continues to support and guide strategies toward Vision Zero implementation across the city.
Learn more about additional pedestrian safety efforts here.
VandyRide
VandyRide, the nighttime shuttle service, continued to provide service on two routes during the 2021–22 academic year. The Gold Route is an express route from the Peabody campus to main campus. The Black Route circles campus clockwise.
5,923 passengers transported on the Black Route in FY2022
11,719 passengers transported on the Gold Route in FY2022
Commuter Services
In spring 2022, a new Commute Concierge service started to assist community members with trip and commuter resources planning. Through the new service, the Vanderbilt community can:
Learn how to ride WeGo public transit to, from and across campus.
Plan out sustainable commutes, including tips on where to park and ride the bus.
Identify bicycle amenities around campus like showers and repair stations.
Receive guidance on sustainable options to travel downtown, to the airport, grocery stores, etc.
Receive assistance planning group excursions.
View presentations on information about the daily parking program and sustainable commute options.
Vanderbilt continues to set up departments, schools and programs with Lyft through a ridehail partnership. This offers a flexible transportation option for faculty, staff and students using ridehail services while conducting official university business. This framework allows the centralized billing and ensures that sponsored travel has parameters guaranteeing a high level of safety and reduced risk while using these services.
Infrastructure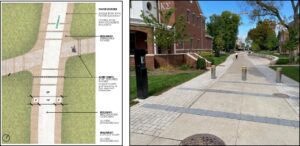 Walk and Roll Loop
The university plans to develop a greenway network, building off the greenway concept foundational to FutureVU, throughout campus and a Walk and Roll Loop around the campus edge. This comprehensive, layered and connected mobility ecosystem is aimed at connecting neighborhoods, making campus more pedestrian and bicycle-friendly and opening the campus edge to the surrounding community.
As part of the Owen Graduate School of Management renovation and addition project, a small parking lot on 21st Avenue between Scarritt Place and Grand Avenue was closed to transform the space into a welcoming entrance along 21st Avenue, as well as a portion of the Walk & Roll Loop. The enhanced ADA accessible pathways, Walk & Roll Loop and green space support the university's goal to improve connectivity and accessibility throughout its campus and were completed in fall 2022. All ADA parking spaces in the permanently closed lot were relocated to surrounding parking lots and garages.
In fall 2021, a Walk & Roll Steering Committee refined the alignment of the Walk & Roll Loop. An updated design and alignment plan that outlines future segments of the Walk & Roll Loop was completed. This plan will guide resource allocations to complete segments of the loop and inform design treatments and materials for connectivity and consistency across campus.
COMMUNITY ENGAGEMENT
Community engagement has been a founding pillar to the development of FutureVU. Similar to the academic strategic planning process, the land use planning process was open and inclusive, involving individuals from across the community (faculty, staff, students, alumni, trustees and Nashville community members). The land use plan represents innovative ideas that have emerged through collaborations with the Vanderbilt community. Broad consensus and support of the overarching guiding principles has been a cornerstone of efforts. Engagement has continued as the university embarks on the implementation of FutureVU.
FY2022 Engagement Statistics
Articles & Social Media
25 myVU articles on FutureVU efforts
56 social media posts related to FutureVU (@futurevunews, @vanderbiltmovevu, @futurevusustainability, @facilitiesVU)
Events
10 key events held, including a WeGo Public Transit Forum, an interactive installation for Park(ing) Day and meetings of the re-envisioned Mobility & Transportation Standing Committee.
tours
tours of power plant and campus were provided in FY2022
25 tours of arboretum in FY2022
academic, research
Staff involved in the implementation of FutureVU across the Division of Administration were involved with a variety of academic courses. Involvement ranged from presenting on FutureVU principles to co-teaching courses to providing campus tours and more. Classes involved included:
Introduction to Engineering with Professor Ghina Absi (Presented on sustainability)
Sustainable Fashion Issues, Practices, and Possibilities with Professor Alexandra Sargent Capps (Presented on sustainability)
Communication Studies: Persuasion with Professor Courtney Caudle Travers (Presented to the class on sustainability initiatives. The class chose to promote sustainability sourced wild caught Alaskan Pollock as their project and partnered with Campus Dining to host an event at E. Bronson Ingram College. Pollock and other local foods were served, and students had the opportunity to discuss sustainable food choices.)
School for Science and Math at Vanderbilt (SSMV) with Professor Chris Vanags and James Moore (Collaborated with high school students through the SSMV program to plan a pollinator meadow on Appleton Place in the Peabody neighborhood.)
Facilities University (Presented to the class of ~20 people four times per year on FutureVU and sustainability)