Nursing and Divinity
Changes along the 21st Avenue edge began with upgrades to the Nursing School and Divinity School.  Success of the top-ranked Nursing School led to exponential growth in enrollment the past 10 years.  With that growth, research productivity has been on the rise, and faculty and staff were spread across buildings and sites.  The Nursing School expansion addresses these concerns, as well as improvements to student support space which was undersized and increasing in demand.  The Divinity School original buildings opened in 1960 and had not undergone any major renovations since that opening.  The goals of the Divinity School renovation are to strengthen the position of the Divinity School, enhance ability to compete for students and recruit and retain faculty, improve accessibility and enable student-faculty collaborations.
In addition, FutureVU calls for the prioritization of the campus core for pedestrian circulation and open space.  While vehicular access for service, emergency and accessibility reasons must be maintained, a core goal is to minimize the impact upon pedestrian circulation and campus aesthetics as viewed from around the campus edges. One such area of focus is the 21st Avenue edge, which will continue to undergo a number of enhancements.
Parking has a strong presence along the most public edges of campus, especially along 21st Avenue. The 21st Avenue edge provides a unique opportunity to increase visual porosity into the core of campus. By creating clear views of the campus from the street, important physical connections to Peabody and the proposed Graduate and Professional Student Village will be more apparent. In order to accomplish this, the existing surface parking will be removed; emergency, service and drop off access will be maintained as a limited use path; and a new shared-use path for bikes and pedestrians will be situated in the new open space for enhanced connectivity.
These enhancements will be developed as part of current building efforts along the 21st Avenue edge.  An expansion at the Nursing School and expansion at the Divinity School are complete, with further enhancements on the 21st edge to follow.
If you have questions, comments or concerns regarding the construction projects underway, please contact the Facilities team here.
Nursing School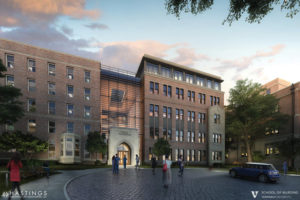 The School of Nursing expansion involved a 29,947 square foot, five-story addition that connects to Frist and Godchaux Halls via an atrium. The addition features state of the art facilities, including laboratories, classrooms, conference and seminar rooms, faculty offices and space for student services.
Purpose
Vanderbilt's Nursing programs are among the best in the nation;
The School of Nursing has seen a growth in enrollment over the past decade, and a building expansion is necessary to meet the needs of the growing program;
Ensure that students and faculty are equipped with best in practice facilities and resources;
Help achieve the goal of promoting faculty research.
Notable Features
Technology-enhanced spaces, such as a simulation lab, interactive classroom & virtual classroom;
Increased number of teaching spaces that support a cutting edge nursing education;
The co-location of faculty offices and student services which will promote communication and collaboration;
Building design, construction and operation that is sustainable and promotes health and wellness through LEED and WELL certification;
Architectural design that matches the Collegiate Gothic style of Godchaux hall;
More visibility and easier access from the 21st Avenue edge.
News
Mar 23, 2017: New building expansion planned for Vanderbilt School of Nursing
Jun 21, 2017: Vanderbilt School of Nursing breaks ground for new building
Jan 17, 2019: Pioneering Vanderbilt School of Nursing building designed with health in mind
Jan 23, 2019: Vanderbilt School of Nursing celebrates grand opening of revolutionary building expansion
Divinity School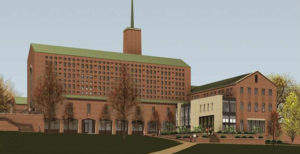 The Divinity School is currently housed in the Oberlin Quadrangle, which has not undergone any significant renovations since its opening in 1960. The project will involve the renovation of 11,412 square feet and the construction of 13,641 square feet of new space.
Purpose
The Divinity School enrollment has increased over the years and a building renovation and addition will help meet the needs of the school's programs;
The school's emphasis on a collaborative and interdisciplinary learning approach requires reconfigured space;
The efforts to modernize and better organize facilities will strengthen the Divinity School's position as a leading divinity school and provide a competitive edge, as well as ensure that the School is able to meet its goal of advancing equity, diversity and inclusivity.
Notable Features
A new, dedicated main entrance with deans and admissions suites located nearby;
A multi-purpose room/chapel for large gatherings and activities;
Renovated classrooms, seminar rooms and teaching spaces;
ADA enhancements to facilities, including the addition of an ADA entrance, elevator and restrooms;
Mechanical, electrical and plumbing upgrades and the addition of a sprinkler system.
News
May 4, 2017: Vanderbilt Divinity School announces renovation and expansion
Oct 10, 2017: Divinity School renovation to reflect its values, culture
Sept 9, 2019: Vanderbilt Divinity School expansion features water, wood and light