Vanderbilt preserves history through the salvaged remains of the Bicentennial Oak
The Bicentennial Oak, the only tree on Vanderbilt's campus known to predate the founding of the university, fell in November due to age-related decay. Estimated to be about 250 years old, the bur oak was one of the most recognizable trees on campus, and it served as a landmark near Garland Hall for generations of Vanderbilt community members.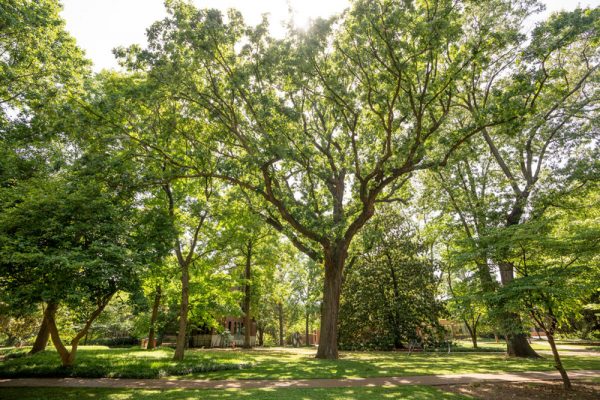 Because Vanderbilt's policy is to find ways to reuse fallen or removed trees whenever possible, the facilities team has taken every care to salvage the wood from the Bicentennial Oak to preserve its important history to the university. For hardwood trees, the reuse process can take a full year from the original cutting of the tree, because the wood needs to dry completely before anything can be made from it. 
"We saved as much of the wood as we could, because we knew it could have a second life," said James Moore, university landscape architect. He explained how different cuts of wood could become objects throughout campus, such as a crosscut of the massive trunk for the top of a coffee table—with the rings denoting its age clearly visible. "We hope this is something people encounter in different parts of campus, and that every time they do, they are reminded of the history of Vanderbilt and the history of this tree." 
The planting of a Sesquicentennial Oak took place in April, near the site where the Bicentennial Oak once stood. The new bur oak was the first part of a robust plan to plant more trees in honor of Vanderbilt's 150th anniversary. 
Vanderbilt, whose campus was first referred to as an arboretum in 1879 and is home to nearly 200 species of trees and shrubs, has long flourished as a green spot amid Nashville's ever-expanding urban footprint. Vanderbilt is an accredited Level II arboretum with ArbNet, the world's preeminent arboretum certifying agency.