Latinx Employee Affinity Group (EAG)
Mission and Vision
The Latinx employee affinity group (EAG) provides enriching opportunities for faculty, post-docs, and staff at Vanderbilt that identify as Latina, Latino, Latinx, Latine, or Hispanic and allies of the community to connect and share their experiences. This group promotes Latin cultural awareness and fellowship for the Latinx Vanderbilt community. Engagement will include academic-based discussions, social events, and activities for members and allies of the Latinx community.
We welcome you to join the Latinx EAG by completing this form and staying connected through our Latinx EAG Teams group. We are planning meetups over the course of the year, including but not limited to the Nashville Symphony's Latin Fiesta! and food truck adventures at the Nashville Farmer's Market!
Contact Information
EAG Leadership: Maria Elena Ornelas, Amanda Martinez-Lincoln, Antonella Valdivia or Sara Burd.
EAG Facilitator: Hope Young
Interested in joining this EAG? Fill out this interest form.
If you'd like to keep in touch with EAG leadership and members, join our Microsoft Teams group!
news updates
We have started a volunteer directory on Microsoft Teams. This is a place to share where you are (or would like to) volunteer. We hope to organize a group volunteer activity soon! If interested in learning more, email: Amanda.Martinez-Lincoln@Vanderbilt.edu

We are creating a playlist of our favorite music for Latinx EAG members to contribute to and enjoy! If you would like to add your favorite song to the playlist email: Sara.lee.burd@vanderbilt.edu 

We are hoping to launch a book club! If interested in joining, email: Maria.Ornelas@Vanderbilt.edu 

We are searching for new members to join the Latinx EAG Leadership group. Complete this form, if you are interested in serving in leadership! 
newsletter archive
Each semester, several newsletters are sent to EAG members. Newsletters are sent to registered EAG members. If you want to receive the newsletters to your email, fill out the EAG interest form above! The newsletters are also uploaded to the Latinx EAG Microsoft Teams group. If you are having accessibility issues with the Microsoft Teams group, email any member of the EAG leadership team for support.
December Newsletter (12.7.2022)
Upcoming Events
Latinx EAG Summer Celebration Luncheon
Thursday, June 1st from 11:45am-1:15pm
Wond'ry (2414 Highland Avenue Suite 102, Nashville TN 37212)
We are having a summer celebration! This group invites all faculty, staff, and post-docs who identify as Latinx or enjoy celebrating Latinx culture to join us on June 1st for lunch and community at the Wond'ry! Be ready for a taste of Colombia as we enjoy empanadas from Chivanada. We request that you RSVP by Friday, May 26th at noon.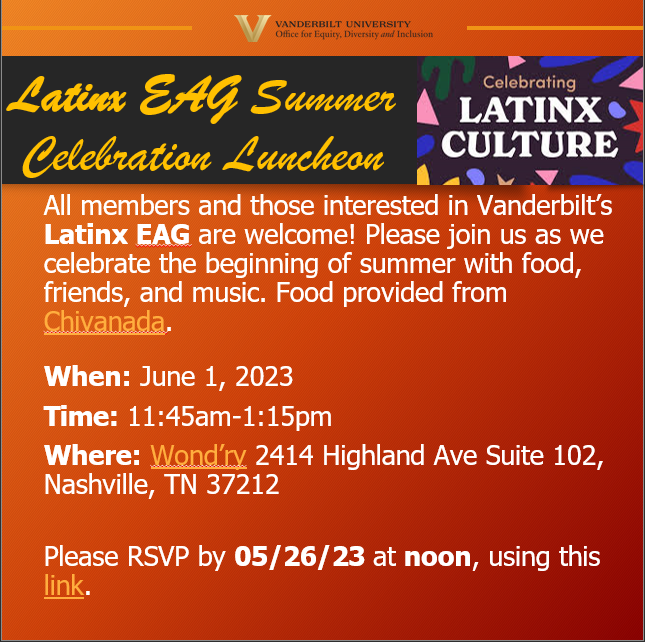 Past Events
Latinx EAG Meet Up @ the Vanderbilt Sesquicentennial Community Party – 3/25
Evening with Tacos and Friends @ Maiz de la Vida – 12/14
Latinx EAG Hispanic Heritage Lunch – 9/20
Latin Food Truck Night @ The Marketplace in East Nashville – 8/26
Cafecito @ Fido – 8/22
Latinx EAG @ The Frist Museum – 4/30
Photos
This slideshow requires JavaScript.