1101 19th Avenue South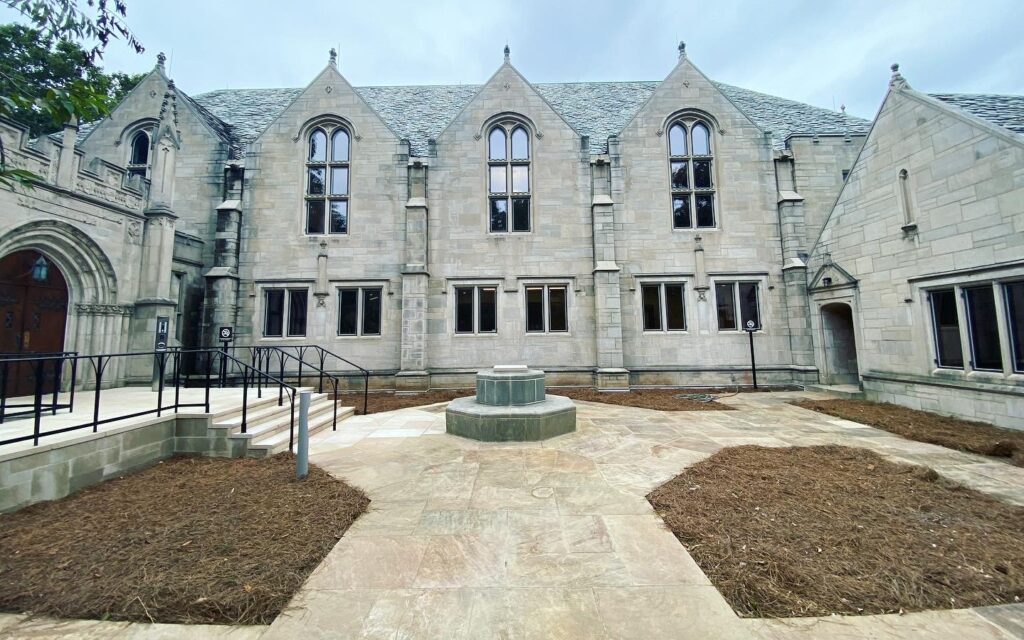 In 2015 Vanderbilt University acquired the Disciples of Christ Historical Society building, located at 1101 19th Avenue South.  Following a renovation in 2020, this historic building is now home to the digital commons, faculty commons, an administrative home for the Faculty Senate and satellite storage space for the Jean and Alexander Heard Libraries.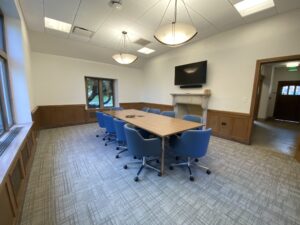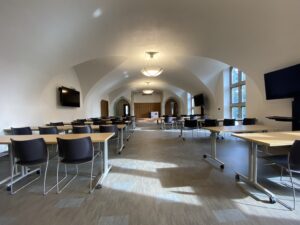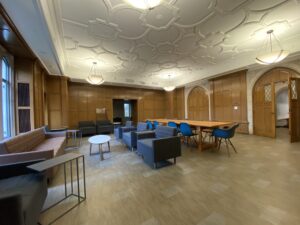 Guided by the university's FutureVU and FutureVU Sustainability initiatives, 1101 19th Avenue South was designed as a flexible space for the university and to achieve LEED Green Building Education credit. In order to earn a LEED Green Building Education credit (certification pending), the project underwent a case study which included:
Student-driven embodied carbon calculations;
Describing major sustainability measures and embodied carbon calculations within the case study; and
Comprehensive signage that will educate the visitor on the various sustainability measures incorporated into the building as it was being renovated.
During the design and renovation of 1101 19th Avenue South building, these key goals were incorporated:
Historic preservation;
Retention of as much of the original structure as possible to retain embodied energy of the existing structure;
Emphasis and maintenance of existing urban density, walkability and access to mass transportation;
Energy conservation, energy efficiency and avoidance of on-site combustion by using electricity only for HVAC and water heating;
Preservation of existing vegetation and soils, which are long-since adapted to the natural water cycle, thereby preserving the existing biodiversity and avoiding additional demands on city's potable water system; and
Increased student involvement to maximize learning opportunities.
Self-guided Sustainability Tour
Although the project is complete, the university offers a self-guided tour of the sustainability features as a part of the LEED Green Building Education credit (certification pending).
Notable Tour Features:
A. Sustainable Sites | Since the building's construction in 1956, nature has regenerated the site's soil and plants into a mature landscape. With this renovation adapted landscape, preserving the existing healthy biodiversity.
B. Location and Transportation | The university's FutureVU initiative emphasizes walkability and connectivity. This historic building is co-located with mass transit, providing access to low-carbon transportation. Bike racks are provided outside to be convenient for short-term visitors, as well as installed inside the building to communicate that bikes would be secure and out of the weather, promoting alternative transportation and reducing the use of personal cars.
C. Materials and Resources | By renovating instead of building new, the university was able to preserve this unique neo-Gothic building and retain 81% of the original structure. Vanderbilt students assessed all building elements and calculated the percentage elements and calculated the percentage retained showing clear environmental benefits from significantly reducing the carbon that would have been embodied in the extraction, manufacturing and transportation of new materials.
D. Energy and Atmosphere | This renovation supports the university's Carbon Neutrality by 2050 Goal by introducing energy conservation and energy efficiency measures, including a high-efficiency HVAC system and added roof insulation. New internal windowpanes reduce leakage, insulated the building envelope, and reduce energy use while still preserving the building's historic character.
E. Water Efficiency | By preserving existing vegetation and soils, which are long-since adapted to the natural water cycle, there is no need for irrigation. In addition, water-efficient fixtures were installed in the building including low-flow faucets and low-flow, dual-flush toilets. As a result, the building's total potable water use decreased by 55 percent.
BASEMENT FLOOR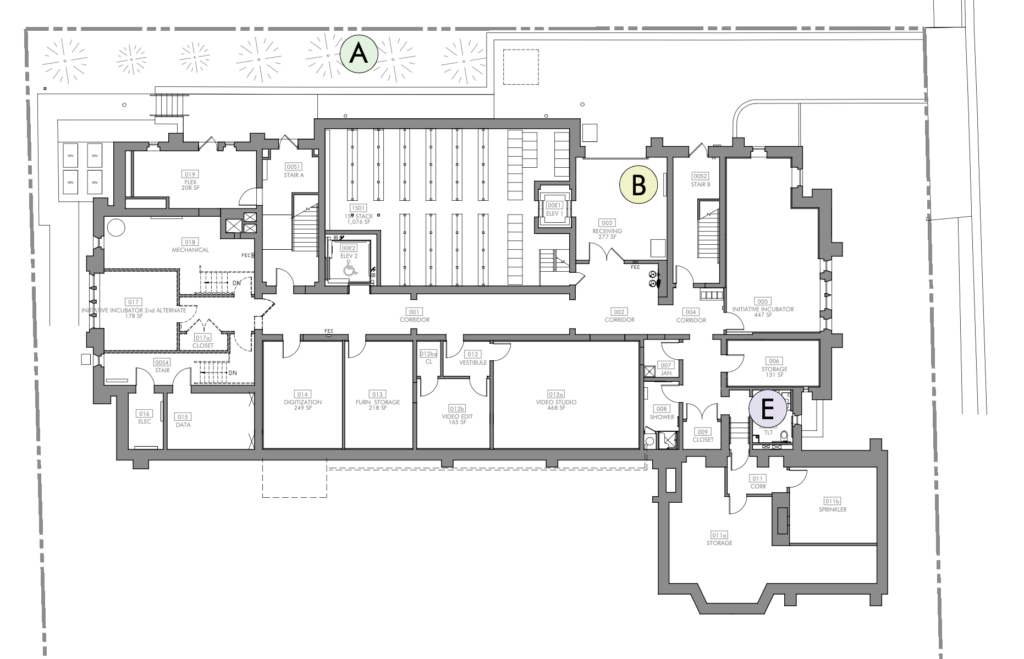 FIRST FLOOR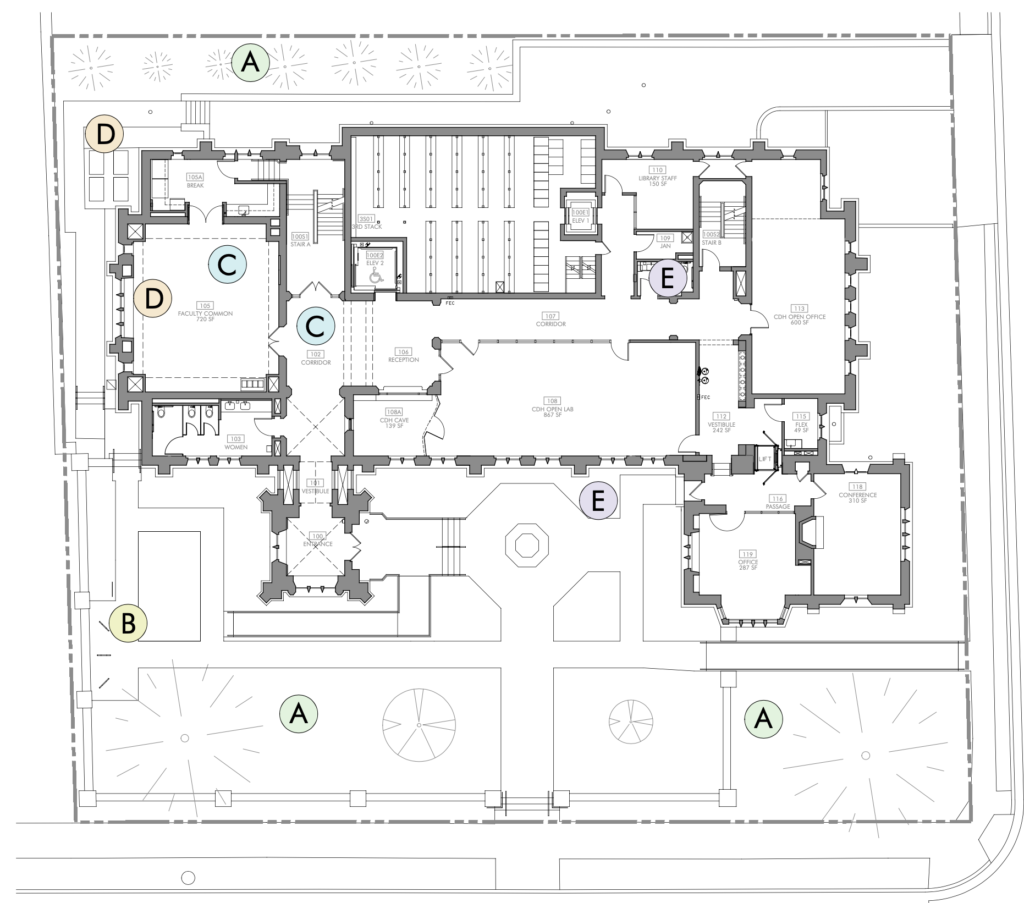 SECOND FLOOR
ATTIC FLOOR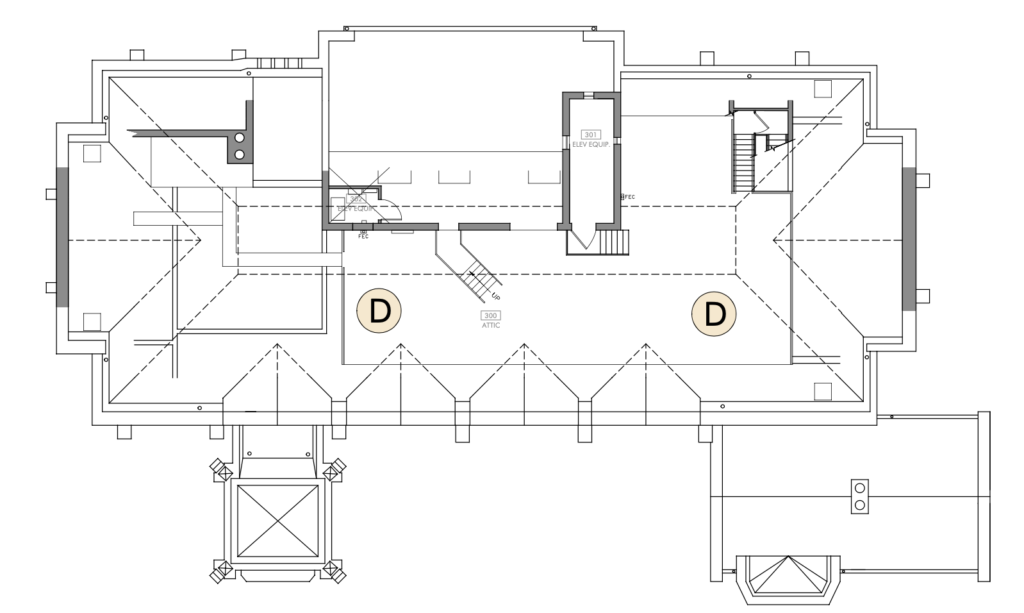 DOWNLOAD a self-guided tour map here. 
Please note that anyone visiting 1101 19th Avenue South for the self-guided tour must follow all university COVID-19 policies and protocols.