Vantage Lab – Gold (VUMC Space and Facilities)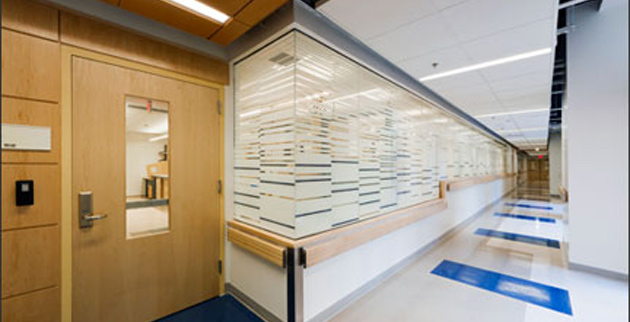 The renovated VANTAGE lab space. (Vanderbilt University)
The Vanderbilt Technologies for Advanced Genomics (VANTAGE) laboratory, located in the basement of Medical Center North, recently achieved LEED (Leadership in Energy and Environmental Design) Gold certification from the U.S. Green Building Council, making it the14th certified project and the first laboratory renovation to achieve LEED certification at Vanderbilt.
Designed by Donald Blair Architects of New Your City and completed in May 2012, VANTAGE is a genomics core laboratory occupying more than 15,800 square feet, 12,000 of which were renovated under the LEED Commercial Interiors protocol. It is home to the Flow Cytometry Core, Genome Sciences Resource, DNA Resources Core and BioVU, Vanderbilt's massive DNA database.
Laboratory spaces are complex and difficult to renovate to LEED's green standards, so achieving the Gold level of certification is a significant accomplishment for Vanderbilt University Medical Center's Office of Space and Facilities Planning.
Highlights from the renovation include a 20 percent reduction in lighting energy usage, with more than 75 percent of lighting controls connected to occupancy sensors; a 38 percent reduction in water usage achieved through plumbing fixture upgrades; and 100 percent of eligible newly purchased equipment being Energy Star rated.
In addition, during the renovation 73 percent of construction waste was diverted from the landfill and recycled, 11 percent of the total building materials now contain recycled content, and 32 percent of the total building materials used were manufactured regionally. Most workstations also now have individual controls for thermal and lighting comfort, allowing lab staff to adjust to their preferred settings in their own workspace.
More than 15 tons of casework and equipment were removed from the space and stored to be reused in the future. Air quality was maintained during construction through the use of low-emitting adhesives, sealants, paints and coatings, while ductwork was kept dust- and moisture-free.
"Sustainability is achievable in highly functional and complex projects," said Bobby Otten, architect and project manager with Space and Facilities Planning. "However, thought and effort must be incorporated into the initial process, as with any worthwhile project.
"A special thanks to the Office of Research, the lab core groups and users, GreenSTUDIO sustainability consulting, Phoenix Design Group consulting engineers and Turner Universal Construction Company for their support of this achievement," he said.
To learn more about green building and LEED certifications at Vanderbilt, visit SustainVU's website, or email sustainvu@vanderbilt.edu.
Contact: Tiffany Renfro
tiffany.m.renfro@vanderbilt.edu