100 Oaks – Gold (VUMC Space and Facilities)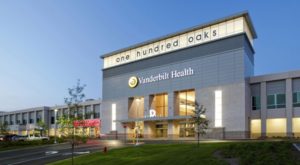 Posted by casteen on Friday, October 8, 2010 in Green Building, News.
By: John Howser, Originally published in the VUMC Reporter
10/07/2010 – Vanderbilt Health One Hundred Oaks (OHO) has attained LEED Certification for Commercial Interiors (CI) by the US Green Building Council (USGBC). One Hundred Oaks is Vanderbilt University Medical Center's first facility to achieve LEED Certification.
According to the USGBC, LEED is an internationally recognized certification indicating a building or community was designed and built using strategies aimed at improving performance in the areas of energy savings, water efficiency, CO2 emissions reduction, improved indoor environmental quality, and stewardship of resources and sensitivity to their impacts.
In Vanderbilt's notice of certification the USGBC noted, "LEED certification identifies Vanderbilt Health at One Hundred Oaks as a pioneering example of sustainable design and demonstrates your leadership in transforming the building industry."
"Sustainability is important to Vanderbilt University," said VUMC's Director of Facility Planning Cyril Stewart. "At One Hundred Oaks we saw the opportunity for a project that repurposed an existing building that had fallen into disuse to better serve our patients, create a high quality environment for our employees, and to continue to improve this great neighborhood," he said.
"From the beginning we were intentional about selecting products and processes that would meet LEED criteria. But beyond that, we wanted Vanderbilt Health One Hundred Oaks to be a place where our patients, faculty and staff would be able to focus on getting and staying healthy."
This project is one of very few health care facilities to achieve LEED certification.
The architects, Gresham, Smith and Partners, report that for the Commercial Interiors category of LEED certification, Vanderbilt Health One Hundred Oaks is:
the 30th largest building in the world
the largest building in the Southeast
the largest health care building in the world
The renovation of the One Hundred Oaks Mall into Vanderbilt Health One Hundred Oaks was completed while maintaining existing structural elements of the building, recycling construction waste. Regional and recycled materials were used throughout the renovation. More efficient mechanical and lighting systems were installed and 90 percent of all equipment in use in the facility is now Energy Star-certified.
A recycling program is now being implemented throughout Vanderbilt's portion of the Mall. The architects of Gresham, Smith and Partners; contractor Batten and Shaw, Inc.; Vanderbilt Space and Facilities Planning and the Vanderbilt Health leadership team all contributed to this achievement.
Tags: Green Building