Accessing the Media Gallery to Watch Videos
The Media Gallery tab should be located on the navigation bar within your course. When viewing videos in Brightspace, a software tool called Kaltura is used. In order for Kaltura to work on your computer, you will have to grant it access. See the instructions below on how to activate Kaltura to watch videos in Brightspace.
Are you here because you are seeing an error message that says Access Denied? Follow the instructions below to fix the problem.
Updated Spring 2020
Click here for a printable version
---
Activate Kaltura and Access the Media Gallery
The first time you access the Media Gallery within a course, it will ask you to grant permission. This is a very simple process.
1. Navigate to the Media Gallery by clicking the tab
2. Check the box: Do not ask me again for this application
3. Click continue
You are now able to access the Media Gallery. Be advised you may have to do this process again in the future, as software updates and browser updates may affect things.



Correct the Error Message: Access Denied
Kaltura will only work correctly in certain browser environments. If you are seeing a message that says Access Denied, we suggest you go through these troubleshooting steps to try and correct it.
Use Google Chrome as your browser – it has proven to be most compatible with Brightspace.
Disable any pop-up blockers while in Brightspace
Be sure to clear cache/cookies
Close your browser and re-open new windows
Check if you need to install updates to your browser or OS
Restart your computer
If the problem persists after performing all these steps, contact Brightspace Support for additional help.
Re-upload Kaltura Capture videos if an upload fails
When you create a video using Kaltura Capture, you can select Save and Upload to upload that video into My Media. If that video fails to upload or remains in processing, the next step is re-uploading it.
1. Open the Kaltura Capture recorder
2. Select Manage on the right side of the recorder

3. Find the video that didn't upload correctly and select the Re-Upload button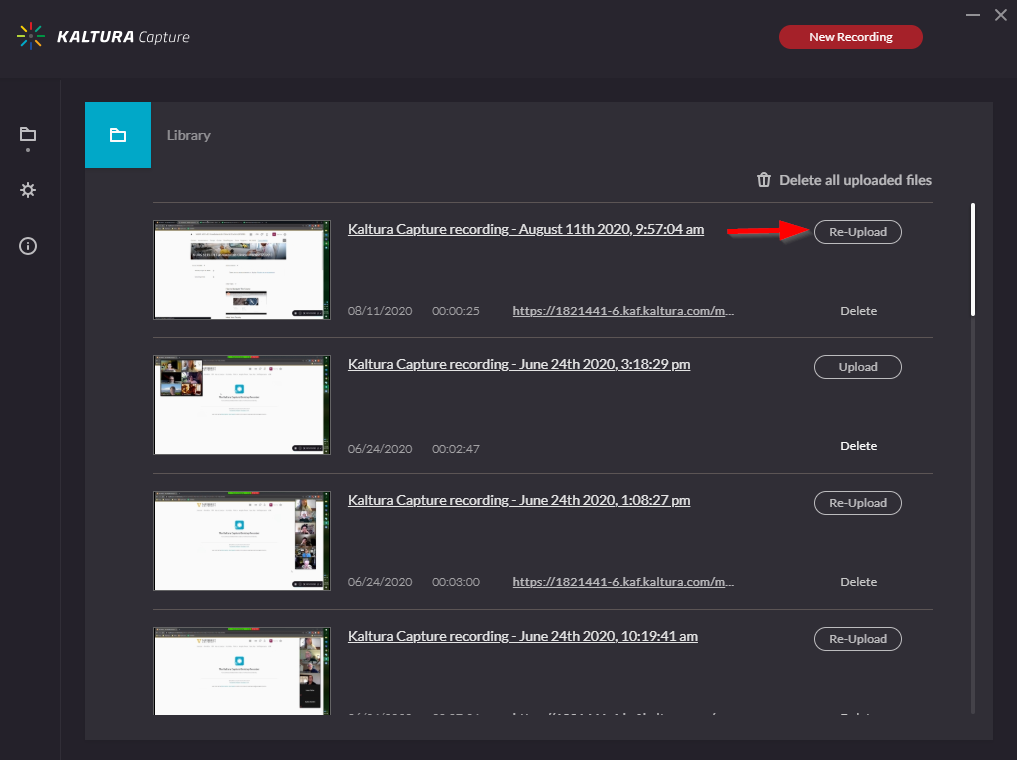 If the problem persists after performing these steps, contact Brightspace Support for additional help.