2023 Undergraduate Writing Symposium Program
Undergraduate Writing Symposium 2023 Web-based Program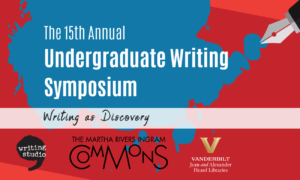 When: Friday, March 31, 3:00-6:00 PM CDT | Where: Commons Center MPR
UWS 2023 Schedule-at-a-Glance
Follow the links in the schedule below or scroll down for the full program of  presenters, which includes their bios and abstracts.
Access the event's digital extension: Scaffold: A Showcase of Vanderbilt First-Year Writing, Vol. 5 (Spring 2023)
Special Thanks and Acknowledgements
Download a copy of the Undergraduate Writing Symposium Program (PDF)
Full Schedule: Undergraduate Writing Symposium (Friday, March 31)
The Writing Studio thanks our UWS co-sponsors, the Martha Rivers Ingram Commons and the Vanderbilt University Libraries.
3:00-3:15: Panelist Check-In (Commons Center, 2nd floor)
3:15-3:30: Opening Remarks from Tiffiny Tung, Vice Provost for Undergraduate Education (Room 237)
3:30-4:00: Spotlight Panel (Room 237)
Spotlight Panel (Room 237)

Panel Chair: John Bradley (Writing Studio)
Panelists: Brinda Ambal '26 and Teresa Xu '23
Brinda Ambal '26: Magical Realism: A Trauma Bond
Presenter Bio: Brinda Ambal is a member of the Class of 2026 from St. Louis, Missouri. She currently plans to double major in Neuroscience and Human and Organizational Development but has a passion for literature. She's on a mission to read 52 books in 2023 and manages an Instagram account to share her progress. She loves her hammock, diving deep into Wikipedia rabbit holes, and her a cappella group, the Swingin' Dores.
Abstract: As a synthesis between philosophical, psychological, biographical, and historical contexts, this paper explores the traumatic effects of post–colonialism on generations focusing on a specific genre called "magical realism." By comparing two magical realist authors, one who won the Nobel Prize already (Gabriel Garcia–Marquez) and one who should (Isabelle Allende), this piece explores how the genre can serve as a coping mechanism for national trauma suffered by
people in a post–colonial world.
Teresa Xu '23: A Labor of Love? The Gendered Prioritization of Passion in Career Aspirations
Presenter Bio: Teresa Xu is a member of the Class of 2023 from Vancouver, Canada. She is studying Sociology, English literature, and Medicine, Health & Society. Apart from writing, she enjoys going on walks, dancing in every cultural showcase, listening to music, singing, reading, and exploring the diversity of life. She hopes to visit every continent and somehow address pressing global problems: climate change, health disparities, educational inequalities, and the persistent barriers to equity for countless identity groups.
Abstract: Work is often considered a meaningful activity that encompasses more than financial rewards. A call to "do what you love" as a career—to pursue one's passion even over income, job stability, and other considerations in choosing an occupation—has become more common. However, this norm of passion may reinforce social inequality. Research has shown that the ability to pursue jobs that align with one's passion, which often involve unpaid work or meager payment, depends on socioeconomic status. Not everyone has financial resources they can use to make material sacrifices in the name of passion. However, research has not explored the importance of gender in understanding how passion becomes prioritized as a value that guides careers. Gender is potentially significant because there may be a passion component to occupational gender segregation and economic gender inequality: if women are more likely to prioritize passion, and if their passions are more likely to lead to lower-paying roles, then passion may be a contributor to the gender wage gap. This study consists of in-depth interviews with Vanderbilt undergraduate students to examine how childhood and adolescent experiences lead to the prioritization of passion and how prioritizing passion may be gendered. The study considers the implications of this phenomenon on gender composition and inequality in the workplace and workforce.
4:15-4:55: Concurrent Session 1
Panel A (Room 235)

Faculty Panel Chair: Jeong Oh Kim (English)
Presenters: Astred Ngnepieba '26, Caroline Ambriano '23, and Eric Whitmer '23

Panel B (Room 233)

Faculty Panel Chair: Andrew Finch (Human & Organizational Development)
Presenters: Jazmine Reagan '26, Isha Shukla '26, and Alexander Renkis '24
Astred Ngnepieba '26: Mathematics Embrace the Pilgrim: Imagination & Reasoning in Purgatory Canto XVII
Presenter Bio: Astred is a member of the Class of 2026 from Tallahassee, Florida. She is in the College of Arts and Sciences, studying Medicine, Health, and Society with potential minors in French and Anthropology. Astred is in the Arts and Science College Honors Scholars program as well as the Delta Delta Delta Sorority. When not in class, Astred can be found watching Manchester United Football Club matches and curating the ideal Apple Music R&B/Alternative playlist.
Abstract: Like our imaginations, the world of mathematics is not constrained by the real world, yet it's imperative that ideas in math are supported by theorem and reason. Here lies a harmonious relationship: the place of vision and imagination behind understanding and reasoning. Mathematics Embrace the Pilgrim connects the mathematical oddity, the Banach-Tarski Paradox, to imagining-reasoning relations within Dante Aligheri's Purgatory Canto XVII. In turn, expounded is the value of interdisciplinary inquiry and its contribution to additional dimensions of analysis.
Caroline Ambriano '23: Examining Non-Suicidal Self-Injury Disclosures in Adolescents: A Mixed Methods Investigation
Presenter Bio: Caroline Ambriano is a member of the Class of 2023 from Long Island, New York. She is studying psychology in the honors program and completed her thesis on non-suicidal self-injury disclosures in adolescents. She has been an undergraduate research assistant in Dr. Bettis's lab for 3 years and is passionate about mental health advocacy and treatment accessibility
Abstract: Non-suicidal self-injury (NSSI) among adolescents is highly prevalent and involves the deliberate and direct destruction of body tissue with no suicidal intent (Nock, 2010). Engagement in NSSI in adolescence predicts poor mental and physical health outcomes over development (Nock, 2010). Disclosure of NSSI is key to connecting adolescents to appropriate treatment. Disclosures to parents are particularly important in adolescence, given parents are typically gatekeepers to mental health treatment access. In this study, we examined adolescent-identified barriers to NSSI disclosure to parents. N= 1,495 adolescents completed a one-time survey assessing history of self-injurious thoughts and behaviors, mental health treatment history, and disclosures of self-injurious thoughts and behaviors, including NSSI. Results indicated that 79.5% (n=1134) of participants ever disclosed their NSSI to someone. Approximately 40% (n = 454) reported they never disclosed their NSSI to their parents, while most reported disclosing to a therapist (~75%) and nearly all disclosed NSSI to friends (~90%). There was a significant
effect found for NSSI disclosure and gender minority status, χ2(1, N = 892) = 12.488, p < .001. Transgender or gender diverse adolescents were found to be more likely to endorse that they disclosed NSSI than cisgender adolescents. Finally, using open-ended responses qualitatively coded by the authors, we explored themes regarding barriers to NSSI disclosure to parents. The two most common barriers were fear of parents' emotional reactions to NSSI and adolescents' belief that parents would not understand. These findings highlight the importance of a positive parent-child relationship to facilitate adolescent disclosure of NSSI.
Eric Whitmer '23: "Oh Friends, Not These Tones": Beethoven's Ninth Symphony as Inspiration Porn"
Presenter Bio: Eric Whitmer is a member of the Class of 2023 at the Blair School of Music, where they are majoring in Percussion Performance and minoring in Business with a concentration in Musicology. While at Vanderbilt, Eric was recognized as a Dean's Honor Scholar and received the Littlejohn Research Fellowship for their research about the American Orchestra. They are the inaugural research fellow and ambassador for the Engine for Art, Democracy, and Justice. As a percussionist, their musical practice is focused on the intersection of social activism and music, and their upcoming senior recital, "philomel's song: hearing sexual violence survivorship" will be performed on April 1st at 8pm at the Steve and Judy Turner Recital Hall in the Blair School of Music.
Abstract: At the center of all western art music is a disabled composer, Ludwig van Beethoven. Yet calling Beethoven disabled is viewed as controversial, despite the ways in which he and his most performed work, Symphony No. 9 in D Minor, Op. 125 is subject to the narrative of inspiration porn. Modern interpretations of Beethoven and the Ninth Symphony that endure today are predicated upon usages of inspiration porn and were fostered in large part both by society's and Beethoven's views on his disability. Inspiration porn, despite the implications of its name, is a non-sexual media that creates pleasure from observing the curing or transcendence of disability. Inspiration porn can be broken down into three processes: objectification, stigmatization, and transcendence or curing which can be seen in Beethoven's writings. Contemporaneous societal view of disability along with these viewpoints allowed the narrative of inspiration to apply to Beethoven. The presence of the Ninth Symphony as his last composed work amplifies this narrative because of its explicit narrative that is created by the libretto. This narrative continues to the present in the hegemonic viewpoint of both Beethoven himself and the Ninth Symphony. Through examples in meme culture, children's literature, film representations, program notes, and national anthems, it becomes clear that inspiration porn is inexorably linked to the Ninth Symphony. However through "cripping" the work and understanding Beethoven as a disabled composer, the Ninth Symphony has the potential to represent a truly inclusive future for disabled and non-disabled people alike.
Jazmine Reagan '26: Poverty in Rural America
Presenter Bio: Jazmine Reagan is a member of the class of 2026, with aspirations of double majoring in Psychology and Neuroscience. Jazmine further aspires to work in the field of research with intent to better understand humanity in the context of poverty and experience of trauma. As she hails from a small town in Southeastern Kentucky, she shares many tales of her experiences with rural poverty in America. In her raw perspective, she removes the veil that clouds the window of perspective that many outsiders of the community encounter.
Abstract: Poverty may be defined in simple terms as a state of being extremely poor. A real–world application of poverty translates to unmet physical needs for millions of
people, including this author. Deprivation of unmet needs means weighing the
importance and choosing between equally necessary critical needs, such as food or
medicine, electric bills, or school shoes. Poverty is not an unusual or atypical
phenomenon. In this author's Kentucky small town, McCreary County, support is
virtually non–existent. It is a region in which poverty is pervasive, and finding a
path to success is challenging. One might easily overlook the starkly contrasting
experiences of impoverished lifestyles for rural sufferers such as food insecurity,
medical assistance, and mental health.
Isha Shukla '26: The Modern Ecology of Brazil
Presenter Bio: Isha Shukla (she/her) is a member of the class of 2026 majoring in Economics and minoring in Business, Environmental and Sustainability Studies, and Medicine, Health, and Society. She is passionate about achieving environmental sustainability through business and plan to pursue this passion professionally. Additionally, she is curious about the global health implications of climate change.
Abstract: This paper aims to analyze the ecological problems that Brazil is currently facing, namely deforestation. It delves into the leading industries that contribute to deforestation, its local and global ramifications, and some potential solutions. The paper concludes by describing how Brazil's current political transition will affect policies to halt deforestation.
Alexander Renkis '24: Recovery High Schools: A Comparative Study of Hispanic Students' Recovery Resources
Presenter Bio: Alex Renkis is a member of the Class of 2024 from Nashville, TN pursuing majors in Human & Organizational Development and Spanish & Portuguese. Throughout this academic year, Alex has assisted Vanderbilt researchers with studying recovery high schools and is currently writing a thesis on the topic via qualitative analysis of students' goals. On campus, Alex serves as a crisis counselor with 988 Lifeline, a senator for Vanderbilt Student Government, and a consultant at Vanderbilt's Writing Studio. Post-graduation, Alex aspires to attend law school to work as a foreign service officer. Alex enjoys meditation, yoga, the outdoors, live music, and philosophical literature in his spare time.
Abstract: Introduction: Recovery high schools (RHSs) enroll students in recovery from substance use problems. However, little is known about how recovery may differ between Hispanic and non-Hispanic students, nor if previously validated measures of recovery capital are valid for Hispanic and non-Hispanic adolescents.
Methods: The relationship between recovery capital domains and 90-day abstinence among Hispanic (n = 40) and non-Hispanic (n = 172) recovery school students ages 12–20 is explored. The Assessment of Recovery Capital measures personal and social recovery capital, and the Recovery Group Participation Scale measures community recovery capital. Logistic regression models were fit to estimate the odds of 90-day abstinence accounting for ethnicity, age, race, days of recovery school enrollment, and recovery capital.
Results: There were no differences between the groups on abstinence or recovery capital.
Cronbach's alphas for recovery capital among Hispanic and non-Hispanic students ranged from .86 to .90. The number of days of recovery school enrollment was the only covariate associated with 90-day abstinence. However, the association was not meaningfully large (adjusted Odds Ratio [aOR] = 1.00, 95% Confidence Interval [CI] = 1.00–1.00).
Conclusion: Hispanic and non-Hispanic students demonstrated high internal consistency of recovery capital. However, the link between recovery capital domains and abstinence was not supported, which suggests measures of adolescent recovery require additional validation. Future studies should investigate ethnic and developmental differences in recovery capital, as Hispanic adolescents remain underrepresented in recovery science.
5:00-5:55: Concurrent Session 2
Panel C (Room 235)

Faculty Panel Chair: Kirsty Clark (Medicine, Health, & Society; Public Policy Studies)
Presenters: Nicole Reynaga '26, Connor Wolfe '26, Duaa Faquih '24, and Cassidy Latchford '23

Panel D (Room 233)

Faculty Panel Chair: Kelly Bahiraei (Human & Organizational Development)
Presenters: Laura Gayre '26, Hunter Wanamaker '26, Monica Shen '24, and Dena Liu '23
Nicole Reynaga '26: Self-Portrait with Diane Seuss
Presenter Bio: Nicole Reynaga is a member of the Class of 2026 planning to major in English and Political Science with the intent to go to law school. She enjoys creative writing (particularly poetry) and has been editing and reviewing others' work since high school. Outside of school, she is entertained by trying out an assortment of random Vanderbilt clubs and trying diverse caffeinated beverages in her spare time.
Abstract: This paper reviews Diane Seuss' poetry collection: Still Life with Two Dead Peacocks and a Girl. The piece focuses on the thematic development and the poet's craft evident in the collection. Writing this paper was the first opportunity I have ever been given throughout my academic career to review art. This assignment allowed me to thoroughly analyze a book cover to cover and offer my opinion on the thematic development. Additionally, the book I chose was one of the most complex and creative things I have ever read. Writing this poetry review enabled me to develop my language use and discover how to thoughtfully express my argument
Connor Wolfe '26: State of the Arts: An Exploration of the Effects of Spanish Colonization on Traditional Taino and Aztec Artwork
Presenter Bio: Connor Wolfe is a member of the Class of 2026 from Denver, Colorado, planning to major in English, psychology, and philosophy. He has adored reading since he was very young, which quickly grew into a love of writing, as well. His hobbies include all outdoor activities, learning Chinese, and playing the cello.
Abstract: This paper examines Caribbean Taino and Aztec artwork before and after the Spanish conquest, outlining these cultures' post–colonization creative lapses and eventual resurgences. My research examines multiple methods and materials used for pre–colonization art and the many reasons for its creation. The essay also addresses Spanish methods for repressing indigenous artistic expression and the melding of cultural and artistic influences resulting from the Spanish occupation.
Duaa Faquih '24: Political and Economic Motivations and the Contention of Sacred Sites
Presenter Bio: Duaa Faquih is a member of the class of 2025 majoring in Political Science and Psychology. On campus, she is a deputy news editor for the Vanderbilt Hustler and is involved in Women in Government, the Muslim Students Association, and is an undergraduate researcher in the Research on Collective Action and Conflict lab. In her free time, Duaa enjoys reading fantasy novels and discovering new restaurants around Nashville.
Abstract: This research project explores demonetization, an economic anti-corruption strategy, and a set of conditions required for its success. The project then uses the framework to explore India's demonetization effort and the reasons for its failure.
Cassidy Latchford '23: The Influence of Peer Norms on Substance Use Among Sexual and Gender Minority Youth
Presenter Bio: Cassidy Latchford is a member of the Class of 2023 from Naperville, ILstudying Child Development and Medicine, Health, and Society, with a concentration in Inequality, Intersectionality, and Health Justice. She is currently writing an honors thesis under the advisement of Dr. Kirsty Clark through the MHS Honors Program.
Abstract: Multiple studies have demonstrated higher rates of substance use among sexual and gender minority (SGM) adolescents compared to their cisgender, heterosexual (cishet) counterparts (Watson et al., 2020). For other populations with high and disproportionate use of substances, such as college students, homeless youth, active–duty military personnel, and veterans, there is extensive literature documenting how peer social norms of substance use are significant predictors and targets for interventions regarding substance use (Boyle et al., 2021). Many factors are thought to contribute to elevated substance use among SGM adolescents, but few studies have explored the influence of peer social norms on SGM adolescents' substance use, and even fewer have evaluated the possibility of peer social norms being a target for interventions regarding SGM substance use (Boyle et al., 2021). To fill these gaps in the literature, this thesis uses data from the 2019 Minnesota Student Survey (MSS, N = 69,923) to analyze differences in five substance use outcomes (i.e., alcohol, cigarettes, marijuana, prescription drugs, and vapes/e–cigarettes) between SGM and cishet adolescents and the role of peer substance use disapproval (i.e., perceptions of whether one's friends believe specific substance use is wrong) in mediating SGM–related substance use disparities. Compared to cishet adolescents, SGM adolescents experienced significantly greater odds of past 30–day substance use of all substances (adjusted odds ratios (aOR) range = 1.098–2.071; all aORs p <0.01) and reported significantly lower peer substance use disapproval (i.e., more approving) of all substances (all p < 0.001). Peer substance use disapproval partially mediated the association between SGM status and past 30–day substance use for all substances (all indirect effects p<0.05; bootstrap intervals excluded zero for all mediation models). Based on these results, this thesis demonstrates peer substance use norms as a crucial intervention mechanism to reduce substance use disparities among SGM youth.
Laura Gayre '26: Genre's Effect in Everything, Everywhere, All at Once
Presenter Bio: Laura is a member of the Class of 2026 studying Child Development and Psychology with minors in CMA and French. As has been true her entire life, Laura's favorite pastime is dancing, and she is currently a board member and performer for VIDA, Vanderbilt's Latin dance organization. Though she is a proud crazy cat lady, Laura works at a doggy daycare when home for the holidays. As highlighted by this paper, Laura has a keen interest in film and consistently talks during movies to discuss editing and mise–en–scène. You can likely find Laura at art museums, jazz bars, a movie theater, or on a dance floor somewhere.
Abstract: Everything Everywhere All at Once (2022), a film renowned for its chaotic nature, bends the lines of genre and the definition of tone to approach familiar questions in a new way. This paper highlights and analyzes the unconventional warping of connotation in Everything Everywhere All at Once, examines the effect of these explorative methods on the viewer experience, and relates Christine Gledhill's discussion and unique perspective on genre.
Hunter Wanamaker '26: The Undying Wily Man
Presenter Bio: Hunter is a member of the Class of 2026 from Atlanta, Georgia planning on majoring in Law, History, and Society along with Economics. Hunter also may potentially try to minor in Classical and Mediterranean Studies. Here at Vanderbilt, Hunter plays on the club lacrosse team, enjoys lifting at the rec center or running near Centennial Park, and is involved with the Habitat for Humanity Club.
Abstract: This piece is a research essay investigating how Russians have reacted to the war in Ukraine and provides a contextual analysis of how Russian history and its socialization of its citizenry have impacted these reactions. To write this piece, I delved deep into primary and second sources about Russia, past and present, and analyzed social commentaries, poetry, and other media to supplement the factual research I collected. The majority of the Russian populace reactions express a conflict between their self–interest and their simultaneous resolute faith in Vladimir Putin. In my exploration of this topic, I found that by in large Russia's tumultuous history directly shaped the current Russian temperament. As the war in Ukraine continues to press on to date, with causalities continuing to rise, Russian public opinion and the direction it veers to will have critical implications for all parties of the conflict.
Monica Shen '24: Stress, School, and Family: The Perspective from Chinese International Students and their Parents
Presenter Bio: Monica Shen is a member of the Class of 2024 pursuing a double major in Child Development and Medicine, Health, & Society, with a minor in Biological Sciences. Beyond her academic pursuits, Monica has a passion for reading, photography, traveling, and learning foreign languages, through which she can explore various cultures around the world. Over the past five years, Monica has tutored students of all ages, from young children to young adults. Currently, she is volunteering her time with the Vanderbilt Student Volunteers for Science, sharing her love for science and inspiring young minds to pursue their interests in Science. Moreover, as the president of Tutor Nashville, she commits to making a positive impact on the lives of students in the local community. Looking towards the future, Monica aspires to be a researcher in developmental psychology.
Abstract: Although many researchers have explored perceived stress in both theoretical and clinical aspects, it remains unknown whether these conclusions about stress, health, and the role of individual differences can be generalized to other populations from different cultural backgrounds. In different cultures, people may have divergent types of prototypical personalities, perceive non–mainstream encounters as stressors, seek distinctive social supports, and develop unique coping styles. The insights from cultural diversity explorations have led to new ways to explore the perceived stress from the perspectives of special populations that are experiencing acculturation. In the current higher education climate in the United States, one such growing population of interest is Chinese international college students. 100 parent–student dyads will be recruited to explore the experiences and perceptions of both students and parents. Current study will use a sequential exploratory mixed method to investigate how parent–child relationship quality, parenting styles, and college experience affect perceived stress levels. Quantitative data will be collected through an Online questionnaire while qualitative data will be collected through semi– structured interviews to provide additional contextual insights and confirmatory results. By identifying potential resources and strategies to support the mental well–being of Chinese international college students and their parents, this study aims to bridge a critical gap in the psychological, educational, and developmental literature
Dena Liu '23: Bridging Gaps, Building Trust: StreetCred at Boston Medical Center's Approach to Addressing Financial and Food Insecurity for Pediatric Patient Families
Presenter Bio: Dena Liu is a member of the Class of 2023 and will be graduating with majors in Human & Organizational Development, Medicine, Health & Society, and Molecular, Cellular & Biology. With an interdisciplinary perspective that combines biological research and the social determinants of health, Dena is interested in improving health outcomes among underserved populations. She spent her last summer interning for StreetCred at Boston Medical Center, where she helped pediatric patient families in navigating resources and enrolling in government programs. As President of the Vanderbilt QuestBridge Chapter, Dena is committed to supporting first-generation and low-income students, and as a founding member of the Vanderbilt University Microbiome Society, she seeks to use science to make a positive impact in the local community. Currently, Dena is conducting research at the Bonami Lab at VUMC, investigating autoantigen-specific B cells in myositis, with the hope of finding answers for incurable autoimmune diseases. In her free time, Dena enjoys figure skating and strolling through Centennial park.
Abstract: The large majority of Boston Medical Center's (BMC) patient population comes from underserved communities with underrepresented racial and ethnic backgrounds. In addition to healthcare access, economic stability and education access are the most impactful determinants of a child's health. StreetCred at BMC, a free tax preparation and financial coaching service for patient families, seeks to expand its Economic Bundle of services to address financial and food insecurity among pediatric patients and their families. This systems research report discusses challenges faced by the organization and its patient population and aims to bridge knowledge gaps between StreetCred, BMC, and partner organizations by streamlining the Economic Bundle and creating a resource guide with updated information and instructions for StreetCred employee interactions with patients. The report highlights critical obstacles, such as the issue of transportation as a barrier for patients to access BMC's nationally renowned on-site food pantry and reveals how the process of systems research led to the partnership with another organization to provide free direct grocery delivery services. Gaps in knowledge have led to negative implications such as families missing out on a convenient and available resource. Patients have also voiced their lack of faith and mistrust in the healthcare system's ability to effectively address their needs due to systemic discrimination and prejudice. The overarching goal of the project is to improve trust with patients by providing comprehensive and accessibility to financial and nutritional resources, addressing the systemic barriers that often lead to patients feeling lost in the healthcare system.
6:00: Closing Remarks and Reception (Room 237)
Please join us for closing remarks and a buffet reception following the event.
Access to Scaffold: A Showcase of Vanderbilt First-Year Writing, Volume 5 (Spring 2023)
Did you know that Undergraduate Writing Symposium has a digital companion?
You can read many the essays on which our first-year panelists presented during the symposium and listen to each author reflect on their piece in Scaffold: A Showcase of Vanderbilt First-Year Writing, Volume 5 (Spring 2023).
Scaffold is a digital collection of first-year writing curated by the Vanderbilt Writing Studio. As an extension of the annual Undergraduate Writing Symposium, this collection honors and celebrates undergraduates' accomplishments as writers, scholars, and artists specifically in their formative first year of college. To that end, Scaffold highlights the developing writing processes and learning experiences so central to the growth of undergraduate writers by pairing each piece in the collection with a recorded reflection from its author.
Special Thanks and Acknowledgements
The Writing Studio offers special thanks to all those who helped make our event possible and have contributed to its success.
Our Event Co-Sponsors
The Martha Rivers Ingram Commons
The Jean and Alexander Heard Libraries
Our Faculty Panel Chairs
Kelly-Ann Bahiraei (Human & Organizational Development)
Kirsty Clark (Medicine, Health, and Society; Public Policy Studies)
Andrew Finch (Human & Organizational Development)
Jeong Oh Kim (English)
Our Outside Reviewers for First-Year Submissions
Faculty Reviewers
Didi Jackson (English)
Heather Luea (Economics)
Jeong Oh Kim (English)
Library Reviewers
Melanie Adams
Yvonne Boyer
Emily Bush
Jacqueline Deveraux
David Golann
Melissa Mallon
Paul Rosenstein
Chris Ryland
Andrew Wesolek
Miriam Wnuk
Our Writing Studio and Tutoring Services team members
Beth Estes (Academic Support Coordinator), Lead Symposium Coordinator
Drew Shipley (Academic Support Coordinator), Assistant Symposium Coordinator
Will Krause (History), Graduate Assistant Symposium Coordinator
Tim Donahoo, Administrative Assistant II for the Writing Studio and Tutoring Services
Writing Consultants Events Committee Members
and all consultants present to support the event today
---
In order to access certain content on this page, you may need to download Adobe Acrobat Reader or an equivalent PDF viewer software.