Scaffold: A Showcase of Vanderbilt First-Year Writing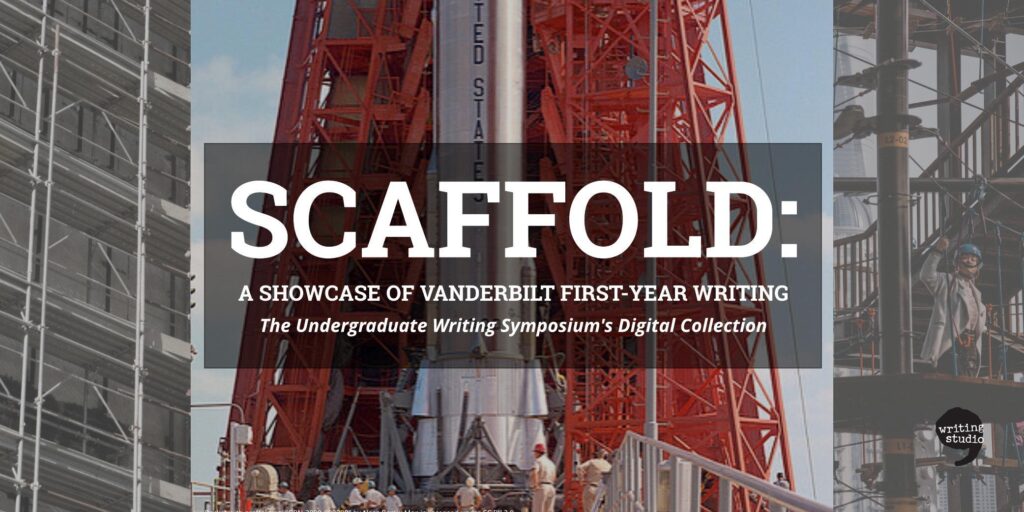 Scaffold is a digital collection of first-year writing curated by the Writing Studio. As an extension of the annual Undergraduate Writing Symposium, this collection honors and celebrates undergraduates' accomplishments as writers, scholars, and artists specifically in their formative first year of college.
To that end, Scaffold highlights the developing writing processes and learning experiences so central to the growth of undergraduate writers by pairing each piece in the collection with a recorded reflection from its author.
Access our digital collection Scaffold: A Showcase of Vanderbilt First-Year Writing:
Now Available: Scaffold, Volume 5, Spring 2023
Scaffold's fifth volume is now available, and in its pairing of exemplary first-year writing with reflections by each author, we hope Volume 5 continues to provide students and faculty alike inspiration and a resource to scaffold future learning through writing and about writing.
Thank You to all Scaffold Reviewers!
We gratefully acknowledge the faculty, library staff, and MFA candidates who served as reviewers for Scaffold, Vol. 5, whose generosity with their time and expertise made this volume possible. To view our full list of reviewers and to learn more about our review process, visit our About the Journal page.
---
"What's in a Name: Why Scaffold?": A Reflection from Ji Yoon Hong (Class of 2020), Undergraduate Assistant Editor for Scaffold, Volume 1
"A scaffold represents this journal in three ways or dimensions. Like construction scaffolds, the exemplary first-year pieces in this journal are foundations for the authors' future growth. Moreover, this journal can contribute to the learning strategy called 'scaffolding,' by providing its readers exemplars as well as video reflections. Third, this journal is celebratory; it is a scaffold or platform for excellent writing—the technological legacy of the Undergraduate Writing Symposium.
But writing is an ongoing, infinite process. As authors, we continuously improve in unexpected, multidimensional ways. Thus, all of us scaffold. So, we invite you to join in on the simultaneous unfolding and construction of potential which this journal presents. As implied by the perfect cover image we stumbled upon—a rocket held up by scaffolding as it prepares to launch—the sky's the limit!"