Undergraduate Writing Symposium (overview)
16TH Annual Undergraduate Writing Symposium
Save the Date for Spring 2024
Friday, April 5, 2024 – 16th Annual Undergraduate Writing Symposium
Wednesday, April 10 – 3rd Annual Undergraduate Creative Writing Symposium and Arts Showcase
Associated Deadlines
---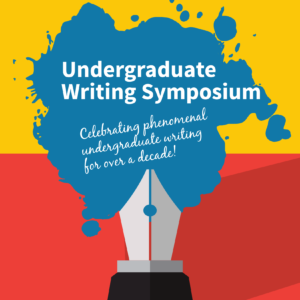 2024 Call for Submissions and Nominations
In Spring 2024, the Undergraduate Writing Symposium will be held as two separate events, each with its own distinct focus while including an online gallery showcasing writers' work and ample opportunity to get to know this year's writers through Author Talks.
2024 Symposium Theme: "Finding Our Voices, Entering into Dialogue"
The Undergraduate Writing Symposium exists to celebrate the transformative power of immersing ourselves in writing, critical inquiry, research, and creative expression.
With this year's symposium theme, "Finding Our Voices, Entering into Dialogue," the symposium will spotlight students' emergent voices as they dare to grow as writers, exploring, experimenting, and answering the call to join a wider dialogue through earnest engagement with the words and views of others.
Undergraduate Writing Symposium
The Undergraduate Writing Symposium, will feature the exceptional work of first-year authors as well as the research writing of more advanced undergraduate authors. This event will take place Friday, April 5.
View the Undergraduate Writing Symposium submission guidelines for first-year and advanced research writers
Undergraduate Creative Writing Symposium and Arts Showcase
The second event, Undergraduate Creative Writing Symposium, will be held in partnership with the Immersion Vanderbilt Showcase on Thursday, April 13.
View the Undergraduate Creative Writing Symposium submission guidelines
WHAT IS THE UNDERGRADUATE WRITING SYMPOSIUM?
Held each year in late spring, the Undergraduate Writing Symposium showcases exemplary writing by Vanderbilt's undergraduates while honoring their achievements as writers and scholars.
Much of the event follows the model of an academic conference: each participant reads her or his selected piece of writing aloud as part of a panel of presenters. Each panel brings together a group of papers on a related topic and includes time for discussion between panelists and their audience following the presentations.
The Undergraduate Writing Symposium spotlights both the achievements of first-year writers and major writing projects undertaken by seniors.
Reflection by a Student Participant

Presenting at the Undergraduate Writing Symposium was an invaluable experience. It was one of my first opportunities to present my writing in an academic environment, and it was rewarding to both hear my peers' insightful work and to receive thoughtful feedback and questions on my own presentation. It was particularly interesting to see how writing pieces from different subjects complemented each other in the context of the panel, exemplifying the idea of a liberal arts education.
Learn More: Symposia Past
HOW DO I GET INVOLVED?
Although anyone in the Vanderbilt community can attend the symposium as an audience member, becoming a symposium presenter involves a highly competitive process. That process begins each January with the Writing Studio's call for nominations. We invite faculty to nominate the strongest pieces of writing they've seen in their classes, while also allowing students to self-nominate papers they are proud of.
SYMPOSIUM NOMINATIONS
The Writing Studio welcomes nominations of argumentative essays, research reports, creative pieces (fiction, poetry, etc.) and other writing
projects that can be read aloud. We also encourage multimodal compositions that showcase Vanderbilt students producing pieces that stretch how we define "writing" in our digital age.
Any piece completed during the previous calendar year (the previous fall and spring semester) is welcome to compete for inclusion in the event.
To nominate a paper follow the appropriate link below:
Faculty nominations: Faculty, click here for our faculty nominations page.
Student Submissions and Self-Nominations:
WHAT'S NEXT? THE REVIEW PROCESS
Once submitted, all nominated pieces of writing are assessed by multiple readers in a blind review process (meaning submissions are judged anonymously). Following the blind review, we invite the authors of our highest scoring submissions to participate in Undergraduate Writing Symposium events.
Celebrating First-Year Writing
All first-year submissions to the symposium will be competing for inclusion in Scaffold: A Showcase of Vanderbilt First-Year Writing, a digital collection begun in spring 2019 as an extension of the symposium. Following our review process, the authors of the highest scoring submissions will be invited to prepare their pieces for digital publication and to submit a short video of themselves reflecting on the writing of the piece and what they learned to be published alongside it.
All pieces included in the digital showcase will also be eligible for prizes in several categories, which will be announced during an awards ceremony at the symposium's conclusion.
PRAISE FOR THE SYMPOSIUM
Reflection by a Student Participant
When writing within the context of a course, it is easy to lose sight of the greater purpose and possibilities of academic and creative writing beyond the instructor and the grade. The Undergraduate Writing Symposium served as a reminder of why we write in the first place, allowing for the sharing of student works in a format conducive to meaningful discussion and analysis.
Reflections from a Faculty Panel Chair
I was impressed by the quality and the variety of papers presented at the Undergraduate Writing Symposium. One panel I chaired included an informal first person reflection on participating in an improvisational music event, an argumentative analysis of a philosophical treatise, and a descriptive discussion of the scenic elements of a theatrical production. Best of all, for me, was seeing the students selected for the symposium present their work in a forum that took their writing seriously and honored their considerable achievements.
Reflection by Dean Roger Moore, who delivered the Symposium's Closing Remarks in March 2015
I was present for the first Undergraduate Writing Symposium years ago, and I have attended all but one since that time.  For me, this is one of the most important, and most exciting, events that the University sponsors during the year. Click here to read more of Dean Moore's reflection on the Symposium.
In order to access certain content on this page, you may need to download Adobe Acrobat Reader or an equivalent PDF viewer software.