Inspiration, Renewal at the Vanderbilt Undergraduate Writing Symposium
by Adrian Larbi-Cherif, Deann Armstrong, and Peter Capretto
April 10, 2017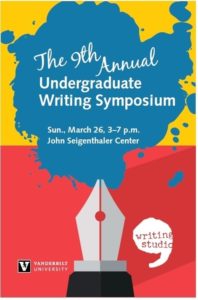 T.S. Eliot remarked that "April is the cruellest month." In late March and early April, students are elbows deep into the academic year, and beginning to think about final exams as they struggle to solidify summer internship or employment plans. Professors often have grading piling up, conferences to attend in far-flung locales, and committee work to complete. Sometimes it can seem like little time remains for inspiration.
Yet since 2009, Vanderbilt's Annual Undergraduate Writing Symposium has offered the campus community a moment of spring renewal and kindness amidst Eliot's spring cruelty. This year's Symposium, hosted by Vanderbilt's Writing Studio on March 26, began with weeks of undergraduate submissions receiving careful engagement from Writing Studio staff. Each writing submission underwent a first round of blind review by two readers, with outside faculty readers assisting on tough decisions in a second round. In the end, the papers with the highest combined reviews from three separate reviewers were invited to participate in the symposium. You can look over the program here.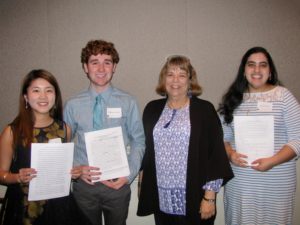 While writing symposia can be dominated by students in the humanities, participants were pleasantly surprised to learn how much Vanderbilt's Undergraduate Writing Symposium prioritizes disciplinary and intellectual diversity. After presenting her work this year, senior Lydia Yousief ('17) reflected, "What intrigued me the most at the Symposium was the striking number of non-English majors/minors present" and observed how, "Writing becomes the means of expression and debate and dialogue; it becomes the means of discussing and figuring our humanity." Likewise, freshman Matt Shorten ('20) remarked: "Seeing such a wide variety of presentations at the Writing Symposium was an unbelievable joy. It was truly invigorating to see such high caliber inquiry and research being put into an unthinkably wide variety of subjects, spanning the many disciplines of the liberal arts core."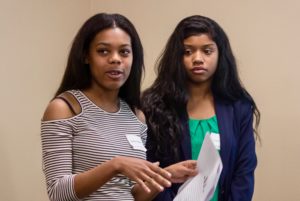 Freshman symposium presenter Cates Saleeby ('20) noted that this year's event deepened and reignited her interest in her prior work. "Participating in the symposium allowed me to re-engage with the writing that I did last semester on a deeper level, thinking more critically about its content and style and how best to present those to an audience," reflected Saleeby. Echoing these sentiments, senior Nicole Rakusin ('17) also felt that her work was reinvigorated by the symposium. She cited the "thought-provoking questions" from peers and faculty as prompting her to further develop her research. Rukusin concluded, "My experience participating in the Undergraduate Writing Symposium will be one that I cherish for many years to come!"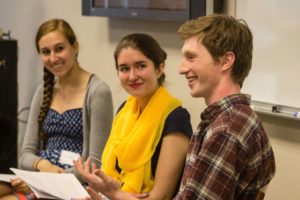 Undergraduate panelists were not the only participants to feel renewed by the symposium. Mark Schoenfield, Professor of English, explained that he makes time for the Symposium each spring for personal as well as professional reasons, "I always enjoy attending the symposiums, foremost because I learn things from the papers and am invariably moved by the creative writing.  Despite my high expectations, I find them exceeded and find myself renewed in my energy for teaching […] I appreciate the community that can form around sharing writing, discussing it, and not grading it!"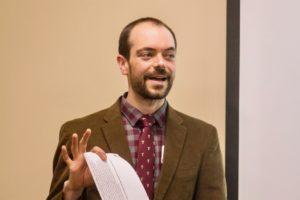 Staff at the Writing Studio also find the symposium to be one of the highlights of the academic year and a meaningful culmination of their work with students and their writing. Jeff Shenton, Assistant Director of The Writing Studio, reflected on why the event succeeds in the way it does, "The symposium really sticks out as being something special.  As far as I can tell, there is nothing else like it on campus in showcasing writing at the Undergraduate level. It is not just a celebration of writing, it is also a conference-style event where students can hone their presentation skills, which is useful for future careers."
Although Eliot may have described April as cruel, the Undergraduate Writing Symposium demonstrates that the month can offer inspiration and a sense of community for writers as well.