Fri. 3/31 – Undergraduate Writing Symposium – Full event schedule and presenter program now available online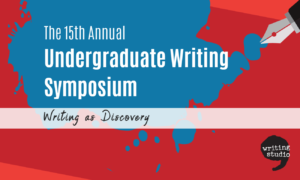 We are excited to announce that the full event schedule and presenter program is now available online for the Writing Studio's quickly approaching 15th Annual Undergraduate Writing Symposium on Friday, March 31.
As you'll see, the Symposium kicks off with light refreshments at 3:00 p.m. and Opening Remarks at 3:15 p.m. Student presentation panels begin at 3:30 p.m, 4:15 p.m., and 5:00 p.m. with a reception to follow.
All are welcome! We're celebrating "Writing as Discovery" and undergraduate students' achievements as writers in the pursuit of new knowledge and the creative exploration of ideas.
You can read short bios our sixteen presenters as well as abstracts of the writing projects they will be presenting and reflection on during the event.
UWS 2023 Schedule-at-a-Glance
When: Friday, March 31, 3:00-6:00 PM | Where: Commons Center MPR
3:00-3:15: 

Panelist Check-In

3:15-3:30: 

Welcome and Opening Remarks

3:30-4:10: Spotlight Panel
4:15-4:55: Concurrent Session 1, Panels A & B
5:00-5:55: Concurrent Session 2, Panels C & D
6:00: Closing Remarks and Reception
More information can be found on the 2023 Undergraduate Writing Symposium Program page.
RSVP appreciated in Anchor Link.
Questions? Please contact us at writing.studio@vanderbilt.edu.